CNS Complained That Right-Wing Attacks On Buttigieg Were Called Out
Topic: CNSNews.com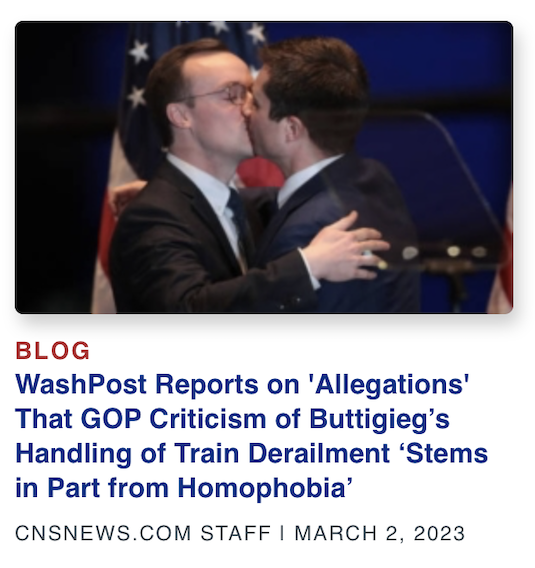 Part of CNSNews.com's political exploitation of the train derailment in Ohio was to attack Transportation Secretary Pete Buttigieg for purportedly not responding soon enough to the disaster (despite the fact that it took CNS 11 days to write its first article on it). When there was pushback on the right-wing attacks on Buttigieg -- whcih CNS also did in December in an attempt to blame him for airline flight delays over the Christmas holidays -- CNS made sure to complain. Melanie Arter groused about the pushback in a Feb. 23 article:
White House Press Secretary Karine Jean-Pierre on Thursday defended Transportation Secretary Pete Buttigieg, who visited East Palestine, Ohio, on Thursday, three weeks after the train derailment that led to hazardous chemicals being released into the environment.

When asked if Buttigieg was in Ohio at the president's direction, the press secretary said, "Secretary Pete went because he believed that it was important for him to go there at this time."

As to whether it was the right time to go, Jean-Pierre said, "I think what's important is that he was there. I think what's important is that we saw the Secretary of the Department of Transportation there.

"I do want to say one thing, though, which is there's been a lot of bad-faith attacks on Secretary Buttigieg, and the reason why we believe it's bad faith is — if you remember Elaine Chao, she was — you know, she was the head of Department of Transportation, and where — when there was these types of chemical spills, nobody was calling for her to be fired, and nobody was calling for what they're calling on Mayor — Secretary Pete," she said.

<"It is pure politics. This is pure political stunts, what they're doing. You have seen an administration that has — because of the leadership of this president that has taken action and multi-agency action to deal with the needs that we're seeing on the ground with the community of East Palestine," the press secretary said.

When NBC White House Correspondent Peter Alexander tried to ask the press secretary about China, she turned the subject back to Buttigieg again.
Arter served up a more straightforward account of Buttigieg the next day:
Transportation Secretary Pete Buttigieg told MSNBC's "The Reidout" on Thursday that it was "ironic" that former President Donald Trump visited the scene of the train derailment in East Palestine, Ohio, accusing him of watering down regulations and weakening the Biden administration's power to deal with freight train companies.

"It was definitely an ironic thing to do. You take down regulations. You water down regulations, you weaken the power of the administration to deal with freight railroad companies, and then you show up wanting to be a great friend of the people who have been impacted by a rail disaster," he said.
Arter did go on to note that "Sen. Marco Rubio (R-Fla.) called for Buttigieg to be fired, saying he was missing in action on the train derailment for three weeks," though she did add that "Buttigieg responded by claiming that Rubio had asked for the Biden administration to weaken its inspection practices."
An anonymously written March 2 article complained that the Washington Post noted the homophobic nature of right-wing attacks on Buttigieg:
The Washington Post published a story on Wednesday that carried the headline "Republicans seize on train derailment to go after Buttigieg" and then stated that some conservatives and Republicans had used the East Palestine, Ohio, train derailment as an "opportunity to wrap [Transportation Secretary Pete] Buttigieg's sexual orientation into their criticism, leading to allegations that the post-derailment criticism stems in part from homophobia."

The Merriam-Webster online dictionary defines "homophobia" as "irrational fear of, aversion to, or discrimination against homosexuality or gay people."
The anonymous writer appeared to confirm the Post's reporting by not only illustrating the article with a picture of Buttigieg kissing his husband but also going on to obsessing over him being gay and adopting kids:
According to the Britannica website, Buttigieg is "gay" and "married." It says: "In June 2015 he came out publicly as gay in an essay published in the South Bend Tribune. He later married (2018) Chasten Glezman, a schoolteacher."

As reported by The Guardian, Buttigieg and his husband have adopted two babies.

A Sept. 1, 2021 story posted by the Guardian carries this headline: "Pete Buttigieg and husband Chasten announce the birth of adopted twins."

"The Buttigiegs announced last month that they were engaged in the adoption process," the Guardian reported. "Sharing a picture of the babies on Saturday, they said they were 'beyond thankful for all the kind wishes since first sharing the news that we're becoming parents.'"
The anonymous writer didn't explain why "gay" and "married" were put in scare quotes.
CNS' homophobic hate of Buttigieg started when he ran for president in the 2020 campaign and continued when he was nominated as trasportation secretary.
Posted by Terry K. at 12:26 AM EDT