MRC Is Mad Scientific American Isn't Pushing Right-Wing Narratives
Topic: Media Research Center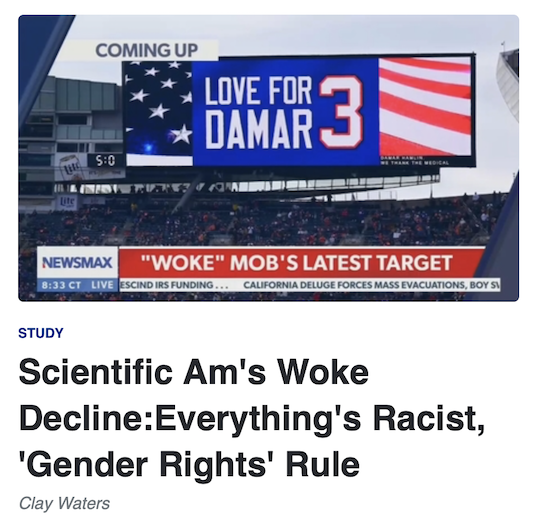 The Media Research Center's Clay Waters devoted a Feb. 10 post to ranting that the magazine Scientific American failed to advance right-wing narratives:
Scientific American magazine has been around since 1845, evolving into a reader-friendly purveyor of hard science, a respected, slightly intimidating denizen of supermarket checkout lines. But judging by the recent ridiculous trend of stories and editorials, it's been wholly captured by the woke blob.

On the surface the monthly still does what it says on the label in providing long articles, short reviews, and cool photographs for an intelligent audience, with almost-comprehensible stories on the physics of black holes for science buffs, and stunning photos of deep-sea creatures for the rest of us.

But then there's the ludicrously left-wing ideology that seeps into every issue. A NewsBusters perusal of the contents of each 2022 regular-release monthly issue revealed 34 stories grounded in liberal assumptions and beliefs, nearly three per issue. That's even after skipping stories with liberal themes that were nonetheless science-based -- for example, a cover story on melting glaciers in Antarctica wasn't included.

Of course, the COVID pandemic in particular tugged the magazine toward government interventionism and the smug rule of health "experts."
Following scientific consensus on COVID makes one "smug"? Apparently it does in Waters' right-wing media bubble. His analysis got dumber from there:
Some of the most bizarrely "woke" material is online-on ly, with a wider potential reach. The most notorious recent example is a January 6, 2023 opinion piece, cynically seizing on the on-field collapse of a Buffalo Bills player to label the NFL racist: "Damar Hamlin's Collapse Highlights the Violence Black Men Experience in Football -- The "terrifyingly ordinary" nature of football's violence disproportionately affects Black men." It's written by Tracie Canada, who is, no surprise, an assistant professor of cultural anthropology.

So what's the solution? Surely Canada wouldn't recommend banning blacks from the National Football League for their own protection?

But plenty of bizarre pieces fill the print edition. Here's a headline from the July 2020 issue of this purported science magazine: "The Racist Roots of Fighting Obesity." Yet a June 2019 SAarticle argued that the nation's "biggest health problem" was obesity. So is Scientific American, for being concerned about obesity, by its own bizarre standard racist as well?
One can be concerned about obetity while also being concerned that society discriminates against obese people, just as it can also be pointed out that football is a violent sport and that blacks, which make up a majority of NFL players, are disproportionately affected by it.
Waters also whined about an article that advocated accurate teaching of American history because it criticized the right-wing war on critical race theory: "The movement against teaching Critical Race Theory in schools was dismissed in hysterically biased terms: 'This regressive agenda threatens children's education by propagating a falsified view of reality in which American history and culture are outcomes of white virtue. It is part of a larger program of avoiding any truths that make some people uncomfortable, which sometimes allows in active disinformation, such as creationism.'" Note that Waters didn't say this view was inaccurate.
Waters also complained that the magazine failed to spew hate at transgender people:
A notorious September 2017 magazine story with graphics and text by Amanda Montanez was seemingly conjured to enable the most biologically ignorant trans-activists to pretend that the clear binary of male and female was actually a spectrum of disorders of sex development (DSD), "which, broadly defined, may affect about one percent of the population -- represent a robust, evidence-based argument to reject rigid assignations of sex and gender."

So much for basic reproductive anatomy knowledge at SA (testes produce sperm, ovaries produce eggs; there is no "spectrum"). Montanez concluded: "I am hopeful that raising public awareness of intersex, along with transgender and non-binary identities, will help align policies more closely with scientific reality, and by extension, social justice."

Indeed, many Scientific American articles boil down to "social justice," not science.
In Waters' world, not hating transgender people and arguing that gender is not binary for some people makes one "notorious."
Posted by Terry K. at 10:51 AM EDT
Updated: Saturday, March 25, 2023 10:53 AM EDT