Newsmax DirecTV Victimhood Watch: The Big Slowdown
Topic: Newsmax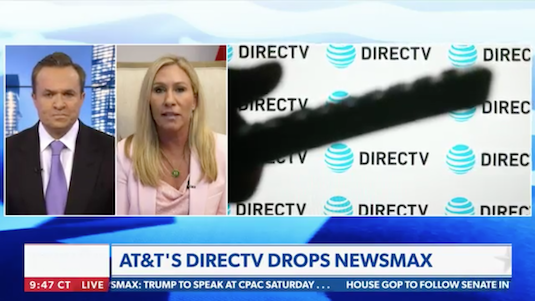 Newsmax finished out week 6 of its victimhood narrative over getting dropped by DirecTV with further slacking off of its victimhood obsession. In the time period of March 4-7, it published no articles on at all on March 5 and 6, which the rest appeared only on March 4 and 7:
That's right -- only five articles. That makes at least 243 "news" articles attacking DirecTV since it happened on Jan. 25. There was also a March 7 column by Perkins, who heads the right-wing Family Research Council, making some of the same (discredited) arguments:
The campaign to boot conservatives from major satellite services began with COVID, but it has expanded.

A month after Joe Biden was sworn in, Rep. Anna Eshoo, D-Calif., and then-Rep. Jerry McNerney, D-Calif., fired off letters to 12 companies, insisting that "right-wing media" outlets were hives of "misinformation," "conspiracy theories," and "lies," which, they allege, sparked the Jan. 6 riots.

They also accused networks like Newsmax, Fox, and OAN of being "key vectors" of disinformation about COVID that "could end up getting people killed."

Of course, we know now that the only real vector of COVID deception was the government itself.
As we noted the last time someone at Newsmax brought up this letter, it was in response to the indisputable fact that Newsmax, Fox News, and OAN spread falsehoods and misinformation about the 2020 presidential election that helped incite the Capitol riot.
Perkins' lame talking points continued:
DirecTV called their January announcement to drop their fourth-highest-rated cable news channel a "business decision."

That's interesting since it had no qualms keeping 20 other less popular channels which are costlier for the broadcaster to carry.
As we've also noted, many of those channels are carried as part of package deals to carry multiple channels from a media company. Perkins closed by ranting:
Liberals, who used to at least pretend to have some use for free speech, have dropped all pretense now.

Their pattern of silencing people and ideas that threaten their leftist orthodoxy must be addressed — or this devastating cancer will spread.

It's time to find out if DirecTV's actions to cancel Newsmax and OAN were motivated by congressional Democrats.
But Perkins did his own bit of censorship -- he refused to tell readers that DirecTV replaced Newsmax with another right-wing channel, The First, meaning that there is no viewpoint censorship happening.
Posted by Terry K. at 5:53 PM EST