WND Calls On Another Medical Misinformer To Help It Spread COVID Vaccine Misinfo
Topic: WorldNetDaily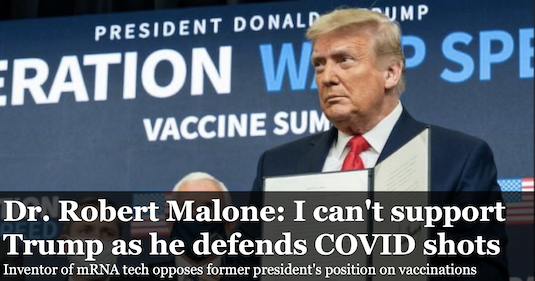 Along with Peter McCullough, another of WorldNetDaily's favorite COVID misinformers is Robert Malone. Bob Unruh help Malone spread more misinformation -- and spread misinjjformation about him in a Jan. 24 article:
Dr. Robert Malone, who invented the mRNA technology that was used for most of the COVID-19 shots, says he cannot support President Donald Trump for re-election as long as Trump defends the experimental shots.
Stop right there. Malone did not invent mRNA vaccines -- he merely did some research 30 years ago that helped contribute to their development. Unruh continued by quoting Trump both taking credit for the vaccines and raising questions about their safety:
The vaccinations were developed on a fast-track under Trump, after COVID-19 was unleashed in China and circled the globe, killing millions.

It was during an interview with "Real America's Voice" recently that Trump was asked about the COVID shots.

He said, "I was able to get something approved that, you know, that has proven to have saved a lot of lives. Some people say that I saved 100 million lives worldwide."

He also said there are concerns with the safety.

"You have to understand. There are the pros and cons…I never demanded anybody use it. I never had a mandate. And I think that's very important to know."
Unruh then moved toward ratcheting up the fearmongering and enlisting Malone in that effort:
Actually, the complications from the COVID shots still are being reported, and tens of thousands of deaths are being attributed to the shots.

Malone said he agreed with those who would not support someone backing the COVID shots.

"I shot a film segment designed to help DJT see the truth. No impact. As I said, it is with regret that I have to agree with Brian. This is different from Mikki's point. This is DJT's decision. I disagree," he said.
Weirdly, Unruh's article ends there -- no evidence is provided by either him or Malone that the vaccines are unsafe. This is a severely underbaked article published seemingly because it's easy stenography and can somewhat plausibly pass for an actual "news" piece.
By contrast, an article the same day by Peter LaBarbera stayed in the oven somewhat longer while treading the same fearmongering territory:
The FDA is now recommending Americans take annual COVID booster vaccines much like the flu shots that are made available every year, but selling that plan to a skeptical public will be increasingly difficult as doubts about the booster shots grow.

One prominent doctor said outside of people with multiple extreme health issues like obesity and diabetes, "nobody ... should take" the booster shots, and even those high-risk patients should "weigh the pros and cons" before getting injected.
LaBarbera oddly failed to identify that "prominent doctor" despite purporting to directly quote him. Instead, he cited more COVID misinformers:
The government's plan comes amidst widespread reports of unexplained, heart-related "sudden deaths" and serious cardiac incidents of young, mostly male Americans, including athletes — which prominent dissenters like Dr. Peter McCullough assert are most likely linked to the vaccines' myocarditis and blood-clot side effects.

In a video interview with Just the News, former Yale epidemiologist Dr. Harvey Risch, another high-profile critic of the government's "safe and effective" COVID vaccine narrative, said outside of people with "who have multiple, chronic" health issues, "I would say there's nobody who should take" the boosters.

"For people, say, over age 65 or 70, who have multiple, chronic conditions, maybe they're obese, they have diabetes, chronic heart disease, kidney disease, maybe they've had cancer — things like that — [for] those people, I think it's uncertain. The vaccines can do damage to those people, too, but the vaccines may actually provide some benefit, at least for some months, in reducing the risks of a more serious illness if they contract COVID. So I don't think the data are particularly clear as to the risk versus benefit, in a quantitative way, in those kind of people," he told Just the News' John Solomon and Real America's Voice in the interview posted today.

"For everybody else, there's no benefit of taking the booster. The booster has lost its efficacy for the new [COVID} substrains that are circulating now. ...So it's already uncalibrated for what's circulating, and that means its efficacy as a booster is less," he said. "But still the original component of it and the generic value of it as a booster ... provides benefit for some shortish period of time that might not be outweighed by the risks of the booster itself in high-risk people in the first place."
LaBarbera quoted no people who hwere not fringe anti-vaxxers to rebut McCullough or Risch. Instead, he cheered that "Americans are increasingly skeptical of the vaccines."
Posted by Terry K. at 5:32 PM EST
Updated: Tuesday, February 28, 2023 5:35 PM EST