CNS Tried To Blame Buttigieg For Holiday Flight Delays
Topic: CNSNews.com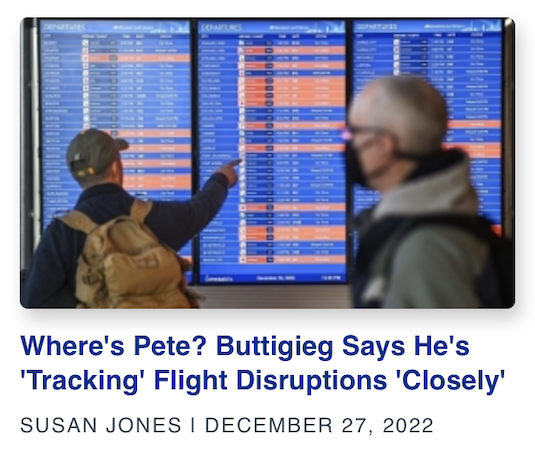 CNSNews.com has had a grudge against Pete Buttigieg ever since he ran for president and then became transportation secretary for the offense of not being heterosexual. So when flight disruptions caused by bad weather happened over the Christmas holidays, particularly involving Southwest Airlines, the first reaction CNS had was to blame Buttigieg -- even if it could not actually name anything he did or didn't do to cause them. Susan Jonbes began a Dec. 27 article this way:
"Anybody seen @PeteButtigieg lately? Our airline system is imploding. Vacationing again?"

Transportation Secretary Pete Buttigieg responded to that question, posed by someone on Twitter, on Monday night, saying: "I'm tracking closely & will have more to say about this tomorrow."

("Tomorrow" is today -- Tuesday. Buttigieg did not say where he is.)

[...]

This is not the first time stranded Southwest Airlines customers have asked, "Where's Pete?"

As CNSNews.com reported in October 2021:

Buttigieg, President Biden's transportation secretary, hasn't had much, if anything, to say about the disruptive, multi-day Southwest Airlines flight cancellations that have stranded thousands of passengers; or about the nation's supply chain logjam, where dozens of container ships wait off the California coast for the opportunity to unload."

As it turns out, Buttigieg was on (unannounced) paternity leave at that time.

Earlier this month, Buttigieg went to Portugal on vacation as a rail strike loomed.
Jones did not explain how Buttigieg is personally to blame for any of that. The next day, Jones did seem to understand that the blame lay at the feet of Southwest, not Buttigieg:
In a "travel advisory" posted on its website, Southwest Airlines warns of "irregular operations," meaning a majority of its flights continue to be canceled today and through the new year.

The advisory said Southwest is experiencing "high call volumes and busy signals," meaning thousands of customers are stranded in airports, some for days, with no opportunity to rebook their canceled flights.

Transportation Secretary Pete Buttigieg told NBC News Tuesday evening that Southwest needs to "take care of" its passengers and employees. He called it an "unacceptable situation" and said "cash refunds" need to happen:

[...]

NBC asked Buttigieg on Tuesday how travelers can have faith in the Transportation Department "as a watchdog, if these problems keep happening?"

"Well, what we did, especially over the course of the problems we saw this year, was press the airlines to increase their customer service commitments. They did that. They did that in writing," Buttigieg said:
In a Dec. 29 article, though, Jones was content with uncritically spreading Republican talking points from a GOP congresswoman, though she was more into attacking the Biden administration as a whole thought she threw some blame Buttigieg's way:
"The House Republicans will be different," Rep. Nicole Malliotakis (R-N.Y.) vowed on Wednesday, pointing to various problems, including air transportation, that keep "getting worse" during the Biden administration.

"We're going to pass bills to push for energy independence and for border security and to address supply chain issues. We're going to do it, and let's see what the Senate does in turn. That's the only leverage we have," she told Fox News.

[...]

"What's really frustrating here is that (Transportation Secretary) Pete Buttigieg brought all of these airlines in, he said he was holding them accountable, and he was going to push them to fix their operation so there wouldn't be cancellations. And he actually said coming out of these meetings that they were going to be prepared for the holidays -- he had fixed this for the holiday season.

"And then look what happened. I think that's what's really frustrating to the American people is, you always hear this administration talk about accountability and fixing things and then yet we find out the same problem keeps getting worse.
Jones served up more uncriticial GOP stenography later that day:
Two Republican congresswoman had blunt words for President Joe Biden and his "unqualified" transportation secretary on Wednesday, as thousands of Southwest Airlines travelers remain stranded, separated from their luggage, or both.

Rep. Nancy Mace (R-S.C.) said the weather-induced flight debacle hit close to home for her, as her teenage children "got stranded in Baltimore trying to make it home on Christmas Eve. And even today, five days later, we still don't know where their luggage is right now," Mace told Fox News on Wednesday night.

[...]

Appearing with Mace, Rep. Beth Van Duyne (R-Texas) said, "It's not just that Biden that goes on vacation when he's most needed. You look at Buttigieg -- from the beginning, this guy was not qualified to take this job. He's a Cabinet secretary.
Jones waited until the very end of this article to not that "Buttigieg has promised to hold Southwest "accountable" for failing to live up to its written customer service plan" -- which is hardly fair and balanced after paragraphs of Republican attacks.
CNS also published a Jan. 6 commentary by Dustin Suggins of the anti-abortion website LifeSiteNews attacking Buttigieg for not doing enough to fix this (even though conservatives generally don't want government to intrude into business affairs) while admitting this is largely out of his hands:
In short, there seems little for the Department of Transportation to actually do to "protect" customers from Southwest's mistakes. Secretary Pete Buttigieg's TV appearances and statements appear to be more about opportunism and virtue signaling than doing anything substantive.

If only we could say the same about the federal government.
CNS never addressed those issues again -- perhaps as a tacit admission that the blame really did lie with Southwest rather than Buttigieg. When the air traffic control system went down for a few hours on Jan. 11, Jones was surprisingly restrained in quoting Buttigieg issuing updates on the situation.
Posted by Terry K. at 12:22 AM EST