CNS' Jeffrey Still Dishonestly Cherry-Picking Pockets Of High Unemployment
Topic: CNSNews.com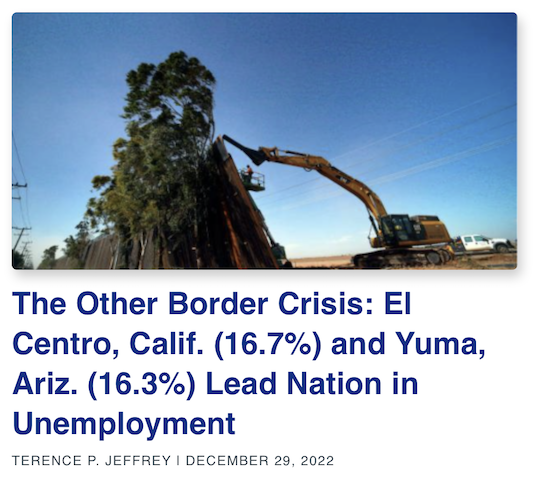 A Dec. 29 CNSNews.com article by editor Terry Jeffrey stated:
The surge of migrants seeking to cross the southwest border into the United States is not the only crisis that this country is seeing along that border: It is also the site of the U.S. metropolitan areas that have the highest unemployment rates.

The El Centro, Calif., metropolitan area led the nation with an unemployment rate of 16.7 percent in November, according to data released today by the Bureau of Labor Statistics.

That was 4.9-times greater than the national unemployment rate, which was just 3.4 percent in November.

The city of El Centro sits about 13 miles north of the U.S. Customs and Border Patrol station on the border between Calexico, Calif., and Mexicali, Mexico.

The Yuma, Ariz., metropolitan area had the nation's second highest unemployment rate—16.3 percent—in November. Yuma sits in the southwest corner of Arizona--just north and east of the Mexican border.

"Yuma, AZ, had the largest over-the-year rate increase in November (+5.0 percentage points)," said BLS.
We've documented how Jeffrey loves to cherry-pick the El Centro and Yuma areas because they have high unemployment that makes President Biden look bad -- something he notably does not do when a Republican is president, even though high unemployment in those areas are endemic because those areas offer little more than seasonal agricultural work.
Jeffrey continued to pile on:
Six of the remaining positions in the Top Ten metro areas with the highest unemployment rates were taken by metro areas situated in California's Central Valley—the state's primary agricultural region.

These include Visalia-Porterville, which ranked third with an unemployment rate of 8.5 percent; Merced, which ranked fourth with an unemployment rate of 7.2 percent; Hanford-Corcoran, which tied for fifth (with Yakima, Washington) with an unemployment rate of 6.9 percent; Bakersfield, which ranked seventh with an unemployment rate of 6.8 percent; Fresno, which ranked eighth with an unemployment rate of 6.6 percent; and Yuba City, which tied for tenth (with Madera, Calif.) with an unemployment rate of 6.3 percent.

The Texas border metro area of McAllen-Edinburg-Mission, Texas rounded out the top 10—coming in ninth with an unemployment rate of 6.4 percent.
Jeffrey is falsely suggesting that illegal immigration is the cause for this unemployment when, in fact, it is clearly seasonal agricultural work combined with few other opportunities in those areas that are the main driver for high unemployment. He then tried to dishonestly rub it in:
By contrast, the metropolitan areas with the nation's lowest unemployment rates in November were far from the southern border. In fact, three of them were in North Dakota, another three were in Minnesota, and yet another was in South Dakota.

The metros with the lowest unemployment rates included: Fargo, North Dakota which ranked first with an unemployment rate of 1.5 percent; Mankato, Minnesota, and Rochester, Minnesota, which tied for second with an unemployment rate of 1.6 percent; Sioux Falls, South Dakota, which placed fourth with an unemployment rate of 1.7 percent.

Bismarck, North Dakota; Columbia, Missouri; Grand Forks, North Dakota and Logan, Utah, all tied for fifth with an unemployment rate of 1.8 percent.

And Billings, Montana; Minneapolis-St. Paul, Minnesota; and Provo-Orem, Utah, all tied for ninth with an unemployment rate of 1.9 percent.
Jeffrey stayed silent on the difference between these and the other areas -- lack of dependence on seasonal agriculture and a more diversified economy. But when the economy is still doing well enough that CNS' usual tricks to downplay good unemployment numbers can't be invoked, Jeffrey seems to be grasping for whatever he can.
Posted by Terry K. at 5:57 PM EST