MSNBC Analyst Busts MRC's Graham For Falsely Framing His Words
Topic: Media Research Center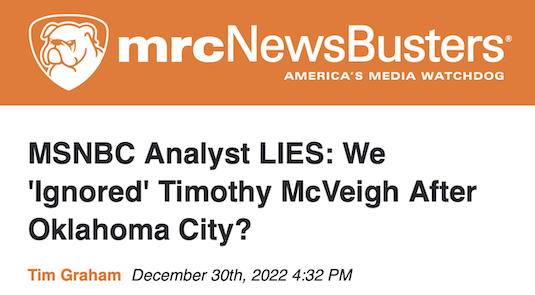 Media Research Center executive Tim Graham hasn't had a good year on Twitter, given how thoroughly he was ratioed after he tried to slut-shame Monica Lewinsky. He lost on Twitter again when the analyst whose words he falsely framed called him out on it. It bevan with a Dec. 30 post by Graham that began:
On Thursday's Deadline White House, Nicolle Wallace suggested she was interested in the "truth" about domestic terrorism and January 6, but MSNBC analyst Donell Harvin uncorked a wild claim that somehow, the national media were "ignoring" violent right-wing extremists like Timothy McVeigh and Eric Rudolph since the 1990s. That is completely false, but this is MSNBC, so no one questioned it. No "fact-checkers" evaluate MSNBC bloviations.
But Harvin never said the "national media" ignored McVeigh and Rudolph. What he said was this: "And I want to push back on the on the narrative of Republicans that I generally don`t get political, but strictly from a Homeland Security and Intelligence standpoint, the radical violent right is not nearly as dangerous or well-equipped to attack the Homeland as the left. We've been ignoring the violent right for decades. You can go back to Timothy McVeigh and Eric Rudolph." Nevertheless, Grahamranted:
In reality, the networks were intensely interested in Timothy McVeigh for his mass-murder with a truck bomb at the Murrah Federal Building in Oklahoma City in 1995. They smeared McVeigh on Republican politicians -- we had an article sarcastically headlined "McVeigh: Newt's Protege?" -- and they smeared his attack as emerging from conservative talk radio hosts like Rush Limbaugh.
Harvin never said that either -- and he responded to the NewsBusters tweet promoting Graham's post in order to point that out:
This is hilarious, thanks.

You misquote me when everyone can hear the video: "the national media were "ignoring" violent right-wing extremists like Timothy McVeigh and Eric Rudolph since the 1990s."

The "national media" was never said. You made that up.

Happy new year
Then Graham himself got involved, quoting the NewsBusters post on his item and sneering at Harvin: "Sounds like @donell_harvin was born yesterday." Harvin retorted: "Sounds like you can't even properly quote someone. As far as being born yesterday? You tell me brother.." His tweet was accompanied with a picture of him working at the site of the 9/11 terrorist attack at the World Trade Center.
Graham then went on Newsmax to rage at Harvin some more:
First of all, it's a lie to suggest that somehow 'we' ignored Eric Rudolph or that 'we' ignored Timothy McVeigh. I mean, we wrote an article at the time with the headline "Timothy McVeigh: Newt's Protege?" because they tried to smear Timothy McVeigh all over the Republican Party, and this is what they're doing today. They're suggesting that those hotheads, those Trump-loving hotheads who, you know, went and beat up cops, oh, that's the Republican Party, guys, And they use a term like domestic terrorism, which is very loaded, and bloodbath? You know, again, who was shot on January 6? One person was shot by a Capitol policeman, so there was a little bit of a bloddbath there, and they never want to discuss her.
Graham didn't mention that Ashli Babbitt was breaking and entering into the Capitol. But Harvin responded to Graham's rant: "This is amazing reporting. Thanks!" Graham lamely huffed: "Your sarcasm game is just as impressive as your pundit game." Harvin then harshly called him out:
I'm hardly a pundit, nor a reporter.

I am someone that's placed my body in harm's way for over 30 years to protect the public.. And I don't misquote people and manipulate video to create a story for myself.

There's far more honorable ways to make a living, my friend.
And he added:
I'll make you an offer. Happy to go on Newsmax w you and apologize to the world.

You just have to:

1. Find the part where I said the "media". I was referring to those in homeland security

2. Find the part where I or anyone calls Republicans "terrorists"

I'll wait, my friend
Unsurprisingly, Graham never responded -- he doesn't apologize, and he doesn't go on Newsmax to have an honest debate with anyone; it's where he goes to spout his daily talking points unchallenged because he knows whatever Newsmax host has him on will never challenge him.
Presumably, Harvin is still waiting in vain.
Posted by Terry K. at 10:44 AM EST
Updated: Saturday, January 28, 2023 10:48 AM EST