Dick Morris Still Clinging To Meal Ticket Trump
Topic: Newsmax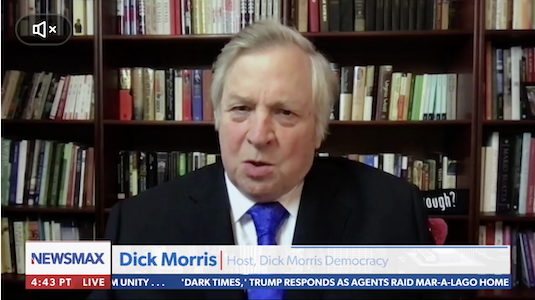 Dick Morris had a little detour in a Christmas Eve appearance on Newsmax TV in which he hyperbolically declared that a scientific breakthrough in nuclear fusion is "most incredible thing for mankind since the fire, potentially and, of course, the greatest gift we've received since the presence of our Lord," but otherwise, Morris' hyperbole was largely focused on his current meal ticket, Donald Trump over the Christmas holiday. He latched onto Elon Musk's selectively released "Twitter files" to proclaim Trump a victim in a Dec. 26 appearance:
The continued drip of Twitter Files revelations are showing a rigging of the social media giant by governmental forces often at political odds with former President Donald Trump, political adviser Dick Morris told Newsmax.

"Trump emerges from this as the victim in chief," Morris told Monday's "American Agenda." "He's the one who was victimized when the Hunter Biden laptop was suppressed, and the FBI wouldn't let us see it two weeks before a presidential election.

"And when the special prosecutor comes after Trump and says, You lied to endanger the national security when you said the election was fixed and rigged, Trump can come back and say, Lie? We now have proof that the FBI was suppressing the laptop, which made it impossible to have a fair election, because nobody had any idea that Biden was cooperating with the Chinese Communist Party. Both Bidens were."
Morris inserted Trump into another talking point in a TV hit the same day:
Not only can former President Donald Trump run on Democrats and President Joe Biden spending $1.7 trillion on the omnibus spending package, presidential campaign adviser Dick Morris told Newsmax, but even Trump's Republican rivals are exposed by it.

"McConnell's robbing the Republicans of their right to control spending" is a 2024 campaign winner, Morris told Monday's "Rob Schmitt Tonight," denouncing Senate Minority Leader Mitch McConnell, R-Ky., for "jamming this through" and leaving Republicans "with no power over the debt limits."

McConnell's GOP leadership-backed candidates and even Florida GOP Gov. Ron DeSantis might try to oppose Trump in 2024, but they will have to answer to their benefiting from massive spending in this $1.7 trillion omnibus, according to Morris.
A Dec. 29 column by Morris reframed those talking points as advancing the premise of his recent Newsmax-published pro-Trump book (bolding and italic in original):
Out of office and out of power, Donald Trump could be searching for relevance as he starts his 2024 campaign.

But he isn't.

He has a plan.

It's in my new book "The Return: Trump's Big 2024 Comeback."

Events are clearly moving in his direction.

Two serendipitous things happened and just dumped into Trump's lap issues that will make him president again.

First, the Twitter Files exposé is one of the most shocking examples of government censorship and collusion with the FBI and Big Media ever.

Second, there's the big spending, budget-busting omnibus bill Sen. Mitch McConnell, R-Ky., backed, effectively castrating the new Republican House majority.

"The Return" – Trump needs to run against the Swamp and the GOP establishment.

McConnell is the very personification of the Swamp.

So Donald Trump has two great issues to ride: free speech and fighting McConnell.
Morris had a TV hit that day rehashing a previous assertion that Republicans need to embrace early voting because Democrats are beating Republicans with it. But he returned to his pro-Trump talking points the next day, this time trying to cut down Trump's current biggest threat in the 2024 election, Florida Gov. Ron DeSantis, with help from a pro-Trump pollster:
Political expert Dick Morris said Friday on Newsmax that former President Donald Trump would beat Florida Gov. Ron DeSantis before he even decides to challenge him in 2024.

On "Eric Bolling The Balance," Morris joined pollster John McLaughlin to discuss the likely contenders in the next Republican presidential primary, with the potential battle between Trump and DeSantis at the forefront.

"I think the issue is Trump will beat DeSantis before he even runs," Morris said. "And I think most likely he'll deter him from running because DeSantis has a clear shot in 2028."

[...]

Meanwhile, McLaughlin said that polling data from McLaughlin & Associates has only confirmed that Trump is still the front-runner heading in 2024, demonstrating only a slight decline in the past year.
The author of this article, Luca Cacciatore, failed to mention that McLaughlin's pre-midterm polling predicting a "red wave" was wildly wrong.
Posted by Terry K. at 2:44 PM EST
Updated: Friday, January 27, 2023 2:52 PM EST