WND's Alexander Complains That Dubious Ariz. Election Fraud Lawsuit Got Tossed
Topic: WorldNetDaily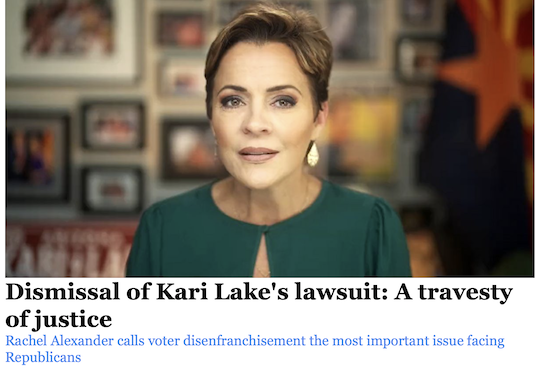 We've documented how WorldNetDaily spent her time before the midterm elections laying the groundwork to claim election fraud if Republicans lost, then sprung the trap to push dubious claims of election fraud in Arizona, particularly in the governor's race lost by Republican Kari Lake. When Lake's lawsuit pushing those claims was quickly tossed out of court, Alexander devoted her Dec. 26 column to complaining about it:
The trial court judge in Kari Lake's election lawsuit predictably threw out her case on Saturday, putting on a sham trial that on the surface looked fair to the general public that doesn't know any better, but to legal minds was a travesty of justice. Maricopa County Superior Court Judge Peter Thompson only gave Lake two days for a trial and issued his ruling immediately afterward, even though he could have taken several days, and it was one of the biggest, most important cases in the country. Legal experts believe his decision was ghostwritten; they suspect top left-wing attorneys like Marc Elias emailed him what to say.

The standard should have been whether voters were disenfranchised, not all the additional hoops Thompson added. If inner city blacks had been disenfranchised, Thompson would not have added all those extra requirements – he would have made the law fit. Robert Gouveia, a rare attorney who isn't afraid to speak up and who describes himself as watching prosecutors, judges and politicians, said the standard should have been whether there was voter suppression.

Instead, Thompson said Lake had to show an extremely vague, high bar in order to prevail, that an election official intentionally caused the printer changes in order to change the results of the election, and that it did affect the outcome. He explained away many of the disturbing election anomalies as accidents or mere coincidences. He ignored the vast majority of them; in a show of arrogance, his opinion was less than eight pages long.

Thompson completely ignored all the voters who saw the long lines and gave up trying to vote, as if they didn't count. Considering probably well over half of the voting locations in Maricopa County were affected, not to mention they were almost all in heavily Republican areas, this was no small disenfranchisement. Many voters have come forward and told how they were unable to vote for this reason or similar, such as a man who couldn't find parking in time due to the overcrowded parking lot.
At no point did Alexander quote anything from Thompson's ruling dismissing Lake's lawsuit, let alone specifically rebut any of them -- all she served up with more conspiracy-mongering. And she ended dramitically: "Voter disenfranchisement has become the most important issue facing Republicans today, and if not stopped, we will become a one-party nation."
(Lake retweeted Alexander's bizarre and potentially libelous claim that Thompson's decision was "ghostwritten" by "left-wing attorneys like Marc Elias" -- which Lake deleted shortly thereafter, presumably after realizing that insulting judges and falsely accusing them of ghostwriting opinions is perhaps not the best way to encourage one to rule in your favor.)
Alexander kept up the dubious election fraud narrative in her Jan. 2 column:
Distrust in the justice system over its refusal to stop voter disenfranchisement is spiraling after Maricopa County Superior Court Judge Peter Thompson dismissed Kari Lake's lawsuit challenging the results of Arizona's botched midterm election, where Democrat Katie Hobbs was declared the winner. Hobbs was losing in almost every MSM poll and didn't bother to debate Lake, prompting one of the most prominent progressive journalists in the state to denounce her hiding in her basement as "political malpractice." Hobbs was such an unremarkable candidate that she has only 177k Twitter followers to Lake's 834k followers, over 400% fewer.

The Republican Party has a 4% voter registration over Democrats in both Maricopa County and statewide. Despite this, 14% of voters supposedly flipped to oppose Arizona's top Trump candidates. Just like how no one believed Donald Trump lost the state in 2020, when he led Joe Biden 3 or 4 points going into the election, no one believes Hobbs really won. This is why instead of being happy and gloating at their win, the left is reacting with a bizarre level of intense anger toward the right.

Lake's team discovered that over 298,942 ballots delivered to third-party signature verification service Runbeck Election Services on Election Day had no chain of custody and provided this evidence to Thompson. A Runbeck employee stated there were at least 9,530 duplicate ballots printed and issued with no chain of custody. And two days after the election, 25,000 more ballots were found that lacked a chain of custody, totaling over 333,472 ballots. Under Arizona law here and here, every one of those constitutes a class 2 misdemeanor.
But as a fact-checker pointed out, one of Lake's own witnesses at the trial admitted during cross-examination that delivery receipt forms did exist and that she had seen them in photos -- meaning that chain of custody does exist even if she wasn't given physical copies of them.
Alexander then pushed another conspiracy theory:
The MSM is ignoring the prosecution threats county supervisors have received for merely considering conducting a hand count of the ballots. Mohave County Supervisor Ron Gould was threatened with a felony and jail. Hobbs threatened county attorneys into not doing their legal job of representing county supervisors like him. A.R.S. 13-1804, extortion theft, states that it is a class 4 felony to threaten to "Take or withhold action as a public servant or cause a public servant to take or withhold action."
Alexander didn't mention that Gould and Mohave County officials wer in the process of breaking Arizona law by refusing to certify the election by the state-mandated deadline.
Alexander concluded by touting Lake's desperate appeal of the court ruling:
All eyes are now on the Arizona Supreme Court and then the U.S. Supreme Court to see if they go along with the trial court judge and cover for the wrongdoing using a bogus technical excuse. In 2020, SCOTUS didn't provide reasons for rejecting certiorari on Trump's election lawsuit and others. The people need to watch both courts closely and hold them accountable if they do not correct this travesty of justice, by refusing to reelect the Arizona Supreme Court judges and creating awareness about the inaction of SCOTUS justices.
Clinging to never-proven or long-disproven conspiracy theories about election fraud shows why Alexander makes for a good WND columnist.
Posted by Terry K. at 3:11 PM EST
Updated: Thursday, January 26, 2023 5:35 PM EST