How Is WND's Moore Fearmongering About COVID Vaccines These Days?
Topic: WorldNetDaily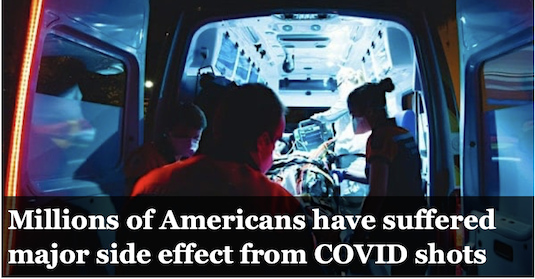 WorldNetDaily is all about spreading fake news and conspiracy theories about COVID vaccines to make their readers afraid of medical treatment. How has it been doing that lately? Here are a few examples.
Top WND misinformer Art Moore wrote in a Nov. 30 article:
CDC data turned over by court order shows health-care workers and others who were first to get the mRNA COVID vaccines suffered an extraordinarily high rate of complications.

Among earliest populations to get vaccinated, the data withheld by the CDC showed 1 in 3 reported needing medical care, missing school or work, or the inability to "perform normal daily activities," Just the News reported.

The CDC collected the data through V-safe, described by the agency as a "smartphone-based tool that uses text messaging and web surveys to provide personalized health check-ins after you receive a COVID-19 vaccination."

The Informed Consent Action Network obtained the data through an ongoing Freedom of Information Act lawsuit against the CDC.
Moore censored the fact that the ICAN is a leading anti-vaxxer group that spreads misinformation about vaccines of all kinds, so it clearly can't be trusted.
Moore ranted about the new COVID booster being approved for young children in a Dec. 8 article:
Americans clearly have become aware that COVID-19 poses little threat to most people while the mRNA vaccines don't prevent infection while evidence grows that they pose the risk of serious adverse events, including death, that have been downplayed or ignored by the government and medical establishment.

The evidence for that is the fact that, according to the CDC, less than 13% of Americans age 5 and older have received the new bivalent booster targeting the omicron subvariants.

Children are the most immune from COVID-19, with, statistically, virtually no chance of serious illness or death.

Nevertheless, the Food and Drug Administration on Thursday approved the bivalent mRNA booster for children aged 6 months to 4 years.

[...]

However, there is no clinical data supporting the efficacy of the bivalent booster. Federal regulators acknowledged they authorized the shot based on data from eight mice and other updated vaccines. And the safety data came from the old vaccines.
That's because the new boosters are virtually identical to the old ones aside for the addition of the second variant medicaton, and the original vaccine and boosters have proven safe despite all of WND's fearmongering.
Moore fearmongered further in a Dec. 12 article:
Of the 68% of American adults who took a COVID-19 vaccine, 41% say they have suffered at least a minor side effect, according to a Rasmussen poll.

A total of 7% said they experienced a major side effect, which would amount to 12 million adults.

The survey of 1,000 U.S. adults – conducted Nov. 30-Dec. 1. – also found that 57% of U.S. adults were at least somewhat concerned that the vaccines many have major side effects, including 31% who were very concerned.

Rasmussen head pollster Mark Mitchell said in a video presentation on the survey that "the COVID pandemic was so politicized that, literally, the tribal party group that you belong to is essentially what dictates your views on the effectiveness of a vaccine."
Moore dodn't mention that Rasmussen's polls have a right-wing bias, or that actual medical exports show a much lower rate of side effects.
Moore complained about a new study in a Dec. 14 article:
If you decided to forgo an experimental vaccine that does not prevent contracting a disease with a survival rate of nearly 100% while posing the risk of severe harm or death, you fit the profile of a person who is much more likely to get into a car crash.

That's according to a study reported by Fortune that was published in December in The American Journal of Medicine.

Canadian researchers concluded that people who didn't receive the COVID-19 vaccine were 72% more likely to be involved in a severe traffic crash – meaning at least one person was transported to the hospital – than those who were vaccinated.

The authors – after examining government-held records of more than 11 million adults – theorize that people who don't comply with public health recommendations might also "neglect basic road safety guidelines."

The unvaccinated, the researchers suggest, might "ignore" the rules of the road because of their distrust of the government, a belief in freedom, "misconceptions" of daily risks, "faith in natural protection," "antipathy toward regulation," poverty, misinformation, a lack of resources and personal beliefs.
Moore failed to mention that more than one million Americans hae died from COVID , or that even if you survive getting it, you stil have a notable chance of having lingering symptoms for months (also known as long COVID).
Moore expressed glee in another article the same day, in which he got to parrot that dubious poll result:
Halfway through a $475 million Biden administration campaign promoting the new bivalent COVID booster, only about 1 of 9 Americans have chosen to get the jab.

The federal government has spend more taxpayer funds purchasing 171 million doses of the booster, which was granted emergency use authorization after a brief Pfizer trial involving eight mice and no humans.

About 68% of Americans age 5 and older received the initial round of the COVID vaccines, but only 13.5% have taken the booster, which targets omicron subvariants. A little more than 120 million does of the shot remain unused.

A recent Rasmussen poll found that of the American adults who took a COVID-19 vaccine, 41% said they had suffered at least a minor side effect. A total of 7% said they experienced a major side effect, which would amount to 12 million adults.
Moore also hyped his own favorite COVID misinformer: "Acclaimed cardiologist Dr. Peter McCullough was among the health scientists calling for the COVID-19 vaccines to be immediately withdrawn." WND has served as a primary conduit for McCullough's medical misinformation.
Posted by Terry K. at 6:27 PM EST