MRC Childishly Mocks CBS For Fact-Checking Hunter Biden Laptop Story
Topic: Media Research Center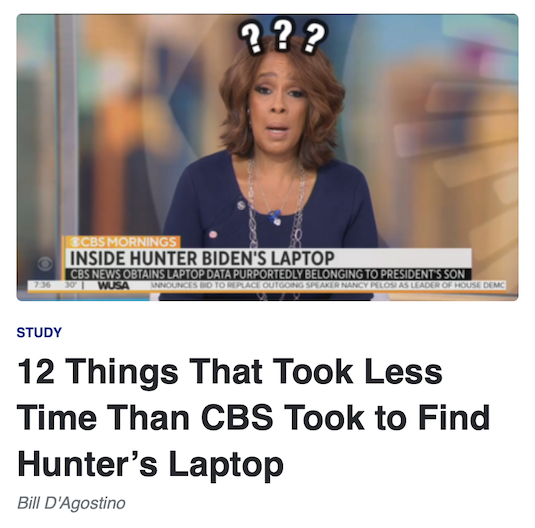 The Media Research Center's Hunter Biden Derangement Syndrome is so bad that it childishly mocks anyone who did their homework to actually verify the story about his Hunter's laptop before running with it -- unlike, of course, the MRC's fellow residents of the right-wing media bubble, who decided it was too good to fact-check before relentlessly hyping the partisan story. We saw that immaturity in a Nov. 21 post by Curtis Houck:
With Democrats having secured the White House in 2020 and fared better than expected in the 2022 midterms, Monday's CBS Mornings spent nearly six minutes (five minutes and 41 seconds) finally conceding something ludicrously obvious: Hunter Biden's laptop from hell is real.

CBS let the intrepid Catherine Herridge out to report on a story purposefully censored by the liberal media and Big Tech. And, sure enough, Herridge commissioned an independent review of a "clean copy" from former Delaware laptop repair shop owner John Paul Mac Issac that found there's no evidence it was tampered with.

[...]

Herridge shared "the laptop's backstory" dating back to 2019 and then, in an attempt to excuse the media's censorship campaign, fretted that "versions were widely shared by Republican operatives" in the 2020 election cycle and "questions were raised about whether additional files were added to those versions."

[...]

Following clips of moderate Republican strategist Doug Heye warning investigations into Hunter could "backfire," Herridge threw in a dismissal meant to suggest there's no there there: "After two years of scrutiny, the laptop has not produced evidence President Biden directly benefited from his son's business deals."

This all led co-host and Democratic donor Gayle King to fret: "Hmmm. Could be a lesson to pay your bills. $85 could have changed everything had the bill been paid."

Where in the world was this take two years ago, Gayle?
As usual, Houck never explained why anyone should have trusted the story at face value when it came out, given that it came from a pro-Trump newspaper that offered no independent verification and even seasonsed intelligence professionals said it looked like Russian disinformation. Instead, he took the lazy conspiracist's way out and claimed without evidence that the story was "purposefully censored."
This was followed by a mocking, unprofessional item later that day by Bill D'Agostino purporting to be "a list of things that somehow took less time than CBS took to finally admit to the existence of Hunter Biden's laptop."
Then, the next day, Houck went on Fox News to clown around over the story:
Making his latest appearance on the Fox News Channel's Fox News @ Night, NewsBusters managing editor Curtis Houck and host Trace Gallagher slammed CBS News early Tuesday for having finally admitted 768 days after the New York Post's first report to concede Hunter Biden's laptop is real and anything but a conspiracy theory.

"And another black eye for CBS. After dismissing the Hunter Biden laptop as disinformation and unable to be verified, the network once called Tiffany now having an epiphany, yet sadly it comes two years too late," said Gallagher in a tease.

Going later to Houck, he noted that "the phrase better late than never...might not apply this time" with CBS waiting until two major elections passed to consider the laptop's "authenticity" as well as the fact that CBS's 60 Minutes correspondent Lesley Stahl mocked the idea it was real in an October 2020 interview with then-President Trump.
Note that Gallagher unironicially complained that CBS had "dismissing the Hunter Biden laptop as disinformation and unable to be verified" -- even though that was exactly the case. Gallagher certainly didn't criticize the New York Post for providing any independent verification at the time.
Houck went conspiratorial here too: "Houck later agreed with Gallagher's recognition that CBS made this call in order 'to get ahead of' next year's House probes, adding it could be that as well as simply being 'on the other side the midterm elections, but I think it's definitely more about wanting to get ahead of the House Oversight Committee'."
It's immature and totally rehearsed, but it got Houck on TV, right? Getting TV hits and website clicks is much more important than legitimate "media research" at the MRC these days.
Posted by Terry K. at 2:15 PM EST