WND Pushed Conspiracy Theories Against Kari Lake's Opponent
Topic: WorldNetDaily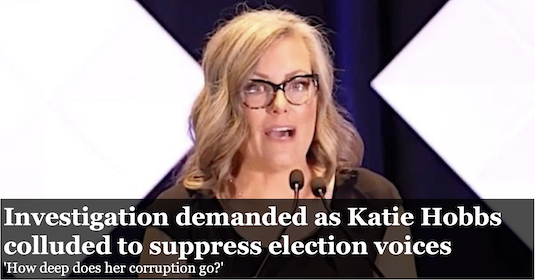 WorldNetDaily has embraced Kari Lake's election denierism, so it's not surprising that it would launch attacks on the woman who defeated her for Arizona governor, Katie Hobbs. An anonymously written Nov. 14 article tried to build a conspiracy theory out of the idea that because Hobbs was Arizona secretary of state, she would be signing off on her own election:
It is a conflict of interest?

Democrat Katie Hobbs, the party's candidate to be governor of Arizona, is holding a small lead in the race over Republican Kari Lake as the last few percentages of precincts are counted – a week after the fact of the election.

And as the state's elections chief as secretary of state, she could be in the position to certify her own election.

Which has raised objections from Lake, who suggested Hobbs should recuse, because of the apparent conflict.
In fact, the secretary of state's role in certifying elections is largely ceremonial and there was no real reason for Hobbs to recuse herself.
Art Moore pushed another Hobbs attack in a Nov. 29 article:
As Arizona Republican gubernatorial candidate Kari Lake challenges Maricopa County's certification of the 2022 election in court, the chairman of another county is declaring he voted to certify under duress.

"I found out today that I have no choice but to vote 'Aye' or I will be arrested and charged with a felony," said Ron Gould, chairman of the Mohave County Board of Supervisors.

Lake's opponent, Arizona Secretary of State Katie Hobbs, who is overseeing the election, has threatened felony charges for officials who don't certify the election.

Hobbs is suing Cochise County, which refused to certify by the Monday deadline.
But as a more responsible media outlet reported, there was a state-mandated Nov. 28 deadline for Arizona counties to certify the election , but county officials clung to a dubious claim that the county's voting machines weren't certified as an excuse to delay certification, adding that "County boards do not have the legal right to either change the results provided by their elections officials or refuse to certify them."
An anonymously written Dec. 2 article rehashed numerous pro-Lake, anti-Hobbs claims, including that "It was Secretary of State Katie Hobbs, who curiously 'won' that race, that sent an email to officials in Mohave County threatening to file felony charges against them."
Bob Unruh tried to manufacture a conspiracy theory in a Dec. 6 article:
Multiple people have called for an investigation into Katie Hobbs, the Democrat governor-elect of Arizona, after it was revealed that she colluded with Big Tech to censor information about the election in which she was on the ballot.

Republican attorney general nominee Abe Hamadeh's campaign issued a statement that, "The Secretary of State (Hobbs) was working with the federal government and Big Tech to silence free speech and political dissent in an election that she was on the ticket for. This needs to be fully investigated."

Also, firebrand U.S. Rep. Marjorie Taylor Greene, R-Ga., said, "The SOS of AZ and Gov candidate, Katie Hobbs, used the power of the AZ SOS to collude w/Twitter to unconstitutionally violate 1st Amendment rights of Americans for her own political gain. This is communism and Hobbs can not be governor. I'm calling for a Federal investigation."

It is a report at Just the News that explained Christinia Bobb, a lawyer for Donald Trump for President 2024, wondered, "What else did Katie Hobbs have removed? And how much censorship took place under her office?"

The report said Twitter removed several statements from the social media site after Hobbs' office contacted an organization called the Center for Internet Security, "which forwarded it to Twitter."
Unruh is lying. In fact, the Hobbs action in question did not try to "censor information about the election in which she was on the ballot" -- it was made on Jan. 7, 2021, months before Hobbs announced for governor, something even the dubious Just the News admits. The request specifically address the false claim made in those tweets that the state's voter registration system is controlled by foreigners. Unruh offered no proof otherwise, nor did he explain why lies should never be challenged or why it's "censorship" to remove verifiably false information.
Despite that, Andy Schlafly perpetuated this misinformation, delcaring in his Dec. 6 column that "In a story broken by The Gateway Pundit, Twitter censored tweets critical of Democratic gubernatorial candidate Katie Hobbs at her request" without mentioning important context like the untruth of the tweet being "censored."
Posted by Terry K. at 2:34 PM EST
Updated: Monday, January 16, 2023 2:48 PM EST