MRC Stayed Bitter About Herschel Walker's Loss
Topic: Media Research Center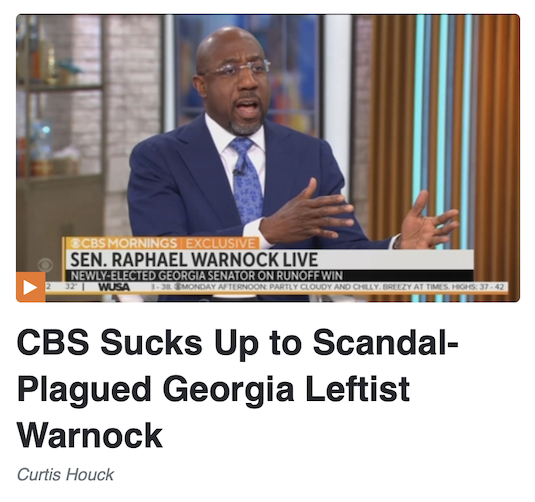 Even days after Herschel Walker lost the Georgia Senate election (twice), the Media Research Center still couldn't let go of it. Gabriela Pariseau fed Walker into a pre-existing (and bogus) narrative in a Dec. 12
post
:
Google once again tried to manipulate undecided voters with slanted search results.

This time the Big Tech company's tactics seem to have benefited incumbent Democrat Senator Raphael Warnock in the hotly contested Georgia runoff Senate race against Republican candidate Herschel Walker. "Google at it again trying to swing the election," MRC founder and President Brent Bozell said. "Google needs to be held accountable for interfering in elections."

MRC Free Speech America analyzed Google, Bing and DuckDuckGo search results from searches conducted on Dec. 3 in one majority Democrat precinct, one majority Republican precinct and one swing precinct in Coweta County, Georgia.

In a very telling revelation, MRC Free Speech America researchers found that Google's results favored Warnock in the swing precinct where greater proportions of undecided voters likely reside. Warnock's campaign website appeared third in Google search results, but the platform scrubbed Walker's website from the first page of results altogether.
But as it has done before in trying to manufacture a right-wing narrative of Google search bias, the MRC's approach lacks a basis in reality. The serarch terms used -- "Herschel Walker Senate Race 2022" and "Raphael Warnock Senate Race 2022"-- are not ones normal people would use in seeking information about the race, no explanation was given as to why those terms were used or why they whould have returned the results the MRC demanded.
There's one other interesting twist. Pariseau noted that "MRC Free Speech America worked with David Carlson, executive director of American Virtue, who oversaw the search tests used in this analysis." American Virtue is a white nationalist-adjacent organization that has tried to tone that stuff down in a bid for mainstream respectability. Political Reserarch Associates reported on the group after a conference it held last summer:
From its beginnings, American Virtue has strained to distance itself from White nationalist Nick Fuentes and his Gen-Z America First/groyper movement. They have attempted this by toning down overtly racist, male supremacist, and antisemitic rhetoric in a bid for mainstream conservative respectability, even as they mimicked many aspects of groyper ideology and style.

[...]

While Fuentes' unfiltered antisemitism, White nationalism, and incel-infused male supremacy has made him a liability for many conservative leaders, American Virtue continues to take a more circumspect route, flirting with groyper politics and aesthetics while carefully avoiding crossing red lines like antisemitism, positioning themselves within the bounds of mainstream conservative respectability. "We believe that America is a Christian nation," proclaimed American Virtue Managing Director David Carlson during Friday's conference, encapsulating the group's militant Christian nationalism. "We believe that America has one culture, a shared identity, a shared heritage, and a shared tradition—and that people trying to supplant that tradition, trying to destroy what made us America, are fundamentally opposed to us in every single way, and they must be stopped."
Pariseau didn't explain why the MRC considers an extremist like Carlson to be a credible person to collaborate with for this biased experiment.
Curtis Houck spent a Dec. 19 post whining that the the guy who beat Walker (twice), Raphael Warnock, was interview without being assaulted by Houck's favorite right-wing talking points:
Monday's CBS Mornings didn't cover part six of the Twitter Files released on Friday, but they did spend eight minutes and 22 seconds sucking up to Senator Raphael Warnock (D-GA) over his latest election victory, asking him to run for president in 2024, and pushing him from the left on "voter suppression," prosecuting former President Trump, and the border.

Of course, nothing came up about his alleged violent behavior toward his ex-wife, allegations of missed child support, misconduct at a church camp he had helped oversee, and evictions from apartments owned by the church he pastors (which are in rancorous conditions).
Houck forgot to mention that he and his employer spent months insisting that similar scandals against Walker -- with the addition of purchasing multiple abortions for galpals -- were not newsworthy and attacked any non-right-wing media outlet that covered them.
Posted by Terry K. at 3:15 PM EST