MRC Excuses Trump Trading In Anti-Semitic Tropes, Denies He's Anti-Semitic
Topic: Media Research Center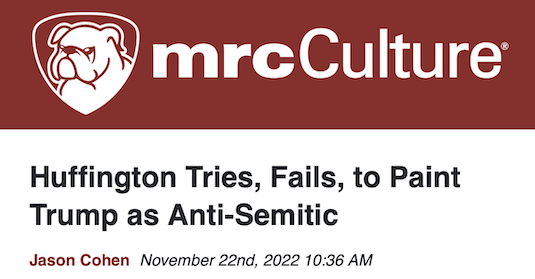 In the month before Donald Trump had a dinner with anti-Semites Kanye West and Nick Fuentes, the Media Research Center labored to protect Trump from allegations of being anti-Semitic over his criticism of non-right-wing American Jews for allegedly not being sufficiently supportive of Israel. When he first made the claim in October, Mark Finkelstein launched quickly into Trump Defense Mode in an Oct. 17 post:
Monday's Morning Joelaunched quickly into Trump Attack Mode, bizarrely claiming Donald Trump put out a "dangerous" and "anti-Semitic screed" on his Truth Social account about American Jews and Israel.

Today's Morning Joe deceptively cast this Trump "tweet" as suggesting that American Jews better get their act together before it's too late—for them!

That sounded ominous--until you read what Trump had actually written.

[...]

In other words, far from making a threat against American Jews, Trump's tweet was actually a plea for greater support for Israel! That Israel was endangered, from neighboring anti-Semites like the Iranians.

But Morning Joe repeatedly insisted that Trump's tweet was "anti-Semitic." And not merely a "dog whistle," but "screaming it out loud."

In a dramatic display of twisting these remarks out of context, Jonathan Lemire claimed that Trump's tweet "could be interpreted by his followers as a moment to potentially commit violence against Jews." And Joe Scarborough said the tweet was akin to a previous one by Trump in which he said that Mitch McConnell had a "death wish."

Trump was saying no such thing. But Morning Joe was sending a false message to potentially deranged people out there that Trump was in fact calling for violence against Jews. So if there's any violence that emerges, they can point their fingers.
Finkelstein followed up with more defense the next day:
This would be funny if it weren't so outrageous.

On his MSNBC show on Sunday, Mehdi Hasan, formerly of Al Jazeera, teed up notorious antisemite Democrat Rep. Ilhan Omar to falsely accuse Donald Trump of making an antisemitic post, and to wring her hands of the rise of antisemitism in America.

As Eli Lake, tongue firmly in cheek, tweeted: "Up next, Vladimir Putin will talk to Mehdi about the importance of international law in a nuclear world."

Hasan introduced the subject by abjectly mischaracterizing Trump's tweet as having "threatened American Jews." To the contrary, as we noted yesterday, "far from making a threat against American Jews, Trump's tweet was actually a plea for greater support for Israel!"

Ilhan proceeded to wring her hands over Trump's alleged use of antisemitic "tropes." In particular, she condemned Trump's supposed charge of "dual loyalty" against Jews. This from the woman who said, in a reference to American Jewish supporters of Israel, "I want to talk about the political influence in this country that says that it is OK for people to push for allegiance to a foreign country."

Omar has a long history of anti-Israel/antisemitic statements. There was that notorious tweet in which she wrote: "Israel has hypnotized the world, may Allah awaken the people and help them see the evil doings of Israel."

Her most infamous bit of classic antisemitism came when, directly pointing the finger at AIPAC, Omar claimed US support for Israel is "all about the Benjamins baby."
Finkelstein didn't explain any criticism of Israel is automatically anti-Semitic.
When Trump said pretty much the same thing a month laters, it was Jason Cohen's turn to be the designated defender in a Nov. 22 post:
In the left's latest effort to frame Donald Trump as an antisemite, HuffPost tried to spin his recent remarks at the Republican Jewish Coalition in a piece with the headline "Donald Trump Scolds Jews, Praises Evangelicals In Geopolitical Swipe." Sounds terrible, right? But in reality, it was not at all. Huff Left out details about the speech and the response to it.

For starters, in the clip it used from Mediaite, Trump began: "I just grew up with a great fondness and a great feeling for Jewish people and for Israel."

HuffPost ignored that and started with this quote: "Some people in the United States — Jewish people — don't appreciate Israel the way they should."

Funnily enough, this line received loud applause from the crowd at the RJC, but HuffPost neglected to note that. Is the audience at the Republican Jewish Coalition anti-Semitic too?

[...]

Trump continued, "But I appreciate Israel, and it's an honor to have, I think, done far more for Israel than any other president."

Trump is particularly proud of his accomplishments in Israel, his favorite child is Jewish, and he has a lifelong record of being a friend to the Jewish people.

Worst anti-Semite ever.
Actually, Trump has a record of invoking offensive Jewish stereotypes such as calling them good with money and shrewd negotiators, as well as telling Jews that Israel is "their country," which invokes another anti-Semitic trope, that of dual loyalty. Cohen's claim that Trump "has a lifelong record of being a friend to the Jewish people" linked to an article written by a pro-Trump organization called Jews Choose Trump -- hardly an objective source.
Cohen concluded by huffing: "When will the left ever learn to judge people by their actions, not words and tonality?" Weird how Cohen thinks words and tone don't matter when it's a right-winger spouting the offensive ones.
A few days later, Trump had his dinner with Ye and Fuentes. Cohen was among those MRCers who were mad -- not at Trump, of course, but that reasonable observers viewed this dinner as evidence Republicans have a certain comfort level with anti-Semitism.
Posted by Terry K. at 12:24 PM EST