MRC Still Peddling Made-Up 'Secondhand Censorship' Narrative
Topic: Media Research Center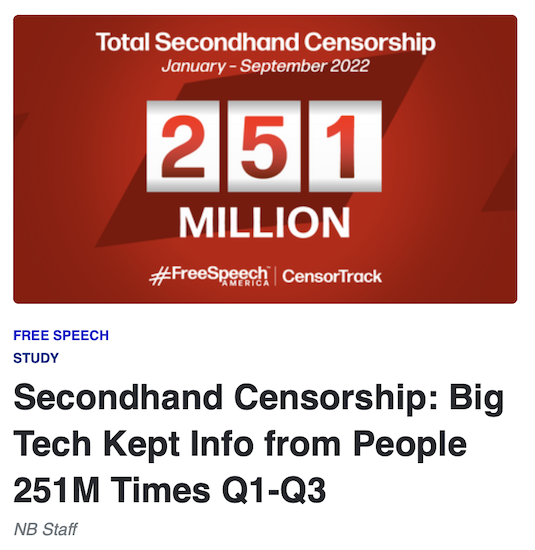 We've exposed the Media Rsearch Center's manufactured "secondhand censorship" metric regarding purported "censorship" of social media for what it is -- a wholly invented, needlessly large number designed to push partisan right-wing narratives against "big tech" rather than generate meaningful discussions. Nevertheless, they're still at it, this time hiding behind anonymity -- no MRC employee would apprently put his or her name on it, so it's credited only to "NB Staff" -- for its latest attempt to peddle these bogus statistics in a Nov. 18 post:
As the 2022 midterm elections approached, social media platforms aggressively championed political ideas benefiting left-wing candidates while silencing dissenting opinions that don't fit the liberal worldview in the third quarter.

During the first three quarters of 2022, MRC Free Speech America counted a total of 435 individual censorship cases that translated to no fewer than 251,399,696 times that Big Tech kept information from social media users through secondhand censorship./p>

Platforms harshly squeezed the issues of "transgenderism," COVID-19 and elections through their bloated censorship operations, leading to millions of users being affected by secondhand censorship during the third quarter.

Twitter was the platform that engaged in the most secondhand censorship during 2022's third quarter. It kept information from its users 15,932,343 times.
As before, the complaints were about right-wing hate and misinformation being "censored." Among examples provided were right-wing podcaster (and militia enthusiast) Tim Pool, whose account was suspended after he posted "a picture of adults showing sexual content to children 'grooming,'" huffing that "That pro-debauchery muzzling meant that Pool's 1,371,592 estimated Twitter followers could not see his post championing the protection of children's innocence." There was also this:
The largest case of COVID-19 censorship by far came in September when YouTube removed a video by actor and social media influencer Russell Brand who said that he mistakenly stated the FDA had approved Ivermectin to treat COVID-19.

Brand said that the video YouTube reportedly removed discussed a notice on the National Institutes of Health (NIH) website under its "COVID-19 Treatment Guidelines, Antiviral Therapy" page that listed Ivermectin. The page noted: "Ivermectin is an anti-parasitic drug that is being evaluated to treat COVID-19."

According to Brand, he mistakenly said that the notice indicated the NIH had approved Ivermectin for use in treating COVID-19. He later recorded an apology video detailing the mistake. YouTube removed the original video, citing a violation of its "medical misinformation policy," according to screenshots Brand shared in his explanation video.

YouTube's discriminatory action meant that information was kept from Brand's 5,970,000 followers through secondhand censorship.

YouTube's censorship conveys that the platform, like much of the left, restricts the possibility of redemption for content creators it disagrees with.
The anonymous writer didn't explain why YouTube had no right to remove false health information. Instead, the anonymous writer pompously concluded:
Secondhand censorship is an extensive, enduring phenomenon around the world.

The ripple effects of censorship influence world politics and arouse fear that deters people from sharing perspectives.

The end result of Big Tech's authoritarian and propagandistic censorship practices is an oligopoly that effectively marginalizes honest viewpoints that Big Tech disagrees with.

The onus is on the American people and global public to call on tech companies to provide transparency, clarify their policies on so-called "hate speech," give equal footing to conservatives and mirror the First Amendment.

The future of free speech is at stake.
Why is there no onus on right-wingers to not spread hate and lies? That's never explained.
Posted by Terry K. at 2:44 PM EST