WND Columnist Lays Groundwork For Election Fraud Claims By Obsessing Over Hand-Counting Ballots
Topic: WorldNetDaily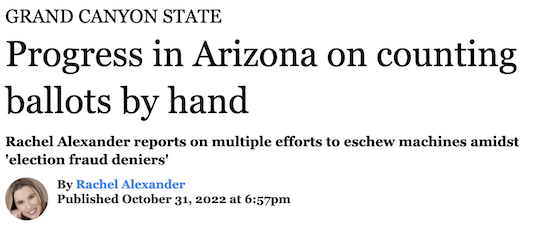 Rachel Alexander began her Oct. 24 WorldNetDaily column with a confident prediction:
The mainstream media have been saying since 2020 that Arizona is purple or even turning blue, but people in Arizona know that year was a fluke. Almost every one of the candidates endorsed in Arizona by Donald Trump are expected to win in the midterms, with even mainstream pollsters predicting so. The only one expected not to win is Blake Masters for U.S. Senate, but that's not because Trump endorsed him; a myriad of things went wrong in that race including being out-raised by a stunning amount.
But in case that didn't come to pass, Alexander -- a lover of conspiracy theories who fought to get corrupt Republican Rep. Steve Stockman sprung from prison during the COVID pandemic -- was also readying a backup plan by raising the ol' election fraud bogeyman:
Conservative activists are going all out to ensure there is little fraud in the election. They're up against a daunting task, however, as new information seeps out. Maricopa County hired 145 more Democrats than Republicans to staff the primary election, despite the fact Republicans concerned about voter fraud are applying in droves, and there are substantially more registered Republicans than Democrats in the county. "Bad" signatures were rejected 14 times more often during the primary election than during the notorious 2020 election, leading to fears that it is easy to manipulate AI to change the standard of review.

A citizens' group launched a movement to stop the use of electronic voting machine readers in the election, and so some counties are considering dropping them. Lake and Finchem filed a lawsuit to stop their use. Citizens have organized ballot drop box watching shifts, reporting suspicious activity on a new nationwide reporting app called VotifyNow. On Election Day, the app will reveal to users what problems others in their area are reporting.
Alexander pushed the Luddite anti-machine-count argument in her Oct. 31 column:
A small group of concerned Arizonans, including one brave Arizona Corporation Commission member, are trying to convince Arizona counties to switch to counting ballots by hand instead of using electronic voting machine tabulators. Concerns have heightened around the country that unscrupulous actors are manipulating algorithms in the machines to adjust election outcomes. France, a country of 65 million, counts all ballots in the presidential election by hand, and is finished counting them an hour and a half after the polls close. If a country that large can do it easily, why not some small counties? Why the intense opposition? So far, they've persuaded at least one county in Arizona to conduct a hand count.
In fact, the reason France got quick results despite hand-counting are 1) that election was only for president, meaning the ballot was a lot less complicated, and 2) counting was done at each polling station instead of a central location, and 3) election rules are nationalized. She continued:
Arizona Corporation Commissioner Jim O'Connor, who is a well-respected and trusted official in the state, sent letters to county officials around the state putting them on notice that they will be violating the law if they use the machines in the election. A significant number of citizens around the country are looking into the accreditations of the labs that certified the machines before 2020 and afterward, and discovered all kinds of problems, which they believe invalidates the certifications for the voting machines.
If Alexander has to appeal to the authority fallacy and insisting that O'Connor is "a well-respected and trusted official," that's probably a reason to suspect that he really isn't. Indeed, Alexander failed to mention that O'Connor also sent out to county officials a letter promoting an anti-electronic-counting event stacked with opponents of electronic count and titled "The Rise of Truth -- The Demise of Machines." Meanwhile, here in the real world of America, hand-counting is both less accurate and more expensive.
Alexander went on to write:
More information continues to pour out about how vast the Yuma County ballot harvesting scheme highlighted in the film "2000 Mules" was, as two more operatives were just indicted. Progressive groups aggressively targeted newly naturalized citizens in Arizona to break turnout records in the primary election. And it recently came out that Maricopa County Elections rejected "bad signatures" 14 times more during the primary election than during the controversial 2020 general election.
In fact, "2000 Mules" has been repeatedly discredited, and there's no credible evidence of voter fraud in Yuma County. Also, there's nothingillegal about encouraging people to vote, as much as Alexander wants yoiu to think otherwise. And we thought right-wingers like Alexander believed that signature rejection was a good thing since it helps to keep out fraudulent voters.
Alexander concluded by claiming:
Voters concerned about fraud in Arizona are going all out this election to ensure there is little opportunity for dishonest actions. A federal district court judge ruled on Friday that observers may watch ballot drop boxes. U.S. District Court Judge Michael Liburdi slapped down accusations that the volunteers were engaging in voter intimidation (many of the observers sit in their cars over 100 yards away where no one even notices them).
In fact, armed people wearing bulletproof vest were interfering directly with people using ballot drop boxes and also shooting videos and photos -- which is clear voter intimidation.
Alexander was back on the hand-counting kick again inher Nov. 7 column, the last one before the midterm elections:
A group of concerned Arizonans has been trying to stop Arizona counties from using electronic voting machine tabulators, but due to lawyers intervening, so far only one small county has taken any action, merely including some hand counting. And after it did, Marc Elias, one of the most powerful activist progressive attorneys in the country, swooped in with his out-of-state firm to sue the Cochise County Supervisors. He did so despite the fact Arizona Attorney General Mark Brnovich issued a legal opinion a couple of days earlier stating counties have the legal authority to hand count ballots.

Many of the county attorneys are going along with Elias, terrified of the Arizona State Bar coming after them, which has one of the worst reputations in the country for going after conservative attorneys. One election attorney flat out told the concerned Arizonans he would not represent them or he'd be disbarred, so they've had to represent themselves in legal proceedings.
Alexander went on to invoke her own alleged authority to paint critics of hand counting as politically motivated (as if the proponents aren't):
As the former Maricopa County elections attorney, I am appalled to see these attorneys substituting their own political agendas in place of their statutory responsibility to merely provide legal advice. Paul Rice, another member of the concerned group of Arizonans, said, "The attorneys are violating their rules of professional ethics as well as statutes by not letting the boards act independently and autonomously and supporting them in good faith."

The group has filed multiple lawsuits but gotten nowhere due to judges who I believe are more concerned about staying out of the way of the Arizona State Bar and fitting in with the cool attorneys at the best cocktail parties. The group has now made presentations to seven of Arizona's 15 counties.
Again, Alexander censored the fact that hand counting is less accurate and more costly.
Posted by Terry K. at 5:04 PM EST
Updated: Wednesday, December 14, 2022 5:06 PM EST