MRC Can't Quite Criticize Trump For Dinner With Anti-Semites
Topic: Media Research Center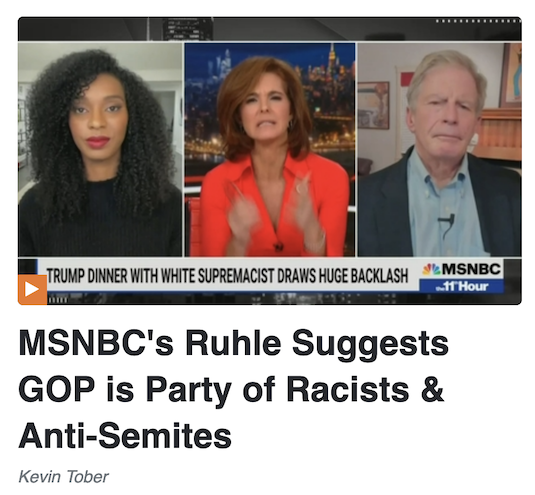 When Donald Trump had dinner with anti-Semite Kanye West and white nationalist Nick Fuentes, the Media Research Center handled it badly at first, just as it did with West's turn to anti-Semitism after years of praising him for going full MAGA. Mark Finkelstein, in a Nov. 27 post, was more mad that the silence of Republicans was being called out -- and that Fox News was the one doing it -- than he was about the dinner:
Guest-hosting Fox News Sunday, Jennifer Griffin suggested to Jonathan Swan that Donald Trump's dinner with Nick Fuentes had triggered something of a wave of criticism of the former president among prominent Republicans.

But liberal reporters like Swan are trying to draw out fiercer criticism, including nudging Gov. Ron DeSantis to slam Trump. Swan dissented from Griffin's take:

"There actually haven't been that many prominent Republicans who have come out against Trump . . . Which tells me

t

here is still a fear among Republicans, even ones who want to oppose him potentially in 2024,

that Trump still commands a serious, meaningful proportion of the base, and they don't want to cross him yet."

Then again, by adding that "yet" at the end of his comment, Swan seemed to suggest that criticism of Trump by prominent Republicans is a matter of when, not if.

[...]

Note the graphic in the screencap: "Democracy 2024."That sounds like something you'd expect to see on CNN or MSNBC--not Fox News Channel. More evidence that the Murdoch empire is moving away from Trump?
Finkelstein not only didn't criticize Trump's dinner, he didn't even explain that Fuentes is a white nationalist. He did acknowledge Fuentes' odiousness, however, in a post the next day:
Don Lemon has unwittingly let CNN's cat out of the bag. Guests aren't there to engage in an actual discussion. They're brought on to express a specific opinion. And if they try to stray from CNN's script, they will be shut down.

Lemon gave a perfect illustration of the phenomenon on Monday's CNN This Morning. The guest was Len Khodorkovsky, a former Trump administration official, who is Jewish. And in Lemon's mind, the clear purpose of Khodorkovsky's appearance was to have him criticize Trump for hosting a dinner with Nick Fuentes and Kanye West.

In fact, in a variety of ways, Khodorkovsky did just that. He began with: " Let's just call Nick Fuentes for who he is. He is an antisemite, he's repulsive, his views are disgusting. And no one of any substance should give him any forum"

But when he tried to expand the conversation to include antisemitism among elected Democrats including Ilhan Omar, Rashida Tlaib, AOC, and President Obama, Lemon shut him down. No one was allowed to discuss them.

[...]

Note: Wouldn't you have loved to have been a fly on the wall when Lemon got ahold of the producer who arranged for Khodorkovsky's appearance? Can't you imagine Lemon unloading along these lines: "what the hell were you thinking in inviting this guy? I was looking for someone to trash Trump, not start throwing examples of Democrat antisemitism back in my face!"
Finkelstein censored the fact that Khodorkovsky refused to explicitly condemn Trump for having dinner with West and Fuentes, making that appearance less successful than Finkelstein would have you believe.
A Nov. 28 post by Curtis Houck threw a fit that people were making logical conclusions about the Republican Party based on a dinner by the party's leader and the refusal of other Republicans to criticize it:
CNN's Inside Politics host John King has long been seen as one of the more even-keeled CNN mainstays, but when he has an itch, he becomes just as partisan as the rest. Such was the case Monday when he and his panel used former President Trump's brazen dining with virulent racists and anti-Semites Kanye West and Nick Fuentes and the GOP response as proof that the party is content with being an anti-Semitic party encouraging hate crimes.

"To American politics now and to this sad, sad but recurring reality: Donald Trump associates himself with conspiracy and hate and all but a few Republican leaders say nothing," King began, restating the details of the Trump dinner before whining there's been "silence" from the GOP minus "a few willing to call this out."

[...]

Going to break, Bash suggested that, by not meeting the media's satisfaction of distancing itself from Trump, Republicans are allowing anti-Semites and white supremacists to believe now is the "time to act."
Houck himself did not denounce Trump's dinner -- unless we're supposed to believe that calling it "brazen" was a criticism -- nor did he cite any Republicans who did, which would seem to prove King right despite all of Houck's whining.
Something similar is also missing from a Nov. 29 post by Jason Cohen complaining about similar logical conclusions:
Salon's Amanda Marcotte is on to you, Republicans. She can see right inside your pasty white scalps and into your racist brains. She knows you'd be fine with Trump dining with white supremacists, as long as it did not hurt your election chances.

As part of that, she had a piece out titled " Republicans don't care that Trump's a white supremacist — just that he's indiscreet about it."

In it, Marcotte not only condemned right-wing politicians as racist bigots but also contemptibly categorized their voters similarly. She wrote, "GOP base voters, who either fully agree with Trump's racist views or don't care enough to hold it against him, dig in their heels and refuse to reconsider their cult-like worship of the former president."

Marcotte then went on to call Trump an "overt white nationalist." Does she not know what "overt" means or is Marcotte purposely misleading her readers?

[...]

Does Marcotte believe the right does not view white supremacy as disgusting and that they do not care about mass murders motivated by this sick ideology?

She then did a little concern-trolling, lecturing Republicans that "white supremacist views offend some number of Americans who might otherwise be inclined to vote for their party. In the end, GOP leaders send the message that the problem with Trump's overt racism is not that it's wrong or damaging, but that it's inconvenient to white conservatives."

It is 2022, and except for a small fringe, Americans detest these imbecilic ideologies. But the left is so brainwashed with hatred that they generalize this to half of the country.
Funny, we recall that Cohen tried to justify West's anti-Semitism a month earlier, then gave a pass to the anti-Semitism of NBA star Kyrie Irving by playing whataboutism.SO it seems hedoesn't believe anti-Semitism is as "inbecilic" as he claims. He also didn't actually criticize Trump over the dinner.
Another Nov. 29 post, by Kevin Tober, finally offered something approaching explilcit criticism of Trump (albeit though noting that other Republicans have criticized him) while serving up the same familiar whine about Republicans being called out for tolerating anti-Semitism:
On MSNBC's low-rated show The 11th Hour, host Stephanie Ruhle during a segment on former President Donald Trump's dinner with white supremacist Nick Fuentes and anti-Semite and degenerate rapper Kanye West, Ruhle decided to smear the entire Republican Party by suggesting they are the party of racists and anti-Semites despite the fact that Republicans from all corners of the party have rightly condemned Trump for keeping bad company.

After airing a clip of former President George H.W. Bush condemning former KKK grand wizard and then-candidate for Governor of Louisiana David Duke for his racist and anti-Semitic views, Ruhle referenced a tweet by Louisiana Republican Senator Bill Cassidy which strongly criticized Trump's dinner with Fuentes and West.

She then whined that "he was responding to the Trump dinner saying this is not who the Republican Party is. But here's the thing. We just listened to George Bush. It might not be who the Republican Party was. But it's absolutely who they are today."
Tober then whined that "Not only did she fail to offer any evidence to back up her hateful smear of half the country, but she was defiant. When called out on Twitter shortly after she made those comments, she refused to apologize or retract what she said."He then posted an exchange between him and Ruhle in which he called her a "dunce" -- not the way to engender good faith and invite an enlightening dialogue. Ruhle knew Tober was a bad-faith hater, and she pithily dissed in response: "Thanks for tuning in Kev." He continued to rant at Ruhle, which she understandably ignored.
Also note that Tober is calling West a "degenerate rapper" -- which comes full circle to the insults the MRC hurled at West before he struck up a bromance with Trump and started spouting right-wing anti-abortion rhetoric, which the MRC loved.
Finkelstein returned for yet another post on the subject -- not to actually criticize Trump himself, of course, but to mock "Morning Joe" co-host Mika Brzezinski for grudgingly acknowledging that Trump's former vice president, Mike Pence, criticized Trump.
Posted by Terry K. at 10:53 PM EST
Updated: Tuesday, December 13, 2022 11:54 PM EST