Newsmax's Hirsen Whines That Comedy Is Too Liberal, Gets Help From Right-Wing Comedy Writer
Topic: Newsmax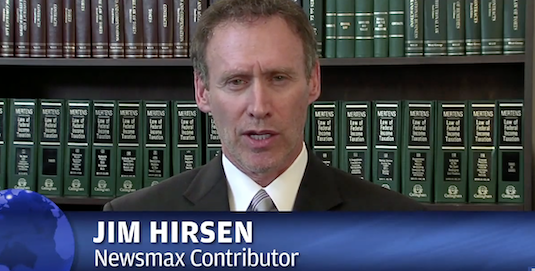 James Hirsen -- not known for having anything remotely resembling comedy chops -- spent his Nov. 7 Newsmax column complaining that Jimmy Kimmel is too liberal to be funny:
A lot of folks have been wondering what's up with Jimmy Kimmel. The late-night comic has become more and more vicious in his politics and extreme in his one-sided humor.

As a result, the ratings for his TV show have really taken a hit.

Here's a theory about how Jimmy's comedy got wrecked and how his once-popular program fell into a rating's ditch.

James Christian Kimmel was raised a Catholic. In his youth, he was fervent enough in his faith to step forward and serve at Mass as an altar boy.

Now, both in his politics and joke delivery, he appears to back every left-wing narrative that the dominant media and reigning powers-that-be are pitching, including a load of Dem-devised policies antithetical to his own faith heritage.

As host and executive producer of Jimmy Kimmel Live, he has consistently been serving as sort of a polar opposite altar boy for the Democratic Party.
Hirsen's theory, such as it is, is that Kimmel is atoning for all the deliberately politically incorrect and misogynist humor he did a couple decades earlier on "The Man Show" -- though it's more likely that Kimmel simply evolved and even shock comics get tired of shocking. Still, Hirsen remained committed to his bit in order to fit his partisan agenda:
By committing the above cultural violations over the years, he has broken a whole host of woke rulebook provisions, many of which were memorialized on video.

Maybe he has been trying to do penance as it relates to his newfound woke religion. Or maybe his kowtowing to the left has been the means in which he has avoided the cancellation of his prized television show and reputation.

In any event, although things seemed to have worked for him up until now, the past has a funny way of catching up with a person.

Or in Jimmy's case, maybe a not-so-funny way.
By contrast, in his Nov. 15 column, he praised a comedy writer who turned right-wing and hasn't done anything notably funny in years:
Humor is David Zucker's specialty.

Not the lazy blue variety that passes for comedy these days, but the laugh-out-loud kind that makes your sides hurt, your eyes water and the world disappear.

The mega-successful film director, producer and screenwriter is best known for the legendary spoof flick "Airplane!" and the side-splitting "Naked Gun" and "Scary Movie" franchises.

He happens to be one of our culture's current reigning experts on all things funny, and he's sounding an alarm bell for all to hear.

Lucky for us he has joined the ranks of other comedy greats who have issued similar warnings: Dennis Miller, Jerry Seinfeld, Dave Chappelle, Chris Rock, Gilbert Gottfried, Mel Brooks, Adam Carolla, Steve Harvey and John Cleese.

The giants of humor are all saying pretty much the same thing; that Tinseltown's head honchos and their like-minded fellow residents of the New Woke Hollywood are virtually strangling comedians, comedy writers and comedy itself.

Zucker was recently featured in a video posted by PragerU, where he shared some reflections on his trademark comedy.
Yes, right-wing PragerU is truly the place where one goes to talk about comedy -- which sets up the complaint that comedy is too liberal for Zucker and establishes that Zucker is a right-winger. The achievements of Zucker that Hirsen cites are decades ago. More lame politicking ensued:
He is often asked whether his most iconic film could be made today.

"When we do screenings of 'Airplane!' we get the question if we could do 'Airplane!' today," he said. "The first thing I could think of was, 'Sure, just without the jokes.'"

According to Zucker, although in the current comedy climate freedom may be taking a hit, the future actually looks bright.

"Comedy is in trouble, of course, but I think it's going to come back," he said. "There's a pendulum, and the pendulum will swing back. I'd like to see comedy filmmakers do comedies without fear."

Zucker has gone against the grain in liberal Hollywood. He has even worked on political ads for the GOP and directed a political parody film at the expense of Michael Moore, titled "An American Carol" (2008).
Pretty much nobody thought "An American Carol" -- basically an tantrum against Michael Moore for making "Fahrenheit 9/11" -- was funny. Also, since "Airplane!" already exists, there is no need to make it today.
The whole thing has a whiff of staleness, with Zucker whining plblaming politics forhis increasing irrelevance when it's actually the fact that he stopped being funny -- and, thus, why he has to run to the biased PragerU to complain about it. Hirsen, however, is not about to call Zucker out for this; it fits neatly into the right-wing victimhood narrative, after all.
Posted by Terry K. at 2:48 PM EST