MRC Parrots Convention Of States' Softball interview, Anti-Soros Propaganda
Topic: Media Research Center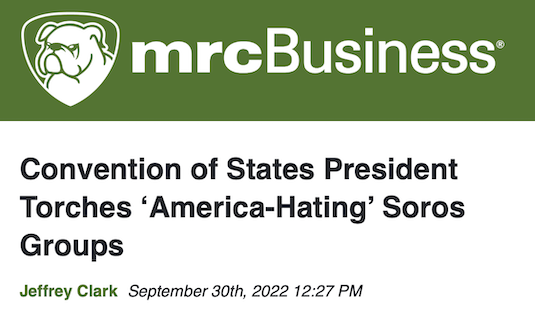 A Sept. 30 Media Research Center post by Jeffrey Clark detailed the softball inter view his boss, Brent Bozell, gave to the head of a group that wants a constitutional convention (but con't call it that):
Convention of States president Mark Meckler torched the George Soros-funded, anti-American organizations working to undermine his mission of "restor[ing] a culture of self-governance in America and to curtail federal overreach."

"All the America-hating, baby-killing, communist, socialist organizations in America are against" a Convention of States, Meckler told MRC founder and President Brent Bozell in a Sept. 29 interview. "All the conservatives are for it."

A "Convention of States" is a process found in Article V of the U.S. Constitution that "gives states the power to call a Convention of States to propose amendments. It takes 34 states to call the convention and 38 to ratify any amendments that are proposed."

Meckler cited a 2017 statement signed by "over 230 leftist organizations." That effort, Meckler said, was "led by Common Cause and Center on Budget and Policy Priorities." The catch? Both groups are "Soros-funded policy orgs," Meckler explained. The press release whined how supposedly "[a]n Article V convention is a dangerous threat to the U.S. Constitution, our democracy, and our civil rights and liberties."
The need to tie any critics of Mecker's group to Soros was not explained -- aside, of course, from the kneejerk demonizing of Soros endemic in right-wing circles -- nor did Meckler offer proof that all 230 organizations who signed the statement were "leftist."
Clark then tried to served as Meckler's apologist by (badly) explain why the Convention of States Meckler is agitating for is not a constitutional convention, even though the goal of both would be to rewrite the Constitution:
Convention of States is a group that aims to call a Convention of States under Article V of the U.S. Constitution to propose amendments to the Constitution and "bring power back to the states and the people, where it belongs," according to the organization's website.

The Soros-tied coalition's press release went so far as to twist the words of the late U.S. Supreme Court Justice Antonin Scalia to make it appear that he, too, historically opposed a Convention of States. "Scalia also warned of the dangers of a constitutional convention," the press release noted. "'I certainly would not want a constitutional convention. Whoa! Who knows what would come out of it?,' Scalia said in 2014."

Here's the problem: a Convention of States is not a "constitutional convention." CoS itself defines it as "a convention called by the state legislatures for the purpose of proposing amendments to the Constitution. They are given power to do this under Article V of the Constitution. It is not a constitutional convention." [Emphasis added].
It seems like a distinction without a difference, though Clark is too busy sucking up to Meckler to explain it clearly.
Aside from this agitating for a constitutional convention in all but name, Convention of States is also known for the polls on right-wing issues it feeds to its fellow activists in the right-wing media bubbl. Those polls are conducted by the Trafalgar Group -- which, as we've noted, is one of the worst and most biased pollsters out there.
Posted by Terry K. at 10:40 AM EST