Farah's WND Cheers Trump Trashing His Daughter
Topic: WorldNetDaily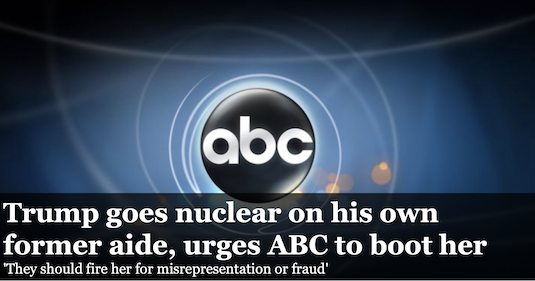 It appears that the relationship between WorldNetDaily editor Joseph Farah and his daughter, Alyssa Farah Griffin, remain strained over his continued support for the corrupt, lying election denier Joseph Farah -- to the point that the elder Farah is allowing the website he runs to trash her. Joe Kovacs wrote in an Oct. 24 WND article:
Former President Donald Trump is blasting his own previous communications director Alyssa Farah Griffin, urging her firing as co-host of ABC's political talk show "The View."

"Alyssa Farah totally misrepresented her true feelings about me and the Trump Administration in order to get her job at ratings disaster CNN, and a seat with the low IQ people at The View," Trump said on Truth Social.

"Look at what she said about me, and that doesn't include the beautiful letter she sent and other statements she made. They should fire her for misrepresentation or fraud. Release the letter, Alyssa!"

Trump included a string of high praise tweets from Farah Griffin in December 2020, as she said it was "an honor of a lifetime to serve in the Trump Administration" for three and a half years.
It wasn't until the final paragraph of his article that Kovacs served up some disclosure: "Farah Griffin is the daughter of Joseph Farah, the co-founder of WND who has been a strong supporter of Trump since his successful run for the presidency in 2016."
We can assume that Kovacs never bothered to obtain comment from Farah Griffin. He could have obtained comment from his boss on why he's allowing Kovacs to write this story attacking his daughter -- but he did not. Apparently, Farah believes that letting Kovacs pen this article is a sufficient statement.
It's sad to see Farah split his family apart over his insistence being a Trump dead-ender. But given that he's prepared to allow his WND to die on the cross of fake news and conspiracy theories instead of fixing the problems that have led it to its impending demise.
Posted by Terry K. at 4:22 PM EST