CNS Complains About LGBTQ Club At Jewish College
Topic: CNSNews.com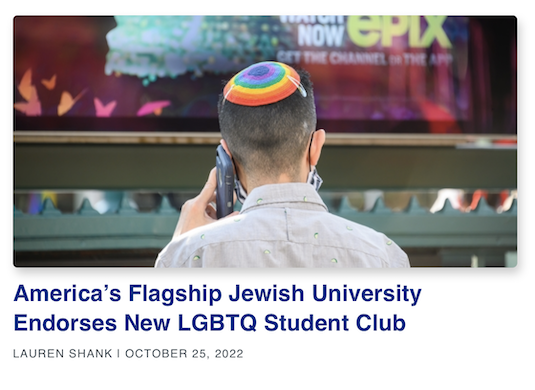 CNSNews.com doesn't appear to have anyone who's Jewish on staff (they're more Catholic than the pope, remember?), but they do hate LGBTQ people, so it got involved over a controversy over an LGBTQ club at a Jewish college. Managing editor Michael W. Chapman (an LGBTQ-hater extraordinaire) wrote in a Sept. 14 article:
Supreme Court Associate Justice Sonia Sotomayor, a liberal, issued an "emergency stay" to Yeshiva University on Sept. 9, allowing it to stop the creation of an official "Pride Alliance" student club at the 135-year-old Jewish institution of higher education.

New York County Supreme Court Judge Lynn Kotler had ruled in June that Yeshiva University must allow YU Pride Alliance, otherwise the school would be in violation of the New York City Human Rights Law, which prohibits discrimination by public entities.

In its request to the U.S. Supreme Court, the university said, "As a deeply religious Jewish university, Yeshiva cannot comply with that order because doing so would violate its sincere religious beliefs about how to form its undergraduate students in Torah values." Yeshiva contends that a pro-LGBT student club violates its religious liberty under the First Amendment.

[...]

At the school, students study the Talmud, a series of laws for Jewish living, up to four hours a day. The students dress and behave in accordance with Torah values, and "the entire undergraduate experience is designed to form students in the Jewish faith," said the university in its request to the court.
The next day, CNS published a column by dishonest Catholic Bill Donohue whining that Catholic college aren't following Yeshiva's example in hating their LGBTQ students:
Last week, the U.S. Supreme Court issued a "stay" stopping a New York trial court from ordering Yeshiva University to approve an LGBT student group on campus; Yeshiva is an Orthodox Jewish university that seeks to adhere to the Torah.

This raises the question: How are Catholic colleges and universities dealing with the LGBT agenda?/p>

There are approximately 230 Catholic institutions of higher education in America, and according to New Ways Ministry, a dissident Catholic group that rejects the Church's teachings on sexuality, more than 130 have yielded, in one way or another, to LGBT demands. Here are 10 examples.

[...]

Pope Francis has addressed the fiction that we can change our sex, calling it gender ideology. He has specifically said that it is "demonic."

It would be instructive to know what the presidents of these queer-friendly Catholic colleges and universities would do if they learned that these LGBTQIA+ organizations held a forum to denounce the pope for his remarks.

None of what these Catholic schools are doing is required by law—Title IX provides for religious exemptions. It is all voluntary. This is the state of Catholic higher education in America today.
An Oct. 25 article by intern Lauren Shank hyped Yeshiva's creation of an alternate LGBTQ club it could control:
Although Yeshiva University continues its legal battle against YU Pride Alliance, an unofficial student group at the flagship Jewish university, its administration has approved a new organization, the Kol Yisrael Areivim Club for LGBTQ undergraduates, a traditional Orthodox alternative that is grounded in Halacha and Torah values.

In an Oct. 24 press release, the school said, "Yeshiva University, America's flagship Jewish university, today announced a new initiative grounded in Halacha and Torah values to support its LGBTQ undergraduates, including strengthening its on-campus support services and endorsing a new student club that presents an approved traditional Orthodox alternative to YU Pride Alliance."

[...]

Regarding student clubs and the current lawsuit, the university provided answers to frequently asked questions on its website, including why the institution created a new club rather than implementing an LGBTQ club that is already present on other campuses.

"Our efforts to formulate a Torah framework to provide our LGBTQ students with profound support is driven by our deep commitment to them and recognition that those who choose to attend an orthodox university come with a different set of expectations and navigate different challenges than those in a typical secular college setting," part of the answer said.

"Pride Alliance is a recognized movement in colleges throughout the country that not only fights anti-LGBTQ discrimination, a cause which we fully support, but also promotes activities that conflict with Torah laws and values," said the university. "While an adoption of this national brand is inherently unacceptable in the context of Yeshiva, we also realize the need to find additional ways to be supportive of our students that are consistent with Halacha and inspired by our values."

"That is what we have done with the approval of this new student club," said the school. "It is worth noting that this approach is in line with other devout faith-based universities nationwide, who similarly do not host Pride Alliances but have established clubs consistent with their own faith-based languages and traditions."
Shank censored criticism of the school's creation of the club. The YU Pride Alliance called the club a "desperate stunt" and that the school did not consult students in its creation. And it turns out the club doesn't even actually exist; while the school called it a club, all that has actually happened so far is just establishment of a framework that may lead to a club.
Posted by Terry K. at 2:37 PM EST