CNS Now Mad At Obama For Using Second-Person Pronouns
Topic: CNSNews.com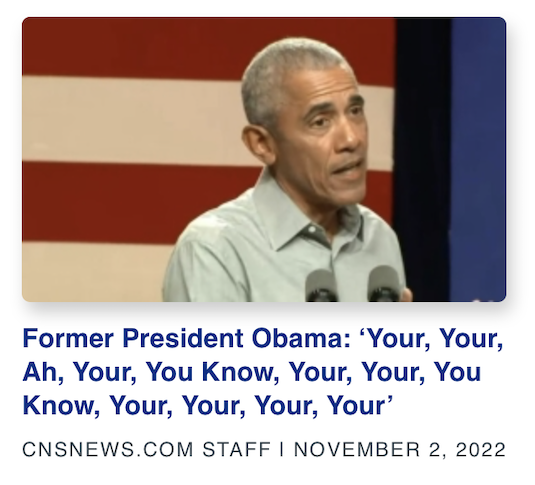 One of the pettiest attacks CNSNews.com launched on Barack Obama is criticizing him for the words he said or didn't say -- and, in particular, his alleged overuse of the first person singular. CNS even bashed him over it again last year, despite him being out of office for nearly five years.
CNS found a variation on that theme -- bash Obama for using the second person! An anonymously written Nov. 2 article asserted:
Former President Barack Obama gave a speech in North Las Vegas, Nevada on Tuesday night to support candidates in that state and in his speech had a moment where he repeatedly stated the word "your."

"You know, Cousin Pooki," said Obama at one point in the speech as recorded in a CSPAN video.

"You know, your, your, ah, your, you know, your, your, you know, your, your, your, your Nephew Cesa," said Obama.

"They're planning. They tell you they are going to vote, but they're on their couch playing a video game. You got to talk to them," said Obama.
While the article is anonymous, it was almost certainly written by editor Terry Jeffrey, who spearheaded CNS' Obama word obsession during his presidency. No explanation was provided as to why CNS considered this worthy of devoting a "news" story to.
Posted by Terry K. at 8:57 PM EST
Updated: Saturday, December 3, 2022 1:23 AM EST