WND Keeps Fearmongering Over COVID Vaccines For Children
Topic: WorldNetDaily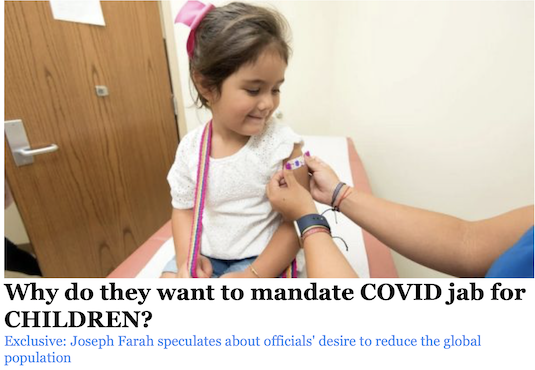 WorldNetDaily has long fearmongered about COVID vaccines for children, and it's not about to stop. Art Moore complained in an Oct. 12 article:
Despite warnings from an FDA adviser of a lack of sufficient safety and efficacy data, the FDA on Wednesday authorized COVID-19 boosters of the updated bivalent vaccine for children 5 years of age and older.

The agency amended its emergency use authorization of the Moderna and Pfizer-BioNTech bivalent vaccines to include children, allowing it to be administered at least two months after completion of primary or booster vaccination.

The FDA adviser who issued the warning, Dr. Paul Offit, was one of two members of the agency's vaccine advisory panel to vote against recommending the booster shot, which was modified to target omicron variants. Offit, the co-inventor of a rotavirus vaccine, argued that the testing was limited to only eight mice, with no human participation.

"I don't ever think you should ever ask tens of millions of people to get a vaccine based on mouse data," he said in a video interview.
In fact, fact-checkers reported that an earlier bivalent booster that was very similar to the one that was approved was more thoroughly tested, and it's common not to comprehensively test flu vaccines each year because only minor tweaks to them are done based on the strain that is expected to be dominant.
Moore gave anti-vaxxers a platform in an Oct. 18 article:
Armed with information from dissenting health scientists, parents in a number of states convinced their health board to reject bids to add the COVID-19 vaccine to the list of required shots for public schoolchildren.

And parents across the nation are demonstrating their lack of trust in the experimental mRNA vaccines issued under emergency use authorization, with only about 2% of children under 5 and less than one-third ages 5 to 11 having been fully immunized.

Nevertheless, the CDC is poised to address the "vaccine hesitancy" and the pharmaceutical companies' lack of permanent liability with one vote.

The CDC's Advisory Committee on Immunization Practices is scheduled to decide at its meeting Wednesday through Thursday whether or not to include COVID-19 vaccinations in their pediatric immunization schedule.

Approval not only would make it more likely that states will mandate COVID-19 shots to attend public school, it could grant permanent legal immunity to vaccine makers Pfizer and Moderna along with another profit windfall, health scientists are warning.

"This is a dangerous idea that will only benefit the vaccine manufacturers at the expense of the best interests of kids," said the American Association of Physicians and Surgeons (AAPS) in a statement. "Not only do the shots have essentially no meaningfully positive impact on children's health, the fact that the risk of severe adverse events are greater than any potential small benefit is becoming increasingly evident."
Moore followed that with an Oct. 23 article featuring a list of states where "COVID-19 shots won't be mandated for schoolchildren."
Then, because Moore was apparently too reasonable, his boss, Joseph Farah, decided to raise the temperature -- and the misinformation -- several notches in his Oct. 31 column:
With a track record like this, why do our national leaders still talk about mandating shots for schoolchildren? It's insanity! Why in heaven's name do they insist it's the only way to make schools safe? What are they trying to accomplish? Are they trying to ruin children's lives – perhaps even kill them? Or do they just want to medicate children as a way to cater to Big Pharma?

Why are our inept officials not paying attention to this data? It's a scandal!

[...]

The U.S. government's enthusiasm for getting kids jabbed is hard to understand. It's enough to get you thinking that they are trying to reduce the level of the population! This has been one the most scandalous programs ever instituted by Joe Biden – and there's no end in sight for it.

Look at these numbers! Think long and hard about them.

Are you willing to have that risk taken by your children – especially since COVID poses almost no risk to them and never did?!

So why? Are they crazy? Or are they evil?

Well, now we may have the answer.
Because this is Joseph Farah, a conspiracy theory is incoming:
It appears that a coronavirus "simulation" was planned at the World Economic Forum's 2019 annual meeting in Davos, Switzerland. Event 201 took place only weeks before the first COVID-19 case was reported in Wuhan, China, reports independent investigative journalist Jordan Schachtel.

WEF and the Gates Foundation were among the organizations that joined forces for the Oct. 18, 2019, event, which Schachtel discovered – citing social-media posts – was planned during the January 2019 Davos meeting.

Tom Inglesby, the director of the Johns Hopkins Center for Health Security, announced on Jan. 23, 2019, that Event 201, in partnership with the Gates Foundation and WEF, would be held in New York City.

"Event 201 will shine light on need for pub health, global business, science, finance, security & political leadership to be fully engaged + working for common purposes to meet challenge of new pandemic," he wrote.

Schachel, on his Substack page The Dossier, explained the significance of the event originating at Davos.

"The World Economic Forum has become the go-to narrative and ideas shop for the global ruling class, weaponizing campaigns for their ideological agenda that are now advanced by the world's most powerful individuals and organizations, through slogans and movements such as 'The Great Reset' and 'Build Back Better,' among others," he wrote.

"The WEF and its backers seek to impose an extremely authoritarian agenda upon humanity, under the guise of healing the planet from climate change."

Schachtel noted that the first person to retweet Inglesby's Event 201 announcement was Ronald Klain, who now is White House chief of staff under Biden.

Inglesby, along with his role at Johns Hopkins, is now a senior adviser at the U.S. Department of Health and Human Services.

Heads must roll over this – Democratic heads. It's a disgrace – maybe the most egregious one yet.
Yes, WND's Moore did an article about this simulation day before Farah's column, treating it as "news" even though the exercise was reported on at the time it happened and has been the subject of conspiracy theories since the COVID pandemic began.
Meanwhile, here in the real world, it's not exactly clear what Farah is mad about or why he thinks "Democratic heads" should roll over the exercise (which, by the way, was not predictive of the COVID pandemic). He's just ranting and talking nonsense because that has served him well as a business model until recently.
Posted by Terry K. at 1:22 AM EST
Updated: Thursday, December 1, 2022 1:23 AM EST