WND Trots Out Anti-Google Reseracher Again
Topic: WorldNetDaily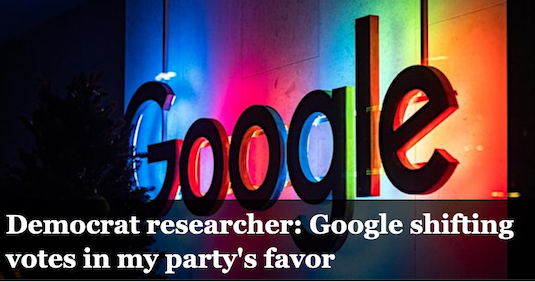 What's a good sign that you're a right-wing hack who likes to peddle dubious claims and outright falsehoods and wants to get your views out without having to answer challenging questions about them? You choose to sit down for an interview with WorldNetDaily.
Which brings us to anti-Google obsessive Robert Epstein. WND has been a fan of his (as has the Media Research Center) because he fed the right-wing anti-"big tech" narrative by accusing Google of skewing search results toward Hillary Clinton during the 2016 presidential election through some highly dubious "research." Since pushing falselhoods about election fraud (along with COVID vaccine misinformation) is the WND's main function these days, it needs to keep up that narrative. So WND's Art Moore did an interview for a Nov. 4 article, making sure to play up Epstein's purported Democratic credentials (despite sounding just like a right-wing conspiracy theorist) under the headline "Democrat researcher: Google shifting votes in my party's favor":
Empirical research shows Google affected the outcome of the 2016 and 2020 elections in favor of Democrats, and the tech giant "has its digital thumb on the scale" of the current midterms, says Robert Epstein, a Democratic Party voter who was famed behavioral psychologist B.F. Skinner's last PhD student at Harvard.
In a WND video interview (embedded below), Epstein contended, however, that his ever-growing, unique "Nielsen rating-type" system of monitoring Google's manipulation of search results provides the solid evidence needed to stop the Big Tech behemoth in its tracks.

In the meantime, he said, the novel "Brave New World" has come to life.

"This is power that's never existed before in human history. This is power that the worst dictators in history could have only dreamt of," Epstein told WND.

"But this is real. This is occurring now."

[...]

By the end of 2023, he plans to have a "massive monitoring system" – a "digital shield" – in place with at least 20,000 field agents across 50 states.

"We will be monitoring in real time, and we will be exposing every single anomaly that we find," he said, adding that "sunlight is the best disinfect."
At no point did Epstein say "my party" or even describe himself as an active Democrat -- that's just a false headline. Moore then moved on to pumping up Epstein's credentials:
Epstein, a research psychologist for four decades, has served in various editorial positions at Psychology Today magazine and Scientific American MIND. He's the author of 15 books and more than 300 scientific and mainstream articles on artificial intelligence and other topics. He currently is a research psychologist at the non-profit American Institute for Behavioral Research and Technology in Vista, California. His work can be seen at MyGoogleResearch.com.
After that, it was more conspiracy-mongering:
Epstein doubts that lawmakers will make a serious attempt to take on Big Tech, with Democrats "lavishly" supplied with Google cash – 95% of Big Tech donations go to Democrats – and Republicans having a distaste for regulation.

In any case, regulation moves at a snail's pace, he said, arguing tech needs to be fought with tech, and his scientific evidence can be used in lawsuits.

"I'm in touch with some state AGs and some other officials who are champing at the bit," he said. "They're just waiting to use the kind of data that we are collecting to go after these people."
Then victimhood was added to the conspiracy mix:
The personal cost of his work – which he sees as an effort to preserve free and fair elections and ultimately the republic itself – has included the loss of friendships and some family members who "think I'm crazy." But he's also been warned that his safety is at risk.

After presenting his Google findings to the Senate in 2019 and drawing the attention of Hillary Clinton, Epstein gave a private briefing to state attorneys general. After the briefing, one of the state AGs took Epstein aside and shared his concern that Epstein might "die in an accident in the next few months."

Shortly after that, Epstein's wife was killed in a car accident under what he described as suspicious circumstances. A couple of months ago, there was a knife attack on a key staff member and her husband. And recently, a reporter told him of a conversation with a woman in Google's PR department who "screamed" at the reporter regarding Epstein.

The reporter told Epstein there were two things he learned from that interaction. One is that "you have their attention." And the second is, "I would take precautions."
Needless to say, Moore didn't seek substantiation of Epstein's claim, nor did he mention that Epstein's original anti-Google "research" has been discredited.
Posted by Terry K. at 7:23 PM EST