MRC Freaks Out Over Twitter Whistleblower Who Didn't Follow Pro-Musk Narrative
Topic: Media Research Center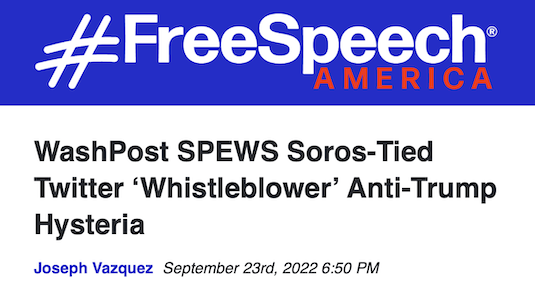 At the Media Research Center, you're only a good whistleblower if you advance right-wing narratives, like Peiter "Mudge" Zatko did in bolstering Elon Musk's pre-purchase attacks on Twitter and like Frances Haugen did in criticizing Facebook (at least until Facebook started working behind the scenes with right-wing media outlets to attack her, at which point the MRC flipped as well).
When a whistleblower emerged that countered right-wing anti-Twitter narratives, the MRC was quick to attack by playing the Soros card in an attempt to discredit him. Joseph Vazquez threw a massive tantrum in a Sept. 23 post, whining that this whistleblower was distracting from Zatko's pro-Musk narrative:
The Washington Post found a so-called "whistleblower" connected to liberal billionaire George Soros to stoke hysteria about how former President Donald Trump's Twitter account threatened the planet.

In a so-called "exclusive," The Post found a Twitter truther to steal former Twitter executive Peiter "Mudge" Zatko's thunder and make the issue about Trump rather than the Big Tech platform. " Jan. 6 Twitter witness: Failure to curb Trump spurred 'terrifying' choice," was The Postheadline.

The leftist whistleblower — now identified by The Post as Anika Collier Navaroli — was reportedly a "former policy official on the team designing Twitter's content-moderation rules," meaning the "rules" that made Twitter a bloated censorship operation to silence conservative speech. But nowhere in the article did The Post mention Navaroli's ties to Soros.

Navaroli reportedly overcame the "terror she felt" about coming forward due to her so-called "worry" that Trumpian "extremism and political disinformation on social media pose an 'imminent threat not just to American democracy, but to the societal fabric of our planet.'" [Emphasis added.]

The story fawned how a previously "unidentified former Twitter employee" testified before the Soviet-style House Jan. 6 committee to slam the company for ignoring "false and rule-breaking tweets from Donald Trump for years because executives knew their service was his 'favorite and most-used … and enjoyed having that sort of power.'" Twitter banned Trump two days after the Capitol riot on Jan. 6, 2021.

Navaroli "worked on media and internet privacy campaigns for" the nutty, Soros-funded defund-the-police group Color of Change — founded by CNN commentator and former Obama appointee, Van Jones. Soros has donated millions to the group. The leftist organization proclaims itself as the "nation's largest online racial justice organization."

[...]

While disingenuously painting Navaroli as having a "strong bias for protecting speech," The Post championed how she "grew fascinated with how" online censorship rules "were helping shape real-world social movements, from the inequality campaigns of Occupy Wall Street to the protests over racial justice and police brutality."
At no point did Vazquez disprove anything Navaroli said, and he didn't even prove Navaroli is a "leftist" -- he was just mad that his preferred narratives were getting ignored by someone with at least as much credibility as Zatko offering a different story that was just as credible.
Posted by Terry K. at 2:41 PM EST
Updated: Monday, November 28, 2022 8:06 PM EST