MRC Complains Again That Coverage Of GOP Candidates Was 'Negative' (Read: Accurately Reported)
Topic: Media Research Center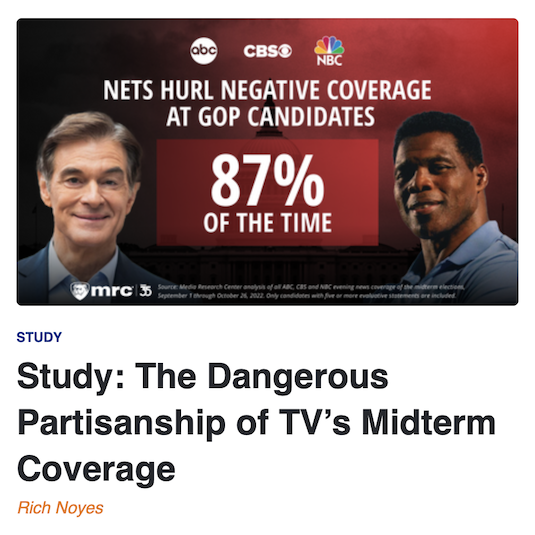 Rich Noyes was roused out of retirement to crank out one of his usual highly subjective coverage "studies" for the midterm elections, which got featured in a Nov. 1 post:
Four years ago, TV's midterm coverage hammered Republican candidates and then-President Trump with 88 percent negative spin while sparing Democrats similarly bad press. This year, Democrats are in charge of the White House and both chambers of Congress, yet a new Media Research Center study of ABC, CBS and NBC evening newscasts finds that Republicans are receiving coverage that is just as negative (87% negative) as in 2018, while Democrats — including the President — are drawing far less scrutiny than the party out of power.

And another favor for Team Blue: the dominant topics within these campaign stories — GOP candidate controversies, abortion rights and the danger of "election deniers" — perfectly match the topmost items in Democrats' campaign playbook. Our study shows discussion of these issues within campaign stories far eclipsed that of the economy and inflation, issues that voters deem most important.

This year's study looked at the same period of time as we did in 2018, from September 1 to October 26. This year, the Big Three evening newscasts aired 115 stories which mentioned or discussed the midterm elections during, with a total airtime of 213 minutes, or about 60 percent more than the 130 minutes we tallied four years ago.
As with every other similar study the MRC does, it's highly flawed:
It focuses only on a tiny sliver of news -- the evening newscasts on the three networks -- and suggests it's indicative of all media. Fox News was not evaluated at all.
The study explicitly rejects the idea of neutral coverage -- even though that's arguably the bulk of news coverage -- dishonestly counting only "clearly positive and negative statements."
It fails to take into account the stories themselves and whether negative coverage is deserved or admit that negative coverage is the most accurate way to cover a given story.
It fails to provide the raw data or the actual statements it evaluated so its work could be evaluated by others. If the MRC's work was genuine and rigorous, wouldn't it be happy to provide the data to back it up?
Indeed, Noyes whined:
Most of this year's discussion centered on four candidates: Republicans Herschel Walker, Mehmet Oz and Kari Lake, and Democrat John Fetterman. Fetterman's bad press (81% negative, mostly comments panning his dreadful debate performance) was the worst of any Democrat, but it was better than any of the top Republicans. His Senate rival, Oz, was hit with 82 percent negative press, while Georgia's Herschel Walker was slammed with 50 negative statements vs. six positive ones, an 89 percent negative spin.

That's still better than Arizona's Kari Lake, who was on the receiving end of nine evaluative comments, all negative, giving her a 100 percent negative press score.

While no Democratic candidate other than Fetterman received heavy coverage, there were occasional positive features for several of them, contributing to the Democrats' more positive press. Alaska House candidate Mary Peltola, for example, was profiled in a glowing September 24 CBS Evening News story about her "milestone" status as the first native Alaskan in Congress.
Of course, the MRC hurled nothing but negativity at Fetterman and played defense for Walker over the abortion allegations. Noyes offered no advice on Walker's abortion scandal should have been covered in a "positive" manner (read: framed in right-wing talking points).
Noyes dishonestly whined further:
Viewers and voters seeking election news have more choices than ever, but even today, the Big Three remain uniquely powerful, with relatively large audiences (collectively, about 20 million viewers per night) of citizens who are not as ideologically-established as the fans of wall-to-wall cable news.

So while the establishment media fret about dangers to democracy, there's a danger in a powerful partisan media passing itself off as objective or centrist, when the reality is that the networks are now open advocates for the success of one party over the other.
Meanwhile, the MRC refuses to admit that right-wing outlets like Fox News have an ideological bias, let alone spend some of its "media research" evaluating just how biased they are. That's because it depends on those outlets to advance its partisan talking points, and exposing their bias would be counterproductive to an ally.
Posted by Terry K. at 7:14 PM EST