MRC Ignores Facts To Cheer Alleged Demise Of Batgirl Film, Bisexual Superman
Topic: Media Research Center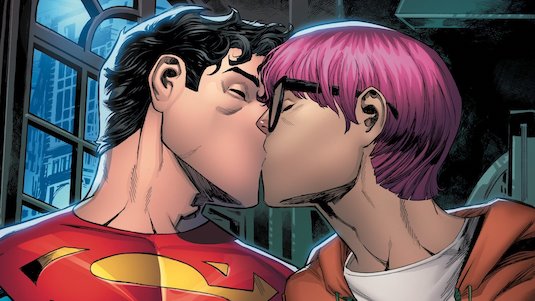 The Media Research Center likes nothing more to lash out at superhero franchises who dare to offer protagonists who are anything other than white and heterosexual. An Aug. 4 post by Michael Ippolito -- under the headline "Get Woke, Go Broke" -- cheered the new owners of Warner Bros. and its DC comic franchises shelving a new Batgirl movie despite it being nearly completed, whining that the titular character wasn't white:
Some corporations have finally gotten the memo and are pumping the brakes on producing woke garbage.

According to The Wrap, Warner Brothers will not release the $90 million project BatGirl either theatrically or on HBO Max. The movie was slated for release later in 2022, and numerous worrisome reports, such as the race-swapping of the main character, indicated it was going to be another leftist propaganda film.

"The decision to not release Batgirl reflects our leadership's strategic shift as it relates to the DC universe and HBO Max. Leslie Grace is an incredibly talented actor and this decision is not a reflection of her performance," said a Warner Bros. Pictures spokesperson. "We are incredibly grateful to the filmmakers of Batgirl and Scoob! and their respective casts and we hope to collaborate with everyone again in the near future."

The total movie budget reached a whopping $90 million due to COVID shutdowns, reshoots, and an increased budget. The movie was set to be the character's big breakthrough with veteran actor Michael Keaton reprising his role as Batman. Early tests revealed that the moviegoers did not enjoy the film at all. Holy woke propaganda, Batman!
Ippolitio did not explain now, exactly, making Batgirl not white (she would have been Hispanic in this film) made the film "woke," nor did he identify any other content from the film -- which he could not possibly have seen -- that warranted the "woke" slur. Seems that Ippolito can't handle a person of color starring in a superhero film.
(Warner Bros. itself stated that a change in corporate strategy was the cause of the film's cancellation, and nothing was said about the film being too "woke," whatever that is.)
Matt Philbin was even more whiny and snarky -- with added homophobia -- about the alleged cancellation of another project in the DC universe in an Oct. 13 post:
Look! Up in the sky: it's a bird! It's a plane! It's a woke bisexual guy in tights! Except he's not going to be there much longer.

According to Brittany Bernstein at National Review Online, DC Comics announced at the New York Comic Con that it's canceling Superman: Son of Kal-El because it turned out nobody was really interested in an excruciatingly woke comic book.

Go figure.

Don't ask me how comic book fans can pass up riveting story lines about Clark and Lois's light-in-the-tights teenage son fighting climate change and other progressive bugaboos, but the series was less popular than CNN+.

"The fourth issue of the series sold just 37,500 copies, earning it an abysmal 55th place in October 2021 sales," Bernstein reported.

So what the hell was DC thinking when it dreamed up this dud? According to the series author, "The idea of replacing Clark Kent with another straight white savior felt like a missed opportunity."

So this was an expensive exercise in virtue signaling. Lot of that going around.
Philbin was too invested in his homophobia that he ignored the inconvenient fact fact that the comic isn't getting canceled at all -- it's being re-launched in a new six-issue series as "Adventures of Superman: Jon Kent." And despite Philbin's gloating about the series' purportedly terrible sales, CBR pointed out that at the time this narrative appeared, "the best-selling comic book on Amazon was Superman: Son of Kal-El #16, the series' most recent issue," and "Son of Kal-El" writer Tom Taylor said that he will contiunue to write the new series. Perhaps that will teach Philbin to not get his comic book news from a right-wing commentary magazine.
The MRC previously whined about the creation of the bisexual Superman, because, again, it thinks superheroes should only be white heterosexuals.
Posted by Terry K. at 10:51 AM EST
Updated: Friday, November 25, 2022 10:56 AM EST