CNS Defends GOP Candidate's Mockery Of Paul Pelosi Attack, Pushes More Distraction Talking Points
Topic: CNSNews.com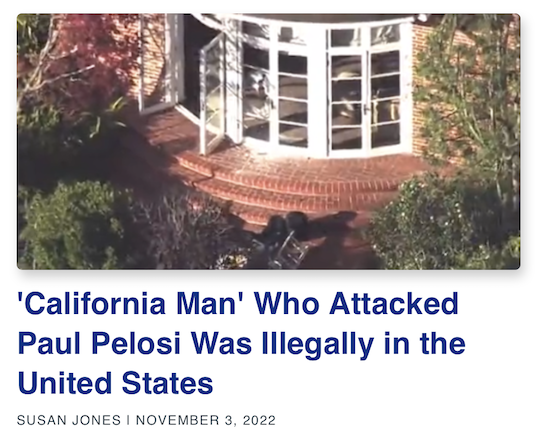 CNSNews.com was so committed to sticking to Republican narratives of whining and whataboutism regarding the violent hammer attack on Paul Pelosi that CNS writer Susan Jones rushed to the defense of a Republican candidate for making light of the attack.
Jones had already uncritically repeated Arizona GOP gubernatorial candidate Kari Lake whining that "You can't talk about Paul Pelosi, now you can't talk about Nancy Pelosi.. .. And I'm talking about all those things because I still believe we have a little bit of the First Amendment left." A Nov. 2 article by Jones criticized Hillary Clinton for bringing up Lake's dismissive attitude to the Pelosi attack and tried to invoke a "point of clarification" to defend Lake:
Former Senator and Secretary of State Hillary Clinton joined MSNBC's Joy Reid Tuesday night in demonizing Republicans -- not just individuals, but the "whole" party.

Reid mentioned the attack on Paul Pelosi by someone she described as having "sort of (a) right-wing conspiracy theory mind."

Clinton followed the leftist's lead:

"I don't see Republicans running for the Congress or governors in many other different positions taking down their violent ads, or I don't see them curbing their rhetoric," she said:

"You played something from Marjorie Taylor Greene, who was calling for the death, because of treason, for Speaker Pelosi.

"The level of just plain crazy, violent hate rhetoric coming out of Republicans -- you played something from the candidate, the Republican candidate for governor in Arizona. I want viewers, I want voters to stop and ask themselves, would we trust somebody who is stirring up these violent feelings, who is pointing fingers, scapegoating, making a joke about a violent attack on Paul Pelosi?

"Why would you trust that person to have power over you, your family, your business, your community? So, I want to take this a step further away from the incident, that terrible incident with Paul Pelosi, and broaden it out, because what we have with the rhetoric coming from the Republican candidates, from their party right now is so disturbing.
Jones huffed in response:
Point of clarification: Republican Kari Lake, running for Arizona governor, did not make a joke about the attack on Paul Pelosi, although liberal media outlets accused her of "mocking" the attack.

In remarks about school safety at a campaign stop in Scottsdale, here's what Lake said:

"Nancy Pelosi, well, she's got protection when she's in D.C. — apparently her house doesn't have a lot of protection," Lake said, stating the obvious.

Lake's audience laughed, and that gave rise to reports that Lake was "joking" about the attack on Pelosi. Lake continued: "If our lawmakers can have protection, if our politicians can have protection, if our athletes, then certainly the most important people in our lives — our children — should have protection."
That doesn't make Lake look any better, but it's clear that Jones will bend over backwards to try to clean up offensive remarks by Republicans.
Jones also stayed true to repeating Republican talking points by using an article the next day to invoke the exact same distraction its Media Research Center parent did regarding the alleged assailant:
The U.S. Justice Department on Monday released a federal criminal complaint and supporting affidavit against David DePape, the homeless man who attacked Paul Pelosi with a hammer after smashing his way into the Pelosi's San Francisco house.

But of all the facts detailed in the eight-page complaint/affidavit, this one was missing: DePape was in this country illegally.

[...]

But the first words of the Oct. 31 DOJ news release announcing the federal charges say this: "A California man was charged today with assault and attempted kidnapping in violation of federal law in connection with the break-in at the residence of Nancy and Paul Pelosi in San Francisco on Friday."

San Francisco is a sanctuary city.
Jones didn't explain how DePape being in the country illegally somehow made him a violent felon. She also didn't highlight the details on how that happened, which don't mesh with the right-wing "sanctuary city" rhetoric Jones was invoking: He overstayed a travel visa from Canada he received in 2008 -- meaning that Donald Trump likely had an opportunity to expel DePape during his presidency but did not.
Posted by Terry K. at 12:58 AM EST