Newsmax Finally Gives Up On Lara Logan After Anti-Semitic Remark
Topic: Newsmax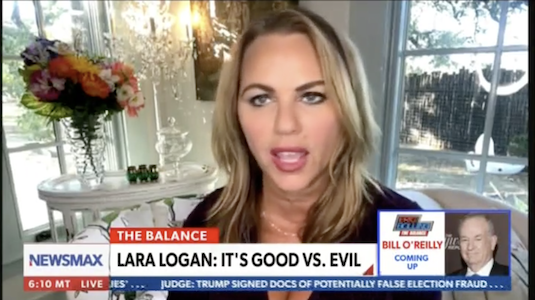 When Lara Logan lost her position year this year at Fox News -- where she was a regular guest and had a show on Fox Nation laughably titled "Lara Logan Has No Agenda" -- for her malicious yet ridiculous likening of Anthony Fauci to Nazi doctor Josef Mengele, Newsmax felt bad for her. When her talent agency dropped her over the hateful comment, a Jan. 17 article by Luca Cacciatore took a sympathetic approach. But the nasty smear wasn't disqualifying for Newsmax, just like it wasn't for the Media Research enter (which played whataboutism instead of criticizing her).
Logan got another sympathetic article on April 13 by the apparently unironically named Charlie McCarthy, which noted that Logan was completely out at Fox News (whom Newsmax dislikes(
Reporter Lara Logan said she was forced out of Fox News and its streaming service after publicly criticizing Anthony Fauci.

"Lara Logan Has No Agenda," a show streamed on Fox Nation, was dropped, and the former CBS News correspondent has not appeared as a Fox News guest since making her comments about Fauci late last year.

"I was definitely pushed out," Logan told The Eric Metaxas Radio Show. "I mean, there is no doubt about that. They don't want independent thinkers. They don't want people who follow the facts regardless of the politics."

[...]

Logan told Metaxas that mainstream media stories about her also have hurt her career.

"If they Google you, and they see a Washington Post or New York Times hit piece on you, well then they don't want anything to do with you, right?" she told Metaxas. "Oh well, we can't hire you for our event, or We can't employ you, or whatever else."
McCarthy waited until the fifth paragraph of his article to detaiil her offensive attack on Fauci, and he didn't mention at all her journalistic failings -- like promoting a man who told a false story about the Benghazi attack -- that resulted in all those "mainstream media' stories about her.
Logan went on to spout inflammatory statements during appearances on Newsmax TV as well:
On April 25, she was given a platform to rant that "because of President Joe Biden's policies on immigration; the United States has ''no southern border,'' and that the Biden administration's statements on the border "is the language of the United Nations. It's the language of the global elite.''
On Sept. 15, Logan complained that "Vice President Kamala Harris has been "lying about the border from Day One" as the White House overlooks the migrant crisis" and that the administration is engaged in "a globalist strategy" that's purportedly "designed to dismantle this country."
On Oct. 6, she whined that "the Justice Department is stalling its prosecution of Hunter Biden and will likely undercharge him," going on to claim: "'They're going to give up something on Hunter Biden because the reality is that much worse,' she added, noting that the news could be a distraction to avoid a November blowout in the midterm elections."
But it turns that even Newsmax has its limits on what it will put up with from Logan. Mediaite reported on Oct. 20 about a Logan appearance on Eric Bolling's Newsmax show:
Bolling interrupted to ask Logan about God and immigration.

"I have to ask you this because my audience is very God-fearing, God-loving, etc.," he said. "Is God ok with a closed border?"

Logan replied in the affirmative because, she said, God is a fan of national sovereignty:

It's much bigger than that. God believes in sovereignty, and national identity, and the sanctity of family, and all the things that we've lived with from the beginning of time. And he knows that the open border is Satan's way of taking control of the world through all of these people who are his stooges and his and his servants.

And they may think that they're going to become gods. That's what they tell us. you've all known [historian Yuval Noah] Harari and all the rest of them at the World Economic Forum. You know, the ones who want us eating insects, cockroaches, and that while they dine on the blood of children? Those are the people, right? They're not gonna win. They're not going to win.

Harari is a Jewish historian, so Logan's decision to single him out is instructive, given her recent behavior. "Blood libel" as it is known, is a centuries-old myth about Jewish people murdering Christian children to use their blood in religious rituals.

Logan has made several questionable and outright anti-Semitic statements. She claimed the theory of evolution is a plot perpetrated by the Rothschilds – a wealthy Jewish banking family. She also shared a post alleging that Jews are behind a scheme to create a "one world government."

Once a reputable reporter for 60 Minutes, Logan has become increasingly unhinged.
Indeed, And that, apparently. was the last straw for Newsmax. It went into damage control later that day, declaring that it "condemns in the strongest terms the reprehensible statements made by Lara Logan" and has "no plans to interview her again." Oddly, Newsmax did no stories itself on its own ban.
The MRC, meanwhile, censored all news of Logan's smear and said nothing after Newsmax's ban.
Posted by Terry K. at 7:46 PM EST
Updated: Wednesday, November 23, 2022 7:51 PM EST