MRC Stayed On Message, Whined About Final 1/6 Hearing
Topic: Media Research Center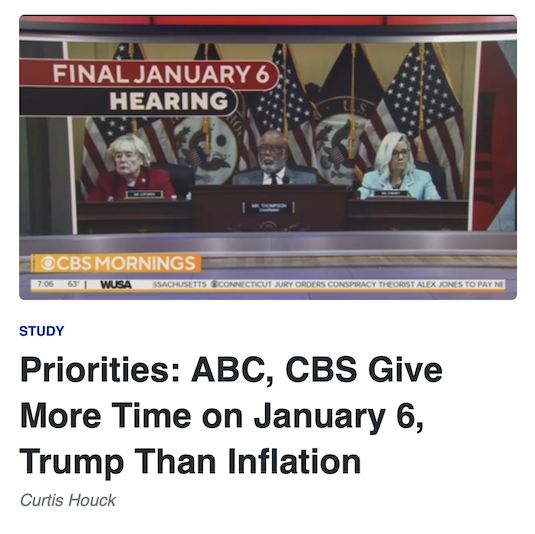 The Media Research Center spent the summer complaining about the House committee hearings into the Capitol riot -- and when one more hearing was held last month, the MRC complained about that too. We've already noted that MRC executive Tim Graham complained that the "liberal media" covered the hearings but not John Durham's latest failed prosecution (which the MRC also largely ignored), butthere was other whining as well. Curtis Houck grumbled in an Oct. 13 post that hearings cut into valuable airtime pushing right-wing narratives about inflation:
On Thursday morning, ABC and CBS showed what matters to them most. They combined to have spent more time on the last hearing of the House Select Committee on January 6 and the latest leaks against former President Trump than Americans struggling to make ends meet amid record-high gas prices, soaring food costs, and surging inflation.

All told (and when you add in NBC), ABC's Good Morning America, CBS Mornings, and NBC's Today spent a total of 12 minutes and 50 seconds on January 6 and the Mar-a-Lago raid and 11 minutes and 50 seconds on inflation.

It should be noted nearly three quarters of the inflation total (eight minutes and 34 seconds) came from NBC's Today, which was the only network to give more time to the state of the economy than January 6 and Trump (three minutes and 49 seconds).

In contrast, ABC and CBS gave far more time to their pet projects than showing any real concern for Americans wondering where their next meal is going to come from.
Houck didn't explain how he invented the claim that the Capitol riot hearings are the "pet projects" of TV networks. Kevin Tober engaged in similar whining later that day:
On Thursday, American consumers awoke to the news that they have been experiencing all along. That inflation continued to soar in September at a rate of 8.2 percent year-over-year and 0.4 percent over the previous month. This despite the Federal Reserve's steady interest rate hikes meant to curb inflation. Yet, the three evening news broadcasts gave that news a back seat to the latest January 6 hearing into the riots at the Capitol.

ABC's World News Tonight was the worst offender on this contrast in coverage. The network led with the news of the January 6 Committee voting to subpoena former President Donald Trump to testify before the committee. ABC devoted eight minutes and six seconds to the news while giving just 45 seconds to the red-hot inflation numbers.
Mark Finkelstein used an Oct. 14 post to complain that people on TVpointed out how the hearings made Republicans look bad:
After the House January 6 committee held its final hearing before the election, Morning Joe wasted no time on Friday's show in trying to translate those hearings into a blatant appeal to vote Democrat in the coming midterms. The election of a Republican majority is a vote for cheating, violence and the end of democracy.

First, looking directly into the camera, Michael Steele, the former Republican National Committee chairman turned member of the disgraced Lincoln Project, beseeched people to make the obvious choice for democracy and vote Democrat:
Finkelstein didn't dispuite the accuracy of anything that was said -- he just whined that it was said out loud. Meanwhile, Graham returned to spend his Oct. 14 podcast complaining about the hearings and tried to push the old right-wing narrative that nobody cares about them:
The final pre-election hearing of the Pelosi-picked January 6 Committee was overtly designed as midterm messaging for the Democrats -- including in fundraising emails. The media coverage suggests one party is in favor of democracy, and the other one is a mortal threat to democracy.

On MSNBC, Nicolle Wallace insisted to Rachel Maddow that "democracy issues" were a top midterm issue, but the January 6 hearings themselves aren't breaking through.

Politico just reported that "Overall, less than 2 percent of all broadcast TV spending in House races has gone toward Jan. 6 ads." CNN's Stephen Collinson wrote with great concern that "Voters may care more about the cost of French fries than January 6 panel's compelling evidence."

We discuss the patterns with NewsBusters Managing Editor Curtis Houck, and he breaks down the major themes of this last hearing. It's safe to predict that if Republicans retake on or both houses of Congress in 2023, the networks that have provided all this live coverage will immediately lose interest in covering oversight hearings. They all think Trump scandals are urgent, and Biden scandals are a distraction.
As usual, Graham is confusing his right-wing media bubble with what happens in the real world. He also didn't explain why he apparently believes Trump should never be held accountable for his actions in instigating the Capitol insurrection.
Posted by Terry K. at 10:09 PM EST
Updated: Tuesday, November 22, 2022 10:11 PM EST