MRC Forced To Distract From Herschel Walker's OTHER Abortion Scandal
Topic: Media Research Center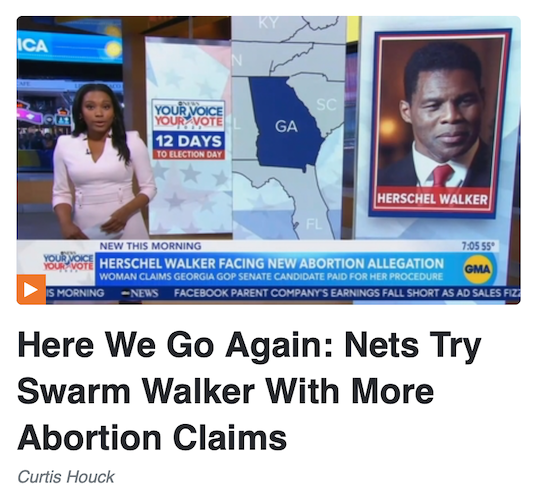 If there's anything the Media Research Center doesn't want anyone talking about more than Herschel Walker's abortion scandal, it's Herschel Walker's other abortion scandal.
When a second woman accused Walker of paying for an abortion as well as offered proof of their relationship, the MRC rushed into action like it did the first time to try and tamp this one down too. Curtis Houck whined that the story was being covered in non-right-wing meda, writing in an Oct. 27 post under the dismissive headline "Here We Go Again":
With things continuing to break against their liberal pals running for office, the major broadcast networks chose Thursday to spend nearly eight minutes (seven minutes and 49 seconds) flaunting a second supposed abortion allegation against Georgia Republican senatorial candidate Herschel Walker with some help from far-left attorney Gloria Allred to boost incumbent Senator Raphael Warnock (D).

[...]

Despite the lack of solid evidence tying Walker to the act, Scott ran with hit because "[t]he woman is remaining anonymous because she says she fears retaliation" and she's being represented by Allred. Further, the pair "released a voicemail, photo receipt, and card saying its evidence of her relationship with Walker, but did not provide evidence of the abortion itself."

[...]

CBS Mornings led with these claims via co-host and Democratic donor Gayle King about these new claims hitting Walker "in the midst of a very tight race that could help determine control of the Senate."

Congressional correspondent Nikole Killion hyped: "Herschel Walker is doubling down on this new claim, saying it's not true. But the accuser insists that this is not politically motivated and says she has proof."

Citing Walker's denials, Killion went onto treat the accuser's claims as fact even though Allred "did not present receipts from the clinic" and instead "other evidence of the relationship."

[...]

Jackson followed suit from those on the other networks by insisting "NBC News has not verified her allegations and the woman did not provide evidence Walker was involved in her abortion," but if you spend more than a few seconds on something, isn't that a suggestion you're viewing it as fact?
Of course, lack of independent verification didn't stop the MRC from heavily hyping Hunter Biden's laptop.
Tim Graham complained about the accusation as well in his Oct. 28 podcast -- not because it will cause him to disqualify the heavily anti-abortion MRC from abandoning Walker (it's more than shown its cynical hypocrisy on the issue), but that the scandal was being reported, insisting without evidence that the story was being pushed by the "liberal media" to "help their side."He went on to whine: "My problem with this is that once again, we have an anonymous woman quote-unquote "coming forward." Is that really coming forward? ... The whole problem here is you can't really verify this at a very sensitive time in the election." He then brought up, yes, the Hunter Biden laptop and whined that it was dismissed by non-right-wing media, then blamed the non-right-wing media again: "They can't stand that Herschel Walker is running."
He then deflected, insisting that any criticism of Walker is politically motivated because "the media ... don't want two or three black Republicans in the Senate. They don't want five or 10 black Republcians in the House, because they want to sell this idea that the Republican party is a pile of white nationalist males."
Graham returned for an Oct. 30 post complaining that "Saturday Night Live" lampooned Walker's penchant for buying abortions for his girlfriends:
The fake PBS anchor asked about Walker paying for abortions and holding a gun to his ex-wife's head, and asked why he was doing so well: "Look, if you want to get on a Jumbotron at the Falcons game, you don't throw on a cardigan and start making sense. You take your shirt off and shake your belly around. That's what I'm doing, and people love me, no matter what. Like the great Trump Donald said, I could pay for an abortion in the middle of Fifth Avenue, and not lose any voters. And that's a promise from me, Herschel Wickapotamus."
Graham was silent on the fact that the MRC is very much giving Walker a pass for his love of abortions.
The same day, Mark Finkelstein grumbled that MSNBC host Tiffany Cross said that "Georgia Democrats in general, and Democratic Senator Raphael Warnock in particular, have gone too easy on Herschel Walker, specifically with regard to allegations that he urged two former girlfriends to have abortions." Rather than explain why he and the MRC are still supporting Walker despite his egregious violations of right-wing anti-abortion orthodoxy, he simply sneered that if Warnock "he had taken her advice and worked abortion allegations against Walker into virtually every answer, voters would surely have soon been turned off by such a tiresome and transparent ploy."
But is it any less tiresome than the MRC continuing to aggressive support and defend Walker despite growing evidence of his immorality?
Posted by Terry K. at 8:37 PM EDT
Updated: Tuesday, November 8, 2022 10:51 PM EST