MRC Childishly Refuses To Give Biden Credit For Role In Averting Rail Strike
Topic: Media Research Center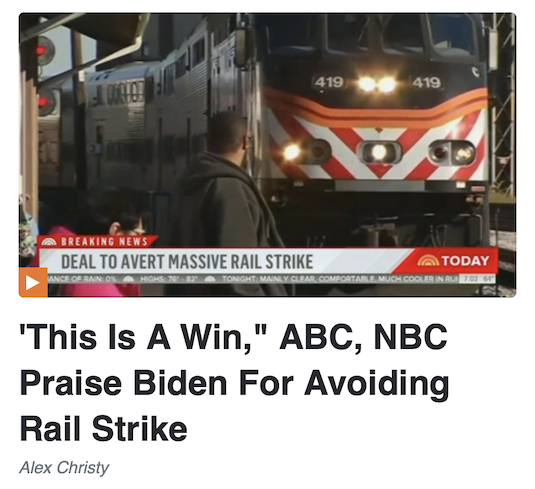 How petty and hateful is the Media Research Center toward President Biden? It refuses to give him credit for the notable accomplishment of avoiding a disruptive rail strike. Alex Christy sneered in a Sept. 15 post:
President Biden managed clear the lowest of bars in the early morning hours on Thursday morning when railway companies and unions reached a tentative agreement to avoid a strike that would have devastated the economy. For ABC White House correspondent Mary Bruce on Good Morning America and her NBC counterpart Peter Alexander on Today, not epically failing constituted a great success for Biden.

[...]

Of course Biden aides give Biden credit. A better description of events was provided by CBS's Ed O'Keefe who was more matter-of-fact. On CBS Mornings, O'Keefe reported, "President Biden announcing the deal earlier this morning saying in a statement 'these rail workers will get better pay, improved working conditions, and peace of mind around their health care costs. All hard-earned.' A handful of the dozen railroad unions had been holding out for a better agreement on sick leave. They had until tonight at midnight to reach a deal or cause a strike that would have affected almost 7,000 trains across the country."

Usually presidents get credit for implementing policies that improve the economy, but ABC and NBC give Biden credit for simply not making it significantly worse than it already is due to his inflation-causing policies.
Funny, we though that "the lowest of bars" a president needed to clear was walking down a ramp unassisted and drinking water like a normal person. But when Donald Trump failed those tests, the MRC didn't mock him but, rather, lashed out at the media for pointing out those failings. Joseph Vazquez whined that New York Times columnist Paul Krugman "tweeted a cringe joke that his cat is "superior to Donald Trump" because 'he can drink water with no hands!'"
Months later, the MRC was still bitter. After President Biden tripped on the stairs to Air Force One in March 2021, Curtis Houck huffed that "conservatives and Republicans recalled the liberal media's wall-to-wall coverage of then-President Trump holding of a water glass and walking slowly down a ramp at the June 13, 2020 West Point commencement" and "the ordeal was treated like the 21st century's Zapruder film," concluding: "But when it comes to Biden's struggles, CNN and MSNBC both accepted his administration's excuse that itwas a particularly windy day in the Washington D.C. metro area. Because when their friends are in power, friends don't hang friends out to dry with such a concerning narrative about the Commander-in-Chief."A few days later, Scott Whitlock approvingly quoted Fox News complaining about the media "sounding the alarm over President Trump's use of a ramp" while purportedly ignoring Biden's trip. Neither Houck nor Whitlock explained why their fellow right-wing media bubble residents tried to quash those Trump stories.
Posted by Terry K. at 11:50 PM EDT