MRC Obsesses Over Political Party Of Man Accused Of Killing Reporter
Topic: Media Research Center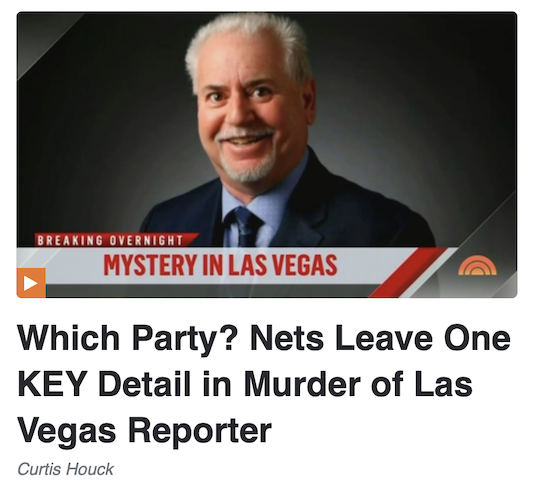 The Media Research Center doesn't care about the health and safety of journalists who aren't right-wing shills -- witness its whining about journalists being concerned about their safety in covering Donald Trump and cheering attacks on them by rabid Trump supporters and its deliberate ignoring of a non-Fox News journalist killed in covering Russia's invasion of Ukraine while fretting over a Fox News reporter who was injured. If the MRC expresses concern about the health and safety of a non-right-wing journalist at all, it's because it can be exploited to advance the MRC's partisan right-wing narratives.
And that's pretty much what happened with the death of journalist Jeff German. His death itself didn't move the MRC -- he worked for a "legacy media" outlet, the Las Vegas Review-Journal. But when it emerged that his alleged killer is a local official who just happened to be a Democrat, it was explotation time. Curtis Houck ranted in a Sept. 8 post:
On Wednesday afternoon, Clark County, Nevada Public Administrator and Democratic Party official Robert Telles was arrested in connection with the death of Las Vegas Review-Journal investigative reporter Jeff German following a series of stories German had penned about what sources told him was an abusive culture in Telles's official and an inappropriate relationship with a colleague.

Of course, ABC, CBS, and NBC refused to mention Telles's party ID in their Thursday morning news programs. If Telles had been a Republican, it's a safe bet we would hear lectures about how the GOP had made reporting dangerous, democracy died in darkness, and that it was the latest example of right-wing violence after January 6.
HOuck didn't mention that the Jan. 6 violkence was done explicitly for the benefit of a Republican president who is mentally unable to accept that he lost an election, while no partisan political motive has been detected in Telles' alleged crime.
Kathleen Krumhansl similarly ranted the same day (needless bolding in original):
Univision and Telemundo gave a master class today on how to omit inconvenient news during their reports on the arrest of Las Vegas Clark County Public Administrator Robert Telles- taken into custody in connection with the murder of investigative journalist Jeff German. Both networks called him a politician, a civil servant, the suspect, and public administrator, WITHOUT mentioning once that he is an elected Democrat.

The decision to omit the key (D)detail from their reports of the murder confirms the lengths to which the main sources of news for Spanish-speaking audiences in the nation go in their shared mission of sanctifying Democrats.

[...]

It is hard to imagine Republicans getting the same deference from Latino-interest media. Such is the bias that passes for reporting at the nation's leading Spanish-speaking corporate media.
Krumhansl similarly failed to explain Telles' political affiliation to his alleged crime. Nevertheless, her post was translated into Spanish.
Mark Finkelstein followed the template as well:
A favorite liberal-media theme is that Donald Trump and Republicans at large, by criticizing the media, have endangered the lives of journalists.

So imagine if a Republican elected official had actually been charged with murdering an investigative journalist who had exposed his wrongdoing! Entire special shows would be dedicated to the news! "Tonight on MSNBC: Journalism Under Murderous Republican Attack!"

But let a Democrat [sic] elected official be accused of murdering a journalist who had written stories exposing his misconduct, and MSNBC, in the case of Morning Joe, not only gives the story short shrift, but, incredibly, never discloses that the suspect is a Democrat.
Finkewlstein went on to attack CNN for not making Telles' political affilation prominent enough:
CNN would have been guilty of the worst kind of hypocrisy and double standard had it failed to identify Telles as a Democrat. As Kristine Marsh has noted, CNN's Jim Acosta, a raging Trump antagonist, warned of a coming day of "a dead journalist on the side of the highway, because of the rhetoric coming out of the White House from the President of the United States."

Acosta has also accused Trump of creating "an atmosphere where people can get hurt, where journalists can get murdered."
Finkelstein didn't mention the difference between the two -- Trump encouraged violence against any and all journalists who criticized his consefvative-leaning polices (which, again, the MRC condoned), while Telles' apparent animus against German was personal and not based on political ideology.
The template was used again in a Sept. 11 post by Tim Graham:
On the terribly titled All Things Consideredon Saturday night, NPR weekend anchor Michel Martin explored threats to journalists and journalism with liberal Washington Post columnist Margaret Sullivan, who just left the paper. They began with the killing of Las Vegas Review-Journalreporter Jeff German by a Democrat...and they never mentioned the Democrat part.

Martin could explain "Clark County Public Administrator Robert Telles was arrested on suspicion of murdering German. Now, the authorities have not provided a specific motive, but German had previously reported on mismanagement and a hostile work environment in Telles's office. Telles denied the accusations and went after German on social media." But she couldn't identify Telles by party.

Instead, Martin alluded instead to "the prior American president" as a violent threat to journalism:
Like Finkelstein, Graham failed to mention that Telles' alleged killing of German wasn't ideological, unlike the threats Trump issued.
Houck returned for a Sept. 13 post:
After five days of silence from the major broadcast networks, ABC's Good Morning America broke ranks Tuesday to rediscover the brutal murder of longtime Las Vegas Review-Journal reporter Jeff German allegedly at the hands of Democratic Clark County, Nevada Public Administrator Robert Telles. And, beyond that, ABC broke the network-wide blackout in noting Telles's party ID.
Kevin Tober similarly whined:
World News Tonight and Good Morning America on Tuesday broke their network's silence on the party of the brutal murder of longtime Las Vegas Review-Journal reporter Jeff German by Democrat Clark County, Nevada Public Administrator Robert Telles. While the network ran an almost identical news package on the story during their morning and evening newscasts, they were only able to manage one brief mention of Telles's party affiliation. Meanwhile, rival networks CBS & NBC have continued their censorship of the Telles's party ID.
Again, Houck and Tober didn't explain the relevance of Telles' political affiliation to his alleged crime.
Graham attacked Acosta for not conforming to his biased narratie in a Sept. 14 post:
A Nexis search of CNN transcripts confirms that weekend host Jim Acosta -- the man who repeatedly said Trump endangered the lives of reporters as he yelled at Trump in White House press conferences -- said zip, zilch, nada about a Democrat [sic] politician

Acosta's 2019 memoir was titled The Enemy of the People: A Dangerous Time to Tell the Truth in America. In a 2018 panel discussion, he turned to a T-shirt that joked about hanging reporters:

[...]

So as long as there's a dead journalist stabbed by a Democrat, we haven't become something less than America.
It's telling about the MRC's abject hatred of journalists who aren't right-wing toadies the Graham thinks threatening to murder journalists can be dismissed as a "joke."
Also, note that none of thiese MRC writer engaged in their usual dismissal of German as a "liberal" journalist. That's because his death serves the MRC's agenda.
Posted by Terry K. at 11:42 PM EDT