MRC Still Trying To Falsely Portray Politico's Right-Wing Owner As 'Woke' Liberal
Topic: Media Research Center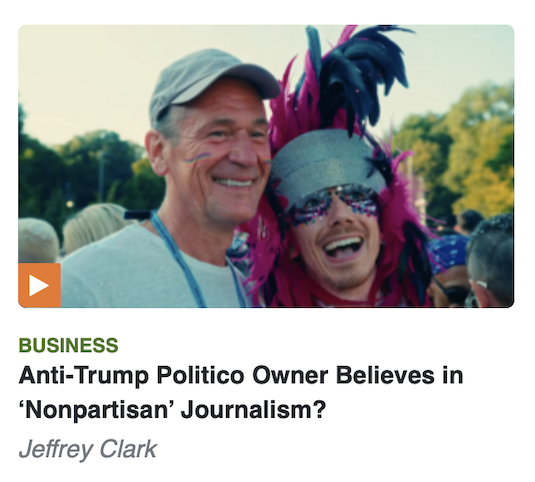 Last year, the Media Research Center's Joseph Vazquez laughably tried to portray the new owner of Politico, the German conglomerate Axel Springer, as relentlessly left-wing -- despite the fadt that the company is actually very much right-leaning. Jeffrey Clark gave that false narrative another shot in a Sept. 6 post:
Politico owner and billionaire Mathias Döpfnerb [sic] reportedly told The Washington Post that he supports "nonpartisan" journalism, despite multiple attacks on former President Donald Trump in just the last few years.

Döpfner's media company, Axel Springer, bought out Politico for a massive $1 billion back in 2021. Ever since then, the Media Research Center has documented multiple instances of Politico's far-left bias.

The outlet defended Biden's disastrous economic record, scolded Republicans as "pouty" and even labeled Harry Potter author J.K. Rowling a "Death Eater" for her opinions on "trans rights."

But that didn't stop The Washington Post from presenting Döpfner as a champion of "nonpartisan" journalism in a Sep. 6 profile of the billionaire's dreams for Politico's future.

The German billionaire is reportedly "concerned" that "legacy" media outlets like The New York Times and even The Washington Post have been "drifting to the left." But Döpfner also slammed "conservative media" as "under the sway of Trumpian" influence, according to the same Post story.

This is the same Döpfner who once claimed that "Trump speaks the language of the mafia," in a 2017 column.

He also blamed the former president for the Jan. 6 Capitol riot in a 2021 op-ed, arguing that Trump had called "a coup against democratic institutions.". "What does Trump have to do in order to be perceived by a sufficiently large number of Republicans as a democracy threat and thus no longer acceptable," Döpfner whined.

What about those statements are "nonpartisan," Washington Post?
But Clark doesn't prove those claims are "nonpartisan." As we've noted, nujmerous people have pointed out that Trump does, on fact, "speaks the language of the mafia," making that an objective statement. It's also undeniable that Trump incited the Capitol riot, and Clark doesn't even bother to deny it. Instead, Clark tried to pile on:
Döpfner even told The Washington Post that he is in contact with a "circle of people that hate Donald Trump."

But somehow, The Post seemingly could not make sense of Döpfner's public disdain of Trump, calling the billionaire's politics' "something of a mystery." What's more of a mystery is how The Post can't at least get a hunch as to the political leanings of a man who attended a lewd, leftist "LGBTQI+" parade in July.
Yes, merely not hating LGBT people is evidence of being irredeemably liberal. More importantly, Clark censored the fact that the Post profile also noted that Döpfner sent out an email to company executivesthe day of the 2020 election stating, "Do we all want to get together for an hour in the morning on November 3 and pray that Donald Trump will again become President of the United States of America?"Which would seem to indicate he doesn't hate Trump as much as Clark wants you to believe.
Clark went on to whine: "The irony of a publicly anti-Trump billionaire inserting himself into American politics and prattling on about neutrality was apparently lost on Döpfner." Clark, meanwhile, apparetnly has no problem with pro-Trump billionaire Rupert Murdoch inserting himself into American politics and prattling on about neutrality.
Clark also claimed that "The Post explained that Axel Springer staff in Germany are "required to sign" a woke ideological pledge to work at the company. But that pledge also includes "support for a united Europe, Israeli statehood and a free-market economy." The Post article also noted that Döpfner "ordered the Israeli flag be flown in solidarity at company headquarters for a week after several antisemitic outbursts at demonstrations in Germany."
When did support for Israel and a free-market economy become "woke" values to the MRC? That logical inconsistency and ignorance of facts is what happens when you put peddling narratives ahead of telling the truth.
Posted by Terry K. at 2:56 PM EDT