MRC Writer (And Potential Customer?) Mad That Right-Wing Dating App Was Mocked
Topic: Media Research Center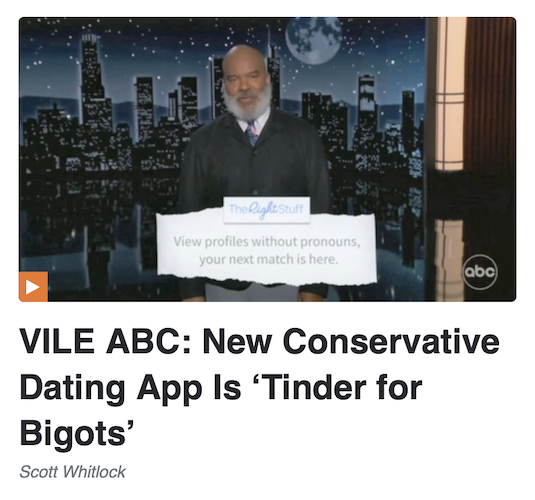 The Media Research Center's Scott Whitlock was weirdly angry in an Aug. 12 post:
The haters at ABC late night on Thursday showcased, yet again, that they despise half the country. Jimmy Kimmel Live guest host David Alan Grier seethed about a new conservative dating app, deriding The Right Stuff as "Tinder for bigots." Grier didn't really bother to offer a joke there, just that all conservatives are racists.

CBS Mornings on Friday also covered the new app with Democratic donor Gayle King agreeing that she would want her kids dating within their political party. But first, here's Grier on Thursday night: "There's a new dating app. It is called The Right Stuff....It's basically Tinder for bigots."

The hateful Grier then played a doctored ad for the dating app with faux graphics proclaiming, "No gays," "no Mexicans," "only a few Blacks." How hateful are the people behind Jimmy Kimmel Live? In 2017, when asked about Republicans turning off his show, Kimmel replied, "Not good riddance, but riddance."
Is Whitlock planning to be a client? He seems oddly desperate to defend the honor of this app.
Meanwhile, Wonkette looked at a promotional video for The Right Stuff and declared it to be "like watching what Fritz Lang would have come up with if he was directing an eHarmony commercial."
Whitlock further promoted the idea of associating only with fellow ideologues later in the post:
Over on CBS Mornings, co-host Tony Dokoupil asked about the new conservative dating app, wondering, "So I put the question to my trusty co-hosts, you have kids, would you want — without revealing political beliefs of your children -- Would you want them to marry within their political belief system?"

After pondering the question, King replied, "I think it would be easier. But I just want them to be happy with whatever partner they choose. I really do mean that. I think it would be easier if you were more like-minded."
Of course, if he associated with non-conservatives, he might learn they are not inherently evil -- which, unfortunately for him, would undermine he hate he needs to constantly keep at a boil to do whatever the MRC demands of him.
Posted by Terry K. at 10:14 AM EDT
Updated: Sunday, October 2, 2022 11:16 PM EDT