MRC's Jean-Pierre-Bashing, Doocy-Fluffing Watch, Non-Doocy Edition
Topic: Media Research Center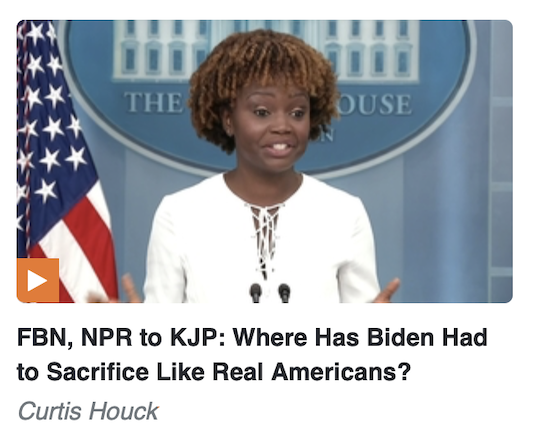 It was Gabriela Pariesau's turn to take a whack at White House press secretary Karine Jean-Pierre over her Sept. 8 briefing:
When in doubt, point to the Trump administration! That's what White House Press Secretary Karine Jean-Pierre did Wednesday when she dodged a question about alleged collusion between the Biden administration and social media companies to suppress free speech.

When asked about the allegations Jean-Pierre said, "[t]here has been ongoing work dating to the Trump administration to provide accurate COVID information where folks get their news."

Her comments came in response to Fox Business reporter Edward Lawrence who asked Jean-Pierre about a pending lawsuit. Attorneys general Eric Schmitt of Missouri and Jeff Landry of Louisiana brought a lawsuit against members of the Biden administration for allegedly colluding with Big Tech to censor so-called "misinformation."
Pretending that misinformation is subjective and deserves scare quotes is an MRC narrative to protect right-wing misleaders and liars from suffering the consequences of their behavior.
The MRC's resident Karine-hater, Curtis Houck, returned to do his usual dirty work out hyping right-wing reporters' biased attacks on the Sept. 9 briefing:
Prior to White House Press Secretary Karine Jean-Pierre using Thursday afternoon's breaking news of Queen Elizabeth II's death to end that day's briefing, she was asked by reporters from two ends of the political spectrum how President Biden and his family have been affected by record-high inflation and gas prices and whether they've cut back on anything. Of course, the stammering, yammering Jean-Pierre had nothing to offer.

Fox Business Network's Edward Lawrence noted that, seeing as how Jean-Pierre has "talked about trying to get costs down," "a new Gallup poll show[ed] that" Americans have been forced to do so with 24 percent of the country revealing they're "spending less" and "17 percent traveled less or canceled vacations" due to the high living costs.

Despite that, Lawrence noted that Biden "has been to his beach house six times" and gone on vacations to the Carolinas. "Is he considering any spending cuts for the administration or for himself personally because of inflation," he asked.
We don't recall Houck or anyone else at the MRC demanding that the Trump family act and spend like the "real Americans" he reference in his headline. The right-woing stenography continued:
Real Clear Politics' Philip Wegmann had a series of probing questions about leaks from the Mar-a-Lago raid, Energy Secretary Granholm praising California's energy policies days ahead of concerns it could fail, and why has it been over 200 days since President Biden last gave a (television) interview.

On that last one, Jean-Pierre responded in much the same way Psaki did when similar questions were raised: "The President loves talking to you all. He takes your questions all the time...He is happy to talk to you all. As you know, he does it multiple times during the week."
We recall when the MRC was unbothered that Trump press secretary Stephanie Grisham gave no press briefings at all during her tenure.
Houck lashed out at the Sept. 15 briefing under the nasty headline "KJP Rides Struggle Bus Through Basic Questions from Heinrich, Welker on the Border":
Amid the left's collective meltdown over Governor Ron DeSantis (R-FL) sending illegal immigrants to far-left, rich, white Martha's Vineyard, Massachusetts, White House Press Secretary Karine Jean-Pierre struggled with questions from both her allies in the press corps and actual reporters about the move, including a Kamala Harris-like answer and a general attitude painting Martha's Vineyard as some sort of Third World outpost.

[...]

After Jean-Pierre had worked her way around the room a few times, it was finally Jacqui Time. Fox's Jacqui Heinrich started a short, probing question in the mold of her colleague, Peter Doocy: "Do you think that Americans believe that the border is secure?"

Jean-Pierre kept to her binder (which earlier had her referring to Ted Cruz as the governor of Texas) about there being a "process" the Biden regime has followed "to secure the border" and "fix[ing] a broken system" is not like "flipping a light switch"

Heinrich then fired off this fastball about whether there's "risk...that voters might feel like they're being lied to" about the porous border and whether border conditions are "humane"[.]
Remember, Houck cares only that right-wing reporters play gotcha, not that their questions are fair or informative -- and,apparently, that Heinrich is just as biased as Doocy.
Posted by Terry K. at 6:29 PM EDT