MRC's Jean-Pierre-Bashing, Doocy-Fluffing Watch
Topic: Media Research Center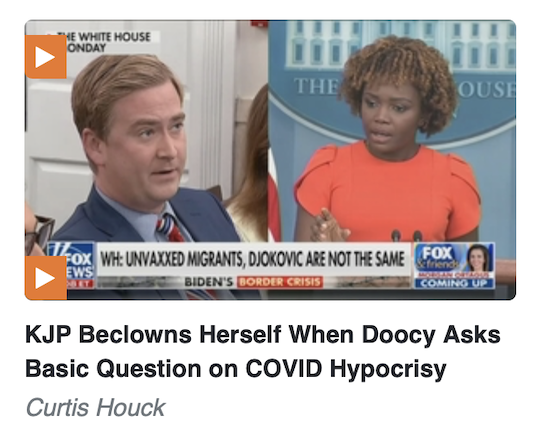 In his writeup of the Aug. 29 White House press briefing, Curtis Houck unsurprisingly cheered Peter Doocy's biased questions regarding pet MRC victim Novak Djokovic (which he dishonestly framed as "basic") to White House press secretary Karine Jean-Pierre, whom he yet again portrayed as an incompetent diversity hire:
White House Press Secretary Karine Jean-Pierre had quite the Monday as, near the end of an otherwise lackluster briefing with little in the way of pressing exchanges, Fox's Peter Doocy leveled some basic questions about a double standard on the border and the coronavirus that left Jean-Pierre spinning her wheels.

Having quipped that she "could have walked away" to end the briefing (as the AP's Zeke Miller had given the hook) and Doocy's plea that he'll "make it worth it," he started with simple premise in light of the U.S. Open getting underway: "How come migrants are allowed to come into this country unvaccinated but world-class tennis players are not?"

With Doocy having alluded to former world number one men's tennis player Novak Dojokvic being unable to enter the U.S. because he's unvaccinated, Jean-Pierre declined comment because "visa records are confidential under U.S. law" and the U.S. also can't "comment on medical information of individual travelers."

Jean-Pierre seemed to have thought she really threaded the needle by passing the buck to the CDC as their "requirement for foreign nationals," but Doocy tired to keep her on subject by wondering why then can anyone walk across the southern border, regardless of their vaccination status (or any requirement for that matter).

Incredibly, Jean-Pierre claimed "that's not how it works," leaving an exasperated Doocy to fact-check her (click "expand"):

[...]

Representing anyone feeling incredulous after having listened to that excuse, he called out the spin: "I know that that's not what you guys want to happen, but that is what happ— what is happening."

Jean-Pierre made matter even worse for herself by replying that "it's not like somebody walks over" before stammering and leaving Doocy with an opening to forcefully reply:

That's exactly what's happening. Thousands of people are walking in a day. Some of them turn themselves over. Some of them are caught; tens of thousands a week are not. That is what is happening.

The hapless White House official retreated to her binder with a lengthy answer about "what we have done under this administration" with "new border technology and set up joint protocols with Mexico and Guatemala" to target human traffickers and dole out "record levels of funding for the Department of Homeland Security."
For the Aug. 31 briefing, it was more cookies for Doocy and Philip Wegmann for advancing right-wing narratives and criticizing non-right-wing reporters for not doing the same thing:
Ahead of President Biden's Thursday night address set to call over 70 million people a national security threat because they vote Republican, Wednesday's White House press briefing featured a robust defense by the press corps of such dangerous rhetoric while CBS's Nancy Cordes and Real Clear Politics's Philip Wegmann pushed back. On a separate topic, Fox's Peter Doocy hammered the administration on how border policies exacerbate drug overdoses.

White House Press Secretary Karine Jean-Pierre laid the groundwork, telling the AP's Chris Megerian that Biden believes half the country poses "an extremist threat to democracy," "freedoms," and "rights." This left Reuters's Jeff Mason to commence the softballs, asking whether Biden and his administration are "satisfied that FBI agents are getting the protection that they need as a result of these threats" by Republicans.

[...]

Real Clear Politics's Philip Wegmann respectfully pushed back on this insanity, twice asking whether Biden's talking about such a large swath of the country: "When it comes to voters, how does the President differentiate between the ultra-MAGA folks who he sees an extremist threat to democracy and the average GOP voter?"

Jean-Pierre insisted their problem is with "the MAGA Republicans in leadership," but she changed her tune and broadened it out to "an extreme part of...the party" after he asked a follow-up: "So, for folks sitting at home, when the President is talking about preserving the soul of the nation and those threats to democracy, he's not referring to those individuals. He's talking about Republican leadership?"

Doocy took things in a different direction on Overdose Awareness Day: "There's a big problem now that rainbow fentanyl, which is designed to target children, has been found in 18 states. What specifically is the President doing about this?"

Jean-Pierre insisted that, along with "observing" that day, she argued the Department of Homeland Security (DHS) will spend $80 million on "drug prevention."

Obviously, this didn't fly with Doocy: "But 300 over doses a day now. We know how the fentanyl is coming into the country. It's coming right across the southern border. The DEA administrator says so. So, when is the President going to do something more to stop this?"


Jean-Pierre boasted that it's being addressed since there's been "a 200 percent increase of fentanyl seizures," but Doocy cut through with this devastating reality: "[L]ife expectancies are going down at a rate not seen in a century and part of that is being driven by drug overdoses, so what is the President going to do to stop this?"

Things got even worse after Jean-Pierre falsely claimed the Biden administration has been "securing the border" and giving "record levels of funding" to "DHS, so they can stop illicit drugs."

The usually aggressive but even-keeled Doocy seemed to have had enough. Pathetically, Jean-Pierre argued it was offensive for Doocy to argue the administration wasn't addressing this crisis[.]
Houck didn't mention that the decline in life expectancy began under President Trump, who apprently did not do enough to intercept fentanyl at the border, given how much more fentanyl has been seized under Biden than under Trump.
Houck obsessed further over a speech that hadn't yet been given in his writeup of the Sept 1 briefing:
On Thursday afternoon, White House reporters rallied from the embarrassing effort many gave the day prior in lobbying softballs to inept Press Secretary Karine Jean-Pierre and showed skepticism that President Biden's Thursday night address on how the American right poses a threat to the country wouldn't be political.

Reuters's Jeff Mason was one of those reporters who redeemed himself, starting with a short, Doocy-like question: "Is tonight a political speech?"

Jean-Pierre sowed her fate when she immediately show back: "No. It's not a political speech. This is an opportunity — again for the President to directly have a conversation with the — with the — the American people."

[...]

Giving away the game, Jean-Pierre snarked that "we understand we hit a nerve" with the American right "trying to hide and we understand that ultra-MAGA officeholders want to play games here and dodge accountability for their extreme proposals and actions, but they're just telling on themselves."

She falsely added that Biden has "always squarely targeted his criticism on elected leaders" and he would continue to "not...shy away" from slamming them though Thursday's "speech...will be optimistic."
Salgado took over the mocking duties for the Sept. 2 briefing, whining heavily about the speech given by President Biden the night before calling out the danger MAGA Republicans pose to the country, and whining even harder that Doocy didn't get to ask a question. So Fondacaro was left to spout right-wing talking points about the speech in his stead:
In the wake of President Biden's extremely divisive Thursday night speech featuring tinges of authoritarian themes, the Friday White House press briefing was noticeably lacking critical questions about the dangerous rhetoric in the address. And with Press Secretary Karine Jean-Pierre skipping over tough questioners like Fox News Channel's Peter Doocy, the few questions that were asked about the speech only addressed how "political" it was and why they decided to use Marines as props.

[...]

Absent from the briefing room were critical questions about the optics of the President being wreathed in blood-red lights and inky shadows while waving his fists in the air as he claimed over 70 million Americans were a threat to the country and enemies of the state. Online, these optics drew comparisons to Adolf Hitler, Joseph Stalin, V for Vendetta, The Hunger Games, the empire from Star Wars, and other popular media featuring authoritarian demagogues.

Diamond did dip into questions about the stagecraft of the speech, noting it "very much sounded like a politically charged speech as an official event" that was "taxpayer-funded, with two Marines in uniform, in particular, flanking him and visible on camera throughout his speech."

"Denouncing political violence is not political. Defending rights and freedom is not political. Making clear the challenges facing the nation is not political. We don't call any of that political," Jean-Pierre defended their arguably unethical actions.
Catherine Salgado did her own own version of mocking Jean-Pierre for a separate piece on the briefing:
White House Press Secretary Karine Jean-Pierre stuttered a refusal to answer a question about the Biden administration's alleged collusion with Big Tech to censor Americans.

Fox Business Network White House correspondent Edward Lawrence asked Jean-Pierre on Sept. 2: "On social media companies, did the administration give Twitter and Facebook, ah, talking points, um, over flagging what the president describes as misinformation?"

Jean-Pierre asked Lawrence to repeat his question. Lawrence did, adding, "How much coordination is there between the administration, um, and social media companies?"

Jean-Pierre then stammered, "So, I–I–I don't have anything to–to share with you on that, and I'm not going to comment on–on that right this time."
Salgado went on to reference "Missouri Attorney General Eric Schmitt's revelations Thursday of a vast 'censorship enterprise' between Big Tech platforms and the federal government in colluding to censor Americans' free speech online," touting how the so-called investigation "cited original research from Media Research Center and its unique CensorTrack database to support its underlying allegations." She offered no reason why a biased investigation from a Republican attorney general that seems to be merely parroting right-wing talking points should be trusted.
Posted by Terry K. at 7:58 PM EDT
Updated: Friday, September 16, 2022 9:51 PM EDT