MRC Still Making Djokovic A Victim For Selfishly Refusing A COVID Vaccine
Topic: Media Research Center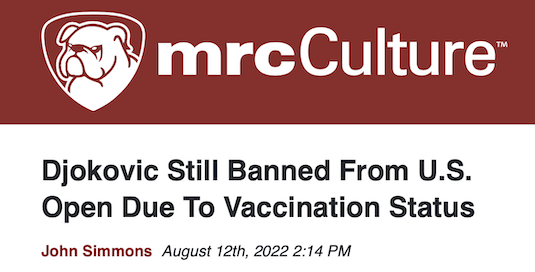 Last fall and earlier this year, Media Research Center sports blogger John Simmons served as a cheerleader for tennis star Novak Djokovic for being a selfish jerk in refusing to get the COVID vaccine, portraying him as a victim because he was blocked from entering major tennis tournaments because of that. Simmons has continued to be a cheerleader for Djokovic's selfishness. In a March 17 post, Simmons gushed that Djokovic "has refused to cave to political pressure" on getting vaccinated" and that he got to play in the French Open, letting him laughably claim that "I was never against vaccination," leaving it uncommented that his refusing to get a COVID vaccine demonstrates beyond a doubt that he is, in fact, against vaccines.
IN a July 11 post, Simmons complained that a tennis writer called Djokovic an "anti-vax posterboy" -- which Simmons even more laughably insisted "couldn't be further from the truth" based on Djokovic saying once that "he had received vaccines as a child -- then cheered that Djokovic's wife ran to her husband's defense by retorting that "He simply responded what HIS body choice is." Simmons concluded by declaring:
Novak is not planning on playing in the U.S. Open because of his vaccination status, but he doesn't need to. He's already proven he's won of the greatest men's tennis players of all time, and a man of strong convictions. Anything else he accomplishes in his career is simply an addition to an already glittering legacy.
Yet the MRC manufactured drama about Djokovic playing in the U.S. Open anyway. Fellow sports blogger Jay Maxson -- who wrote a post earlier this year filled with falsehoods about athletes purportedly dying because of the COVID vaccine, a post that remains live and uncorrected at this writing -- huffed in a July 12 post: "It's a mad, mad, mad sports world, to say the least! Tennis great Novak Djokovic can't even enter the United States because he is not vaccinated, but a cyclist from Luxembourg who tested positive for COVID has won a stage of the Tour de France. " In fact, doctors tested the cyclist, Bob Jungels, and found that his viral load was low enough that it was unlikely he was infectious.
Even though -- again -- Djokovic was already not planning to play in the U.S. Open, Simmons manufactured some victimhood for him in a July 21 post:
The Biden Administration's COVID travel restriction policy preventing unvaccinated foreigners from entering the United States is so darn selective it smells to high heaven. Immigration officials are allowing unvaccinated illegal aliens to cross our border, but the greatest active tennis player in the world -- Serbia's unvaccinated Novak Djokovic -- is barred from our country.

Djokovic is fresh off his seventh – and fourth straight -- Wimbledon title. Due to the Biden Administration's ridiculous ban on unvaccinated people entering the country, he will not be allowed to enter the U.S., let alone play in next month's U.S. Open in Flushing Meadows, N.Y. He says he is a proponent for the freedom to choose one's health options.

Thousands of people who want to see Djokovic play in the U.S. Open are rallying in his support. A Change.org petition has gathered 17,500 signatures, in hopes of generating 25,000.
Simmons quoted from the petition, which stated, "The vaccine is NOT an extra line of defense. Natural immunity is stronger." If Simmons had bothered to fact-check the statement, he would find that it's false; as we've documented, research has found that the best protection is a combination of "natural immunity" (raad: a previous infection) plus a vaccine.
Simmons continued his manufactured U.S. Open drama in an Aug. 12 post:
The U.S. government is serving up some nonsense to tennis star Novak Djokovic.

Under the current rules of entry for the United States, the Serbian star and defending Wimbledon champion cannot participate in the final installment of the Grand Slam because he is not vaccinated.

The ban still stands despite the fact that U.S. Senator Marsha Balckburn (R-TN) has recently written a letter to Rochelle Walensky, M.D., the director of the CDC, asking that this sham of a health organization remove its ludicrous COVID policies and allow Djokovic to play.
Remember: Djokovic already said he wasn't planning to take part.
Simmons devoted an Aug. 15 post to touting former tennis great John McEnroe criticizing the vaccine regulations (despite, again, Djokovic already saying he wasn't planning to take part), adding: "The all-time great further said that a world-class athlete like Djokovic is incredibly particular about what he puts in his body and that he is in peak health, which should render his vaccination status as irrelevant. You're not the only one who feels that way, McEnroe."
Just before the U.S. Open started, Simmons wrote an Aug. 25 post declering what everyone (including himself) knew weeks earlier, that Djokovic would not be playing:
It's official: Novak Djokovic will not be playing in the U.S. Open, the final tournament in tennis' Grand Slam circuit.

The Serbian star and defending Wimbledon champion has withdrawn from the running since the U.S. still prohibits foreigners who are not vaccinated from entering the country. This is the latest incident that proves Djokovic meant it when he said he would sacrifice the opportunity to win titles in order to remain unvaccinated (he was barred from the Australian Open earlier this year for the same reason).

[...]

Djokovic continues to be a shining example of conviction in the face of an incredible cost. Even though he has already accomplished so much, it still costs him chance at a title to cement his legacy as the greatest men's tennis player ever. For an ultra-competitor like him, that's a high cost.
Buying into conspiracy theories is hardly a "shining example of conviction," John.
Posted by Terry K. at 9:49 PM EDT
Updated: Thursday, September 15, 2022 10:04 PM EDT