MRC Quotes Militia-Loving Podcaster To Attack NewsGuard
Topic: Media Research Center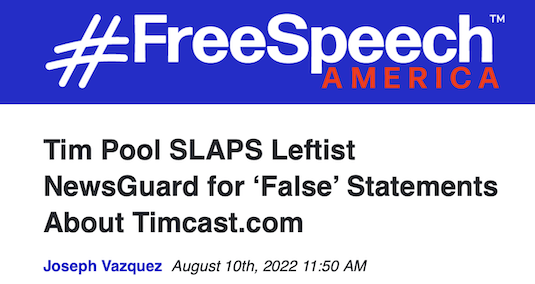 The Media Research Center found a new person to play victim of the allegely evil machinations of designated MRC enemy NewsGuard, a website rating service. Joseph Vazquez was the servile stenographer in an Aug. 10 post:
Podcast icon Tim Pool slapped leftist website ratings firm NewsGuard for making "false and misleading statements" about his website.

Pool took to Twitter to blast NewsGuard for its sloppy work: "News Guard has had to issue several corrections already on their false and misleading statements about Timcast.com." In addition, Pool said the firm "fabricated a quote from me and they have not issued a correction notice in violation of their own correction policy." NewsGuard's label, which rates Timcast.com with a 82/100, rebuked the website for allegedly not gathering and presenting information "responsibly." Talk about irony.
Vazquez is hiding a couple very important things here. First, Pool is a supporter of right-wing militias, making him yet another extremist whom the MRC is trying to mainstream in order to maintain its victimhood narrative of conservatives being "censored" by "big tech." Second, there's a reason NewsGuard called out Timcast: it has a history of plagiarism, as the Daily Beast documented, uniroinically stealing from the mainstream media Pool purports to hate. Indeed, two of the people who help Pool run the editorial side of Timcast are Hannah Claire Brimelow, daughter of white nationalist Peter Brimelow, operation of the white nationalist site VDARE, and Cassandra Fairbanks, whom the MRC defended after she was flagged after tweeting out a video she falsely claimed was evidence of election fraud. Pool only intermittently corrects information that appears on Timcast, usually only after the complaints get too loud to ignore.
Rather than address the plagiarism issue forthrightly, Vazquez let Pool play it off and helped him play whataboutism:
Pool is right on point. NewsGuard continues to rate the liberal newspaper USA Today with a perfect 100/100 score even after a major journalistic scandal involving at least 23 stories that included fabricated sources. Pool pointed out NewsGuard's blatant double standard when it came to the legacy liberal newspaper:

NewsGuard says we are not responsible because out of 3,892 articles around 5 either were too similar to other outlets reporting or did not provide fact checks on quotes. They refuse to say USA Today, which admitted to fabricating 23 stories, is irresponsible.

NewsGuard's label for USA Today hilariously praises the newspaper because it supposedly "[g]athers and presents information responsibly, "[d]oes not repeatedly publish false content" and "[r]egularly corrects or clarifies errors." What a joke.
Perhaps that's because USA Today handled that issue like a professional news organization -- fired the reporter involved, deleted the stories and apologized to readers. Meanwhile, Pool is misrepresenting the number of plagiarized articles found at Timcast (which, of course, Vazquez made no effort to fact-check). The Daily Beast found four articles in a group of 84 to have been plagiarized as well as two later ones -- a far higher ratio than the 5-of-3,892 Pool claimed. They weren't deleted until the Daily Beast emailed Pool for comment. The reporter who wropte those did say he was fired for plagiarism only after, ironically, NewsGuard contacted Pool about them. Vazquez never mentioned that pertinent fact.
Vazquez went on to rehash the MRC's old exam[les of NewsGuard's purported "extreme leftist bias"; of course, Vazquez thinks anyone who's not as far-right as he is is an "extreme leftist."
Gabriela Pariseau gave Pool another opportunity to rant about NewsGuard in an Aug. 17 post, and let him repeat his false statements:
Fox News "Unfiltered" host Dan Bongino asked podcast host Tim Pool about his website's recent clash with NewsGuard. "I think it's a joke," Pool said. "They gave us a good rating, but it is not a legitimate agency."

NewsGuard is a browser extension that rates news supposedly on the basis of "credibility and transparency," but Pool said he caught the website breaking its own criteria and basic journalistic ethics.

[...]

"They gave us one strike for irresponsibility," Pool told Bongino. "They first emailed me questioning why I reported on the Hunter Biden laptop emails and my response was, 'Your agency certified two outlets that claimed the emails are verified. And they immediately said 'oh, oh, whoops, whoopsy.'"

NewsGuard complained of multiple issues in several different Timcast.com articles when it rated the site. Pool said in one case, NewsGuard penalized Timcast for accurately reporting something that former President Donald Trump said. "They came and claimed that because we quoted Donald Trump in a factual news article on our website, Timcast.com, that it was irresponsible because Donald Trump is a liar and they said his quotes are provably false."

Pool told Bongino that he responded by saying, "We are not fact-checking what he said. We're reporting he responded with a statement." Pool also said he told NewsGuard he and his colleagues would "implement a new policy moving forward on all quotes to fact-check them all so we're not being irresponsible."

Pool noted his website has a "very good rating from NewsGuard" despite Timcast's slightly tarnished score. He also tweeted that NewsGuard lowered Timcast's score based on five articles which is concerning because wildly biased and openly inaccurate news sites–like BuzzFeedNews, USA Today, and The Nation–have perfect or near-perfect scores.

"NewsGuard says we are not responsible because out of 3,892 articles around 5 either were too similar to other outlets reporting or did not provide fact checks on quotes," Pool tweeted. "They refuse to say USA Today, which admitted to fabricating 23 stories, is irresponsible."
Like Vazquez, Pariseau did not fact-check any of Pool's claims.
In between those posts, Vazquez and Catherine Salgado teamed for an Aug. 12 post complaining that a NewsGuard adviser expressed an opinion they didn't like:
A former CIA director and NewsGuard advisor yesterday seemingly promoted the execution of former President Donald Trump on Twitter.

A Washington Post "exclusive" released Aug. 11 speculated that the FBI raided Trump's Mar-a-Lago, Fla., estate to locate alleged missing nuclear documents. NBC News presidential historian Michael Beschloss tweeted shortly after the "exclusive" was released that the "Rosenbergs were convicted for giving U.S. nuclear secrets to Moscow, and were executed June 1953."

Retired Gen. Michael Hayden quote-tweeted Beschloss's post with the comment, "Sounds about right."

Washington Examiner Justice Department reporter Jerry Dunleavy blasted Hayden and Beschloss for their apparent flirtation with killing a former president.
Vazquez didn't dispute that execution is an appropriate penalty for stealing classified documents, as the Rosenbergs were accused of doing and it appears that Trump has done, or why Trump should be let off with a less severe penalty simply because he's a "former president."
Posted by Terry K. at 9:44 PM EDT
Updated: Tuesday, September 13, 2022 9:49 PM EDT