Crass: WND Invokes 9/11 To Sell Subscriptions
Topic: WorldNetDaily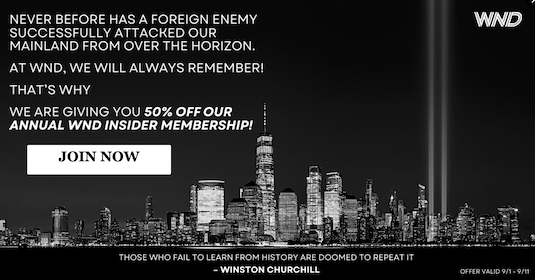 How desperate is WorldNetDaily to get people to pay it money to read its website? It invoked the 9/11 terrorist attacks to sell subscriptions to its (free) website.
One of the pop-up alerts to sell those subscrptions shows a picture of light beams emanating from the site of the World Trade Center, with all-caps stating:
NEVER BEFORE HAS A FOREIGN ENEMY SUCCESSFULLY ATTACKED OUR MAINLAND FROM OVER THE HORIZON.

AT WND, WE WILL ALWAYS REMEMBER!

THATS WHY

WE ARE GIVING YOU 50% OFF OUR ANNUAL WND INSIDER MEMBERSHIP!
Clicking on it takes yopu to a web page with the same text, in the service of selling readers a one-year "Insider" subscription for $25. Among the "added benefits" of the subscription os "WND's 24/7 truth-based journalism" -- which, of course, is a lie given how much of WND's so-called journalism isn't based in truth at all. WND might argue, however that the fake news it publishes is "truth-based," though that doesn't make the final product any less of a lie.
The pop-up also included a Winston Churchill quote: "Those who fail to learn from history are doomed to repeat it." But WND doesn't seem to be aware thatthe quote applies to itself as well: It has continued to publish fake news and conspiracy theories even though those very things were the main things that have pushed WND to the financial brink where it has resided for the past few years.
That's the kind of cognitive dissonance that might make WND think invoking 9/11 is a good way to get people to read them.
Posted by Terry K. at 5:54 PM EDT