MRC's Graham Whines That Media Not As Mean To Biden's COVID Bout Than Trump's
Topic: Media Research Center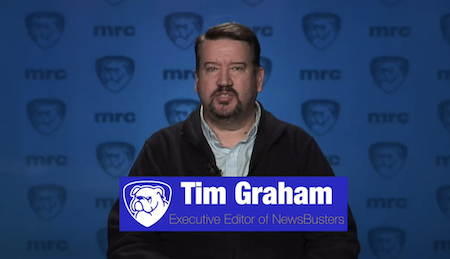 Media Research Center executive Tim Graham complained in his July 22 column:
President Biden has tested positive for COVID. We should all hope the president has an easy time. We should not ask for media nastiness and/or glee.

But this presents an obvious occasion to remember just how the "objective" press made a frenetic, mean-spirited and hyperbolic mess out of Trump's bout with the virus, which was announced on October 2, 2020. In their ardor to get Trump removed from office, they couldn't imagine acting with decency or restraint.

First and foremost, cable-news channels couldn't pause for a day or two from their routine smear that Trump was responsible for the deaths of hundreds of thousands. Take ex-GOP strategist Rick Tyler on Al Sharpton's show on MSNBC: "I look at this as a drunk driver who injured himself in a wreck, and killed the oncoming sober driver. Donald Trump has injured himself...and 200,000 people, other drivers, have died due to the coronavirus."

After Trump was infected, CNN analyst Carl Bernstein just doubled down that "His response has been homicidal negligence." CNN brought on then-Washington Post opinion editor David Swerdlick, who couldn't get rid of Trump fast enough: "President Trump is the President until at least January 20th at noon and every day, people's lives are in the balance."

So let's just lay out the numbers again. When President Trump left office, we had lost about 400,000 Americans to COVID. Since then, under Biden, the death toll is now 1.02 million. But the media blamed Trump for every single death on his watch...and Biden was assigned zero blame for anyone's demise.

You can loathe Trump's remarks early in the pandemic trying to downplay the threat, but to accuse him of mass murder – which was routine in 2020 – was apparently what the liberals call "reality-based journalism." No "independent fact checkers" objected.
How gracious of Graham to give us permission to "loathe Trump" for not taking the pandemic seriously. Note that he does not say that he himself does so -- that's the hallmark of someone putting political hackery ahead of reality (or an mandate that no criticism of Trump is allowed to be published at the MRC).
But let's look back at how the MRC covered Trump's bout of COVID. It acted as an extention of the White House comms office in whining that some in the media said mean things about Trump -- much of which he rehashed in the rest of his column -- though it would have no problem saying mean things if it was a Democrat (Graham's decrying of "media nastiness and/or glee" notwithstanding). Then it was shocked that people didn't trust what the Trump White House said about his infection (despite years of lecturing readers that the government couldn't be trusted).
Graham also overlooks the fact that Trump's downplaying of COVID very likely cost the lives of Americans, the most prominent being Herman Cain -- which can be argued justifies the mass-murderer epithet -- while Biden repeatedly campaigned for vaccines and responsible mask-wearing, both of which the MRC repeatedly campaigned against.
Graham concluded by ranting: "Biden didn't have to exploit Trump's illness. He had an entire media-Democrat complex to do it for him. Remember this: Democrats will always find it easier to appear above the nasty fray when they have media hacks like CNN to do all their dirty work for them." Graham didn't mention that Trump has the MRC to exploit Biden's illness -- which, by the way, wasn't severe because he was fully vaccinated and boosted, even though the MRC loves to fearmonger about COVID vaccines and pretend that anti-vaxxers aren't misinforming people about them. One key example of that exploitation is a July 21 post by Kevin Tober that hyped a poll "that shows many Americans give Biden 'low marks' for having the necessary mental and physical health to be President" and touting a newscast's claim that "Biden's age has been a liability for him and his COVID diagnosis isn't helping matters."
In short, Graham and the MRC love doing the dirty work for Trump and Republicans -- yet another example of the MRC holding the "liberal media" to standards it will not enforce on itself.
Posted by Terry K. at 10:41 PM EDT
Updated: Monday, September 5, 2022 10:46 PM EDT