MRC Injects Anti-Abortion Extremism Into Failed Fact-Check Of Divorce Law
Topic: Media Research Center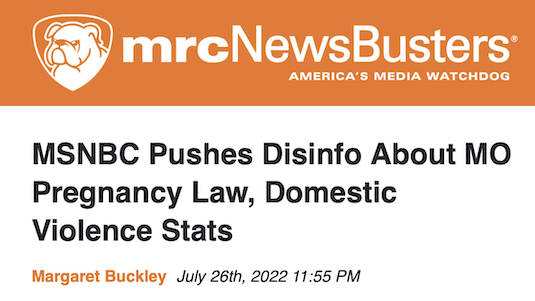 A July 26 Media Research Center post by Margaret Buckley started with a maclicious, biased framing of anyone who's not an anti-abortion extremist as "pro-infanticide":
Morning Joecatered to lefties once again by promoting abortion, disregarding the importance of the family, and making false claims about certain laws to further push their pro-infanticide stance. Leading the charge was former Missouri senator now MSNBC political analyst, Claire McCaskill (D).
Buckley then tried to do a fact-check on Elise Jordan on an anti-abortion job in Missouri:
This was when she called on Claire McCaskill to explain one "very disturbing" law in Missouri, which allegedly states that "pregnant women can't divorce their spouses even if they are being abused if they're pregnant."
Jordan's statement on the law is false. If people look at this fact-check on the law, they will learn that the law just delays divorce proceedings until the birth so child custody can properly be discussed. It does not bar pregnant women from divorcing their spouses.
Which is to say, yes, women are being prohibited from getting a divorce while pregnant. It's not "disinformation" at all -- Buckley is simply trying to put a positive spin on it to make the law sound less onerous.
Buckley then took things one step further, showing her extremism by arguing there should be no exceptyions whatsoever for rape or incest:
Jordan's tee-up led to McCaskill trashing Missouri's life-saving stance, saying: "it is the home of government-mandated pregnancy, it's the home of the government telling young girls who have been repeatedly raped by a relative or a stepfather that they must carry that child to term, it is the home of crazy when it comes to how the Missouri legislature has looked at women."

Now, it is important to recognize that rape and these other dangerous situations women face are horrible. However, if a life is created out of such a situation, an innocent life, why must that life suffer? Does that life not have value? It only leads to an even more traumatic experience for the victim.

[...]

It is essential to protect women and children from bad situations. The family is such an important foundation for one's life. While life being created out of a bad situation is traumatic, leftists' views on family and abortion are even more destructive.
And being forced to carry the child of your rapist is not traumatic at all? Sheesh.
Posted by Terry K. at 10:02 AM EDT