MRC Still Whitewashing Orban's Authoritarianism, White Nationalism
Topic: Media Research Center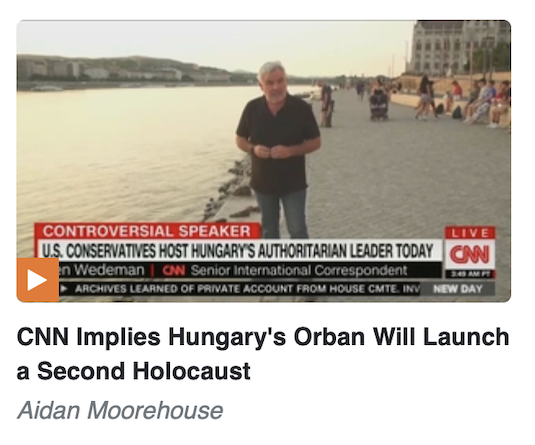 The Media Research Center has cozied up to Hungary's right-wing authoritarian leader Viktor Orban and portraying his as an avatar of "free speech"-- despite his history of cracking down on dissent and imposing censorship on critics -- and it got mad when Orban was accurately described as an authoritarian and trying to whitewash authoritarian behavior like spreading anti-gay hate as merely "refusal to kowtow to the LGBTQ agenda." The MRC is still trying to spin for Orban. Aidan Moorehouse ran to Orban's defense in a July 13 post when he appeared at a right-wing gathering, insisting he's merely a "social conservative":
Viktor Orban is certainly a social conservative, and Hungary did recently pass a law forbidding LGBT content in children's entertainment and education, a cardinal sin by leftist standards.

None of the soundbites CNN played of Orban were particularly damning or surprising: calling for media to support your political view is not unique to either the left or right, but I guess not wholeheartedly supporting the EU is enough to earn the "authoritarian" label these days.

On the contrary, CNN admitted that Orban had "won a fourth term in office in April," so his policies — unless CNN thinks Hungarian elections are rigged (which would be really ironic given the story's framing) — seem to be supported by at least a plurality of Hungarians.

And while it is true that many conservatives admire Orban's policies, it is also true that Hungary is not the United States. The two countries have vastly different histories and governmental systems, and — as any liberal HR assistant would tell you — working together with people of differing backgrounds and beliefs is necessary to achieve common goals.

The beauty of conservatism as a philosophy is its ability to express timeless truths in a way consistent with a nation's history and perennial values, but if you listened to the way CNN portrayed Orban, you would think he was the next Saddam Hussein.
Actually, Orban won a new term because he rigged the election against his opponents by gerrymandering the country's political district and controlling the media that censored opposition messaging. We don't recall anyone thinking that suppressing non-conforming messages being part of "The beauty of conservatism" -- then again, trying to censor non-conservatives is the MRC's entire raison d'etre. While Moorehouse tried to make the case that Orban might be the best leader for Hungary, he didn't explain why the country is somehow deserving of Orban's oppressive authoritarianism.
When Orban was caught going full white nationalist by saying in a speech thst "We are willing to mix with one another, but we do not want to become peoples of mixed race," the MRC first tried to distract from itby accusing CNN of creating an English-language audio clip of Orban's remarks that it thinks was just CNN host Fareed Zakaria saying his words. Moorehouse and Nicholas Fondacaro presented no original audio of Orban speaking, and they didn't mention that the Hungarian government website posted a transcript of Orban's remarks in English.
With Orban coming to the U.S. to speak to a CPAC gathering (in English, by the way) just after his white nationalist remarks were made public, it was once again Moorehouse's duty to play defense, which he did in an Aug. 4 post:
With Hungarian Prime Minister Viktor Orban speaking at CPAC in Texas on Thursday, CNN ran a segment on Thursday morning's New Day which took Orban's recent controversial comments that "we do not want to become peoples of mixed race" and ran with them, heavily implying that Orban would unleash a second Holocaust on the world if Hungary's economy slips into a recession.

[...]

To be clear, Orban's race-mixing comments caused one of his own advisers to quit in disgust, and suggest the speech had Nazi echoes. But to imply that Orban is prone to unleash a new Holocaust on Hungary's Jewish population is, as they say, "without evidence."

Hungary is currently rated as the second-safest country in Europe for Jews, second only to Denmark.

As for Orban's own supposed anti-Semitism, Orban's cardinal sin appears to be attacking leftist billionaire George Soros (which would make nearly every pro-Israel conservative an anti-Semite).
The MRC has regularly portrayed Soros as a Jew conservatives are allowed to hate. Note that Moorehouse couldn't be moved to actually condemn Orban's white nationalism, merely casting the remarks as "controversial."
Posted by Terry K. at 1:44 AM EDT