MRC Lashed Out At Stelter For Any Criticism He Made Of Fox News
Topic: Media Research Center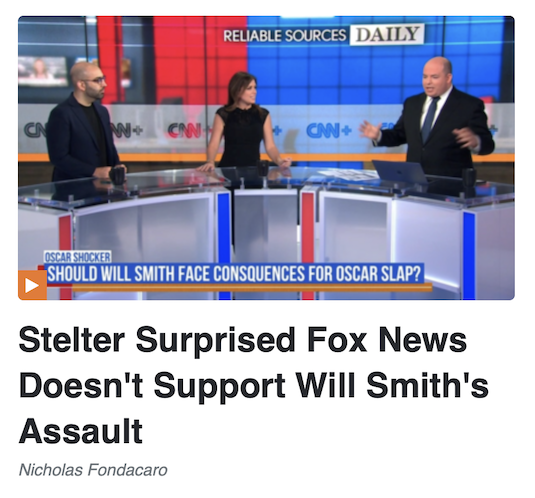 Now that CNN has canceled Brian Stelter's show "Reliable Sources," it's time for a little look back at how the Media Research Center was at the top of its enemies list -- in no small part because he criticized Fox News. It lashed out at Stelter over his 2020 book pointing out the channel's longtime dishonesty, and it attacked him for daring to criticize Fox News on its 25th anniversary, but there's so much more.
Graham melted down in a February 2021 post after Stelter accurately called out Fox News' complicity in helping Trump incite the Capitol riot and for falsely crying "censorship" after Trump was barred from social media sites for inciting it:
CNN's Brian Stelter declared Fox News was an information polluter in his show-starting "Murrow" editorial on Sunday's Reliable Sources. Fox needs to have its "freedom of reach" reduced, in the interests of "harm reduction." Yet somehow it's "dishonest" to complain that's an attempt at censorship, silencing, or suppression.

How stupid does he think CNN's viewers are?

[...]

Tucker Carlson is telling viewers that this network, CNN, is trying to force Fox News off the air, which is patently false," Stelter claimed. "It is predictable as the sunrise. Democrats win elections and Republicans say they are being silenced."

Then, in the very next sentence, he says "But while some cry cancel culture, let me suggest a different way to think about this, a harm reduction model." And "reducing a liar's reach is not the same as censoring freedom of speech."

What CNN and other liberal media outlets have been pushing is for cable companies to cancel Fox News from their cable package.

[...]

In a remarkable brain spasm, Stelter claimed he was only trying to help Fox put more news in its menu, because "Harm reduction is possible by adding more news and less opinion to the content." He's suggesting Fox has too much opinion in its news, unlike CNN.

At the very least, Stelter is telling the public that Fox News is a "polluter" causing "harm," a poison, a cancer. CNN is telling people not to watch their competitor -- the one who has been besting them in the ratings for decades -- in short, that it's Fake News.

When Donald Trump called CNN and the other liberal outlets "Fake News," they all implied it was an attack on democracy itself. But since they are the dominant media, they are democracy. Trashing Fox News as info-pollution is freedom of speech. CNN calling for a reduction of Fox's reach is an argument for healthy "democracy," not censorship.
Graham concluded by huffing that "Stelter claims he and his leftist friends are "protecting consumers," when everyone should understand "political games are being played." Graham will never admit that he's playing political games by lashing out at any criticism Stelter utters that might threaten the right-wing media bubble in which he operates -- or that, by his own defintion, the MRC's incessant attacks atthe "liberal media" for not marching in lockstep with right-wing talkingpoints are also effective demands for censorship.
Graham compained in an April 2021 podcast that Stelter called out Fox News host Tucker Carlson's right-wing extremism, citing "the whole first half-hour "of one show as being "an attack on Fox News, as if these attacks are going to help CNN in the ratings." He went on to complain that "Many people isolated the part of the show when Stelter and Matt Gertz of Media Matters fussing about how Fox stars hadn't made "vaccine selfies" for social media, and how Fox News has a "special responsibility" to sell the vaccine, since its viewers are kinda backwards and only believe Fox."
Graham used a June 2021 post to play whataboutism by laughably insisting that Stelter's complaints about Fox News hosts' authoritarian rants are exactly the same as those authoritarian rants:
On Sunday's Reliable Sources, CNN host Brian Stelter began with a poisonous rant on how Sean Hannity goes on poisonous rants. In other words, Stelter argued Hannity is too angry for television, while being every bit as angry. As usual, Stelter insisted Hannity attacking reporters as "stalkers" is authoritarian, in a rant in which he denounced Fox News as poison.

[...]

Stelter is known for using language every bit as "hot" as Sean. His show has put on "experts" who claimed Donald Trump was going to cause "many more million deaths" than Hitler, Stalin, and Mao combined. He's incapable of seeing his own "abusive" language.

He was upset Hannity painted Democrats as an "existential threat," and he calls Democrats "extremists." Mirror check?

[...]

Stelter spent the entire Trump presidency claiming Trump had stolen the 2016 election with the Russians, that he was not a legitimate president, that he was an authoritarian, and that Fox was the enemy of the people.
At no point did Graham even bother to try and disprove anything Stelter said about Fox News. Instead, he served up even more whataoutism: "Stelter can't address the syrupy softness toward Biden, the blatantly obvious media double standard. So he denounces the fighting words. He's "reliable" in avoiding any debate about why conservatives see the liberal media as toxic -- starting with how toxic they are toward conservatives."
It was Nicholas Fondacaro's turn to play whataboutism in a December 2021 post, insisting that a low-level no-name CNN staff arrested on child-sex charges was more important for Stelter to cover than Chris Wallace leaving Fox News for CNN:
On top of all the bad Chris Cuomo news happening at CNN over the last few weeks, things got even worse for the network over the weekend when news broke New Day producer John Griffin was arrested for allegedly attempting to convince parents to allow him to have unlawful sex with their underage daughters. But being the good company man he was, CNN's Brian Stelter completely ignored the network's latest scandal and instead chose to lash out at Fox News and the political right.

According to Griffin, via the federal indictment, a "woman is a woman regardless of her age" and they needed to be "properly trained" by him in how to have sex. But Stelter thought it was more important to tout Fox News Sunday anchor Chris Wallace leaving the network to go work at CNN+, the network's streaming service.

"This is a shock to the TV news business," Stelter declared. "Chris Wallace is one of the, you know, journalists that is at Fox who stands out like a sore thumb because the network has become more and more radicalized both in the Trump years and now in the Biden years."
Fondacaro didn't dispute Stelter's statement that Fox News has become more radicalized.
Fondacaro -- who is very much a Fox News bootlicker -- unironically called Stelter a "media bootlicker" in a Jan. 4 post attacking Stelter for questioning just how close Sean Hannity is to the events that led up to the Capitol riot after texts were released showing him communicating with Trump White House officials:
CNN media bootlicker Brian Stelter understood his assignment Tuesday after the Democrat-led House January 6 Committee said they wanted to speak to Fox News Channel host Sean Hannity about his messages to former Trump administration officials before, during, and after the riot. Mocking the serious First Amendment questions, Stelter was giddy as he baselessly speculated that Hannity was somehow involved with plotting the riot at the Capitol.

[...]

Hannity's lawyer raised questions about the First Amendment and his role as a media figure, but Stelter dismissed them because he said Hannity was former President Trump's "shadow chief-of-staff" and we needed to know "what that shadow chief-of-staff knew in the days leading up to the riot."
Fondacaro did not dispute that the texts showed Hannity's closeness to the White House -- which would arguably make him a Trump bootlicker, something that Fondacaro would never call him in public -- instead noting that "Hannity's lawyer raised questions about the First Amendment and his role as a media figure."
When Stelter called out Fox News' obsession with crime as part of its anti-Biden editorial agenda, Kevin Tober felt offended in a Jan. 23 post:
On Sunday's episode of CNN's Reliable Sources, host Brian Stelter in his typical smug patronizing fashion ridiculed Fox News for their in-depth coverage of the rising crime in American cities.

Stelter ran a series of banners that Fox News ran on air to get through to their audience how much crime has skyrocketed within the past year. The hyperbolic CNN host described the headlines while they were running along the screen:

These are just some examples of the banners on Fox News in the past few days. You get the sense that America's gone to hell, declining quality of life, America as a apocalyptic hellscape, that was one of the actual banners. This is a narrative that's both anti-Biden, it's also anti-Democrats who run urban areas and it goes on and on every hour. I just wanted to give a sampling. Biden administration's a clown car driving off a cliff.

He then made that laughable claim "the kind of incendiary rhetoric that you would've never seen from another channel let's say during the Trump years or now during the Biden years."

Next came Stelter's sidekick Oliver Darcy who claimed Fox News executives are hypocrites for planning on holding two events in New York City and Los Angeles after they covered crime in major cities.
As usual, Tober didn't dispute anything Stelter said about Fox News' crime coverage.
Tober insisted in a March 13 post that Stelter was peddling a "conspiracy theory" by pointing out that "Fox News is only reporting on skyrocketing gas prices to prevent Americans from rallying around President Biden while he deals with the crisis in Ukraine" further grosing that a guest "accused Fox News of trying to undermine President Biden's standing with the American people as he tries to unite the country against Russia's invasion of Ukraine." Tober offered no facts to contradict Stelter.
Fondacaro spent a March 29 post taking Stelter to task for wondering why "more people on the right, specifically Fox News didn't support actor Will Smith getting up on stage and assaulting comedian Chris Rock":
Stelter's understanding of conservatives seems to be solely based on the caricature CNN gaslights their viewers with.

In reality, conservatives don't support open marriage like Will and Jada Smith have, support free speech, and aren't for assaulting people based on what they say. It's the left that resorts to violence to shut down speakers and assail opposition.
Fondacaro must have been in a coma the day of the Capitol riot.
Tober spent an April 3 post complaining that "Stelter and CNN media analyst David Zurawik discusseda new book that's set to be released by two New York Times reporters that details behind the scenes drama in the Biden White House." Instead of providing any sort of fact-basxed pushback, he played whataboutism: "It should be noted that Stelter and his colleagues at CNN lost their minds on a daily basis when former President Trump called their network "Fake News", yet Stelter apparently has no problem with Biden and Zurawik calling Fox News and their CEO dangerous."
Graham spent an April 4 podcast whining about Stelter focusing on the channel's owner, Rupert Murdoch, and what his channel has wrought. He retorted Stelter's claim that Murdoch is "the most dangerous man in the world" by sneering in the post promoting it, "The last we checked, Murdoch hadn't mowed down any civilians." Like Tober, Graham made no effort to disprove the claim; instead, he mocked it then attacked "the left" as the real haters: "This is just the funniest thing about the left. They hate free speech, they hate dissent, they hate disagreement, they hate resistance to whaty they believe. And yet they think they are the titans of democracy. Come on, guys."
Of course, the MRC had no problem smearing former CNN chief Jeff Zucker as a "puppetmaster" -- a anti-Semitic slur against the Jewish Zucker.
Tober returned for a May 23 post cheering Carlson for having "once again proved why he has the number one show on cable news when he did a brutal takedown of CNN's Brian Stelter for his sadness over the demise of Biden's Disinformation Governance Board (DGB) also known as the Ministry of Truth," likening him to a censorious bureaucrat in the book "1984" and serving up a little fangirl squealing: "Ouch! Tucker Carlson does not miss." That's the level of hate the MRC had for Stelter for the alleged offense of holding Fox News accountable.
When Stelter called out Fox News and guest Bill Carter for not apologizing when the story of a 10-year-old rape victim it tried to discredit turned out to be true and instead shifting the narrative to the alleged perpertrator being an undocumented immigrant -- something the MRC also did -- Tober responded in a July 17 post with nothing but lazy whataboutism:
On Sunday morning's Reliable Sources on CNN, host Brian Stelter opened his show like he always does by whining about conservative media coverage of whatever issue or controversy he's particularly exercised about. Such was the case this Sunday when he brought on CNN media analyst Bill Carter to complain about how conservative media was initially skeptical about the rape of a ten-year-old girl from Ohio who wanted an abortion.

After enough reputable sources went public to confirm the story and the illegal alien who raped the girl was arrested, conservative media like everyone else believed what happened.

[...]

For Bill Carter to go on CNN and accuse another network of not admitting when they get their reporting on is the height of hypocrisy and irony. CNN spent the entire presidency of Donald Trump pushing the Russia collusion hoax, and they still haven't apologized even after it's been proven to be a complete lie.
Tober clearly hasn't read the Muller report, which detailed dozens of contacts between the Trump campaign and Russian operatives. Indeed, enough of the allegations turned out to be true to mroe than justify the investigation. Tober is simply being another Trump bootlicker.
Posted by Terry K. at 6:47 PM EDT
Updated: Sunday, September 4, 2022 8:40 PM EDT