MRC's Fondacaro Can't Stop Heathering Alyssa Farah Griffin
Topic: Media Research Center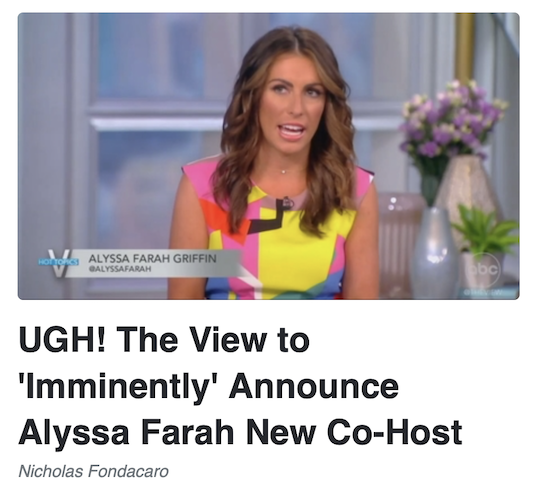 We've documented how the Media Research Center has spent much of the year Heathering former Trump White House official (and daughter of the guy who runs WorldNetDaily) Alyssa Farah Griffin for ceasing to be a Trump toady after the Capitol riot. The abuse has unsurprisingly continued. Head Heatherer Nicholas Fondacaro sneered once again in a July 26 post at the possibility that Farah Griffin might become a permanent co-host on "The View":
The rumors appear to be true that The View's months-long search for a conservative to replace Meghan McCain is ending with the selection of faux conservative Republican Alyssa Farah Griffin. That's according to the U.K.-based Daily Mail which reported on Tuesday that "ABC will announce her new position imminently." They also have some purported outrage from inside the network that's pretty hilarious.

"Farah Griffin, 33, will be named as Meghan McCain's full time [sic] replacement on the panel from September for the show's 26th season," wrote senior reporter Claudia Aoraha. "Three insiders with knowledge of the discussions with Farah Griffin have told DailyMail.com that ABC will announce her new position imminently."

The article also included quotes from those insiders critical of the pick and hilariously calling out Farah Griffin for the opportunistic operative that she is:

[...]

It's obvious that Farah Griffin's views and allegiances change based on who is lining her pockets. As NewsBusters reported in June, she was eager to learn which Democrat her future co-workers supported so she could push them too: "I'm curious. Like who are the Dems going to run? Where is like the Obama energy that we could bring?"

And she even walked back comments pointing out the apparent red wave coming in the November midterm elections when pressed by Whoopi Goldberg, who seemed to suggest she was trying to suppress Democratic voter turnout.
Of course, Fondacaro himself can easily be described as an "opportunistic operative," since his literal job is to be given the opportunity to act lke a right-wing operative and lash out at others who are purportedly not as pure as him, and continuing to do so is what is lining his pockets. So he's being more than a tad hypocritical here.
Even when Farah Griffin is actually repeating the right-wing talking points that Fondacaro is such a slave to, he still can't keep himself from insulting her. In a July 28 post, he managed to complain that "While the rest of the cast was praising the so-called 'Inflation Reduction Act,' which introduces billions in spending that will likely increase inflation, sell-proclaimed [sic] Republican Alyssa Farah Griffin dared to bring up the news that we've seen the second quarter of negative economic growth."
That is a literal Republican talking point. How could Fondacaro possibly object?
When Farah Griffin was finally named a full-time co-host, Fondacaro rehashed his vitriol in an Aug. 4 post:
The months-long search for someone, anyone to fill the "conservative" seat on The View, vacated by former co-host Meghan McCain, ended Thursday with the poorly kept announcement that they would be hiring faux conservative Republican Alyssa Farah Griffin. But not only were they set to add one pretend right-winger to the coven, but they also doubled down and announced that rotational co-host Ana Navarro would be going full-time (eventually).

First to be announced in the latter half of the show, with a gushy video introduction, was clout chaser Farah Griffin. "Thank you. Thank you. If anyone had ever told me I would be sitting at a table with Whoopi Goldberg, I would have said, 'you are crazy.' It is such an honor to be with you ladies every day on this set, and it's particularly exciting for me today," she said.

Farah Griffin said she was "honored" and opined about how "Barbara Walters had this vision for bringing women from totally different backgrounds, lived experiences, careers, to talk about the tough issues that, frankly, our elected officials often aren't tackling and we do that every day."

[...]

And despite being born into a well-off family with many connections in Washington, D.C., which she utilized, Farah Griffin whined about her career path and was thankful The View was giving her a "voice." "I was, you know, a president's spokesperson, I was a vice president's spokesperson, I was way too many Republican mens' of Congress spokesperson, but now it is my voice," she said.

In reality, no one made her take those jobs.
Fondacaro provided no evidence that Farah Griffin was "born into a well-off family with many connections in Washington, D.C." In fact, Farah's father, Joseph Farah -- who's constantly begging for money from readers to keep his fading WorldNetDaily alive -- might take issue with being a "well-off family."
Fondacaro then appeared on his boss Tim Graham's Aug. 5 podcast to whine some more about Farah Griffin, ranting that she got on the show because she was willing to act like a "martyr[] for the cause of anti-Trump." He didn;t explain why being opposed to a clearly mentally ill man who's trying to overthrow American democracy is a bad thing. Graham speculated that Farah Griffin won't be right-wing enough for him: "I don't think she's going to have the courage to put a lot of dissent in there. She wants Whoopi's approval."
Nothing says "opportunistic operative" like hopping on his boss' podcast to spout his spiel -- are we right, Nick?
Posted by Terry K. at 9:31 PM EDT
Updated: Thursday, September 1, 2022 9:45 PM EDT