WND Promotes Anti-Vaxxer's Poll Promoting A Fallacy
Topic: WorldNetDaily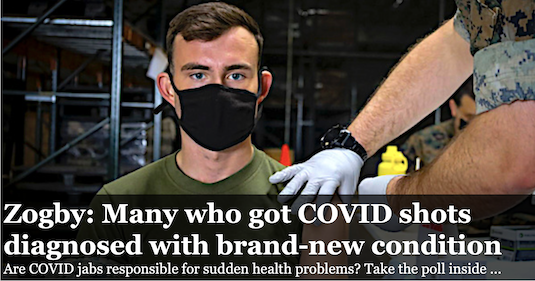 WorldNetDaily's Art Moore did his best to fearmonger in a July 31 article:
Stories abound of healthy people, including athletes, suddenly dying or suffering severe illness without explanation.

Many who have posted links to the reports on social media have suggested a possible relationship to the experimental COVID-19 vaccines. When four practicing physicians in the greater Toronto area died unexpectedly in the past two weeks, their hospitals made a point of insisting their deaths were not related to the vaccines. A fifth area physician, just 27 years old, died Thursday after collapsing during a triathlon.

Now, a national survey by Zogby Strategies has found 17% of adults who received at least two doses of a COVID-19 vaccine say they were diagnosed with a new condition within weeks to several months after getting the shot. The figure was 15% for those who had received at least one shot.

The respondents also were asked if someone they personally knew had been diagnosed with a new medical condition within the same time frame. Overall, 26% reported yes, while 63% reported no.
Moore waited until the sevent paragraph to disclose that "The survey was commissioned by Children's Health Defense, the organization founded by Robert Kennedy Jr. that says it's mission is 'to end the childhood health epidemics by working to expose causes, eliminate harmful exposures, hold those responsible accountable, seek justice for those injured, and establish safeguards to prevent future harm.'" That fancy boilerplate hides the fact that CHD is a rabidly anti-vaxxer group.
Which, of course, explains why it would try to discredit COVID vaccines by playing the correlation-equals-causation fallacy. Just because some people may think that conditions that surface after getting a vaccine are because of the vaccine, it doesn't mean that it's the case. Indeed, nowhere in the survey are respondents ask to prove that the condition is directly related to the vaccine.
To the contrary, the COVID vaccines may actually prevent or delay certain illnesses. A study released in May found that the risk of long COVID symptoms and the incidence of new onset hypertension, diabetes, and heart disease were lower among vaccinated patients with breakthrough infection versus those with COVID who were unvaccinated. Moore didn't report a thing about that, of course; instead he let a CHD spokesperson ramp up the fearmongering:
Laura Bono, the executive director of CHD, noted the Centers for Disease Control and Prevention reports more than 232 million Americans ages 18-65 have taken at least one dose of a COVID-19 vaccine.

She said the result is "concerning and needs further study."

"The mRNA vaccine technology is new and clinical trials naturally have no long-term data. CHD believes this survey points to the need for further study," she said.
As is WND editorial policy, Moore did not allow anyone to point out that CHD is a bunch of wacky conspiracy theorists and shouldn't be trusted.
Posted by Terry K. at 6:17 PM EDT