The Anti-Context MRC Demands That Cruz Be Put In Context
Topic: Media Research Center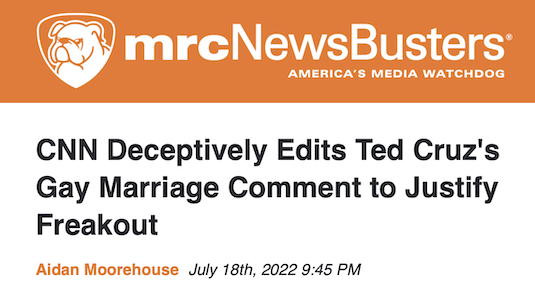 You know how the Media Research Center continually complains that fact-checkers call out their fellow right-wingers for taking non-conservatives out of context, while also demanding that conservatives always be quoted in full context? Well, the latter happened again. Aidan Moorehouse did the complaining in a July 18 post:
This weekend, Texas Senator Ted Cruz said (unsurprisingly) that he thought Obergefell v. Hodges — the 2015 Supreme Court decision that legalized same-sex marriage nationwide — was wrongly decided. Predictably, the panel of CNN's New Day on Monday morning took Cruz's remarks out of context to bash the Texas Senator and the "right extreme of the base" that is still opposed to gay marriage in today's enlightened America.

CNN's Kaitlan Collins, filling in for New Day co-host Brianna Keilar, set the stage for the panel by playing two clips of Cruz from his show The Cloakroom:

Obergefell, like Roe v. Wade, ignored two centuries of our nation's history. Marriage was always an issue that was left to the states. [SCREEN WIPE] In Obergefell, the Court said, no, we know better than you guys do and now every state must — uh, must sanction and — and permit gay marriage. Uh — I think that decision was clearly wrong when it was decided. Um — it was the Court overreaching.

But a much longer six-minute clip of the episode posted on Twitter by Cruz's special advisor for communications Steve Guest provided the much-needed context for what the Senator said:

Dobbs, what the Supreme Court said is Roe is different because it's the only one of the cases that involves the taking of a human life and that's qualitatively different. I agree with that proposition...To be honest, I don't think this Court has any appetite for overturning any of these decisions. I think Justice Thomas was being a purist in terms of what the Constitution means, but I don't think they're — there are other Justices — uh, interested in going down that road.

Thus, the following reactions are based on an inaccurate picture of what Cruz actually said.
Actually, there's no reason not to assume that Cruz wants to overturn Obergefell if he thought there was even a slight chance it could be possible -- which is something that Clarence Thomas indisputably opened the door to when he wrote in his concurring opinion that Obergefell should be overturned like Roe was. It's also indisputable that, despite Moorehouse's suggestion to the contrary, the Republican base is anti-LGBT and Cruz did indeed pander to them with his anti-Obergefell rhetoric. Still, Moorehouse whined:
There's a lot wrong with this panel. The smugness, the faux-outrage at a conservative Christian holding conservative Christian views, the Loving v. Virginia non sequitur. But the cardinal sin of this panel is that it completely mischaracterizes what Cruz actually said.

But of course you can't let those pesky facts get in the way of a good story, can you CNN?
Moorehouse didn't mention that his employer exists in large part to crank out faux outrage that non-conservatives hold non-conservative views.
Posted by Terry K. at 1:38 PM EDT