MRC's Jean-Pierre-Bashing, Doocy-Fluffing Watch
Topic: Media Research Center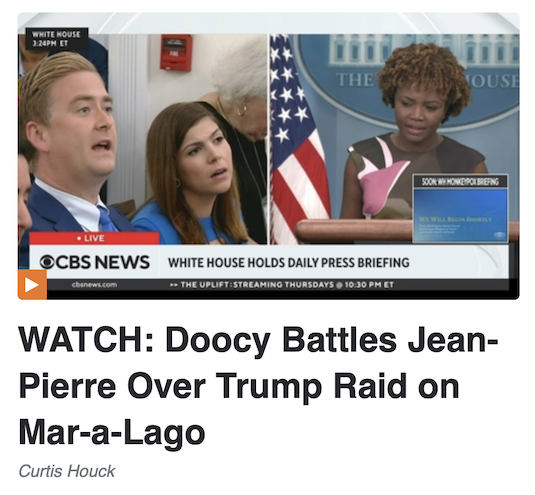 Perhaps sensing he wasn't going to have the opportunity to do much in the near future, Curtis Houck worked as much Doocy-fluffing as he could in his writeup of the Aug. 9 White House press briefing, touting his right-wing narrative-pushing over the "FBI raid" at Donald Trump's Mar-a-Lago compound:
With President Biden having spent Monday in flood-stricken Kentucky and departing Wednesday for vacation in South Carolina, Tuesday marked perhaps the week's only White House briefing, so reporters got in their takes about the FBI raid of former President Trump's Florida home. Of course, Fox's Peter Doocy did battle with Press Secretary Karine Jean-Pierre on the raid and whether the White House would do anything to pushback arguments that they've weaponized law enforcement against opponents.

Doocy led off with a round-about way of asking about the raid: "Do you consider Donald Trump to be a political rival of President Biden?" When Jean-Pierre insisted she wouldn't "speak to that from here," he countered with the fact that Biden "talks about Trump all time." Incredibly, she disputed it: "Ehhh, I don't talk about Trump all the time."

Despite a series of audible scoffs, Doocy noted a few recent examples, starting with one of the administrations catchphrases for the GOP: "Ultra-MAGA, you guys were criticizing his handling of COVID last week. You've mentioned his January 6 response a couple days ago. So, can you say, based on all that--I didn't say anything about Mar-a-Lago."

Doocy tried again, but Jean-Pierre ducked, leaving the Fox reporter with another approach in citing Biden's own declaration against him that he'd "be very fortunate if I had [Trump] running against me" in 2024. Jean-Pierre tried to interjected that she wasn't "going to comment on" the raid despite Doocy's insistence that "it's just a quote from the President"
The MRC couldn't kick around Jean-Pierre at the podium the rest of that week, so it kicked her around when she made TV appearances elsewhere (an MRC staple).Alex Christy complained an Aug. 12 post:
Stephen Colbert welcomed White House Press Secretary Karine Jean-Pierre onto his Thursday CBS show where he lobbed several softballs her way including wondering how is the White House mending the relationship with the press and wondering how Joe Biden has been so successful.

Regretting how the previous administration treated the press, Colbert declared, "So, when—when—when-- y'all, you know, came into office 18 months ago, one of the things, the goals stated was, to kind of, repair the relationship between that press office and the press."

[...]

Being a good press secretary, Jean-Pierre gave all credit to Biden, but gas prices are still high, inflation is still bad, and the climate bill—called the Inflation Reduction Act—won't reduce inflation. No wonder the White House has an easier relationship with the media than its predecessor.
Christy made sure not to mention all the softballs Houck and his boss, Tim Graham, tossed to former Trump press secretary Kayleigh McEnany on Graham's podcast earlier this year.
Aidan Moorehouse cheered that Jean-Pierre was asked challenging questions in a CNN appearance, under the sneering headline "You Love To See It":
In an unexpected but not unwelcome act of journalism on Friday morning, CNN anchor and New Day co-host Brianna Keilar pushed back on White House Press Secretary Karine Jean-Pierre's misleading answers about the Inflation Reduction Act.

Keilar began with the simple question of whether or not the White House is confident all Democrats in the House will vote for the bill. Jean-Pierre said "we are confident" about Pelosi's ability to whip her caucus to vote for the bill, but not before misspeaking and calling the Inflation Reduction Act a "really critical, important anti-inflammation bill out of the Senate."

[...]

It isn't often that CNN hosts push back hard against Democratic talking points, so NewsBusters likes to highlight it when they do. Kudos to Keilar for a tough but not obnoxiously aggressive interview.
The MRC never likes it when Republicans are asked challenging questions.
Kevin Tober cheered even more pushback (even if it wasn't to full Doocy-level hostility) in an Aug. 14 post:
On Sunday's edition of ABC's This Week, viewers witnessed a random act of journalism from co-anchor Jonathan Karl who challenged White House press secretary Karine Jean-Pierre on why the recently passed legislation referred to as the Inflation Reduction Act should be called that since according to the nonpartisan Congressional Budget Office, the legislation will have a negligible effect on inflation at best. Karl even suggested the name sounded Orwellian.

Before getting to that question, Karl started out by sucking up to the Biden administration and their economic record. He bemoaned how "just 37 percent of Americans approve of President Biden's handling of the economy" and "70 percent say they felt the economy was getting worse."

"We have since learned that inflation actually abated in July," Karl proclaimed. "Why is it that if things are getting better, so many Americans are unhappy with President Biden's handling of it?"

Jean-Pierre repeated the Biden administration's claim that there was "zero percent of inflation" last month and credited the Inflation Reduction Act for working "to lower costs for Americans."

[...]

While Karl did ask the right question, he's too late. The time to challenge the Biden administration about the Orwellian named "Inflation Reduction Act" would've been before it was passed by Congress and signed into law, not after.
To the MRC, though, any question designed to attack and denigrate a member of a Democratic administration is the "right" question.
Posted by Terry K. at 10:58 PM EDT