Newsmax's Hirsen Gushes Over Country Singer's Right-Wing Rant In Song Form
Topic: Newsmax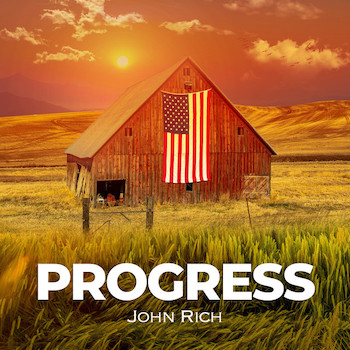 Newsmax columnist James Hirsen loves movies and music that push right-wing narratives. He describes his latest love in his July 25 column:
John Rich has tapped into the current Zeitgeist like few others dare to even try, and it seems to be paying off big-time for the country music artist.

His latest inspiration is turning out to be an anthem for the times, one that since its release has been downloaded by millions all around the globe.

The singer-songwriter's most recent project is titled "Progress," and he appears to draw upon his extensive band experience, which includes being a member of Lonestar and Big & Rich.

Written, performed, and recorded by Rich, "Progress" shot to the top of the charts in what feels like a nanosecond.

The tune was initially released independently via former President Donald Trump's social media network Truth Social. Then on its first day it became the global No. 1 single on the Apple Music charts, outperforming some of the biggest pop artists.

The song's extraordinary rise in popularity is an indication of the sizable population of freedom-loving people in the U.S. and the world, whose entertainment choices are a reflection of their deeply held beliefs.
Indeed, the song is very Trumpy, as Hirsen goes on to gush:
The lyrics of the song go on to take direct aim at specific policies that are impacting our nation and others abroad, including border crises, financial mismanagement, abandonment of individuals, facilities, and resources in Afghanistan, and draconian measures in response to a virus.>

The first verse begins with words that express the feelings of people who are justifiably overwhelmed with the many unprecedented changes that have occurred in the past two years:

"There's a hole in this country
Where its heart used to be."

In one verse, Rich's song compares the current administration's zero-border policy with its ruinous withdrawal from Afghanistan that led to the deaths of 13 military service members:

"They invite the whole world to come live in our land
And leave our countrymen dying in Afghanistan."

In another verse, the lyrics provide a commentary on the current tendency to denigrate and even try to eliminate Christianity in order to replace it with allegiance to the almighty state:

"They say let go of Jesus and let Government save
You can have back your freedoms if you do what we say."

The subject of faith is near and dear to Rich, who posed the following question back in 2020: "Why is there such a push to get God out of the conversation?"
Hirsen's gushing continued:
Rich issued a press statement to explain his goals in releasing the song at this particular point in time.

"I, like you, have been watching and living through the systematic destruction of our country. And in the name of progress, we see our border is standing wide open," he said.

"And in the name of their progress we see our children targeted. And in the name of progress we see crime coast to coast like we've never seen it before. And in the name of progress we see people wanting to take our rights away to defend ourselves and our families as we see fit. And so on and so forth in the name of progress," he added.
Rich sounds like he's been watching Fox News and reading Newsmax. Tbhe fact that Rich chose Donald Trump's fringe social media site to launch the song tells us he's not trying to push a universal message -- he doesn't explain why doing what was necessary to save lives during a deadly pandemic was a bad thing -- but a very narrow one. Indeed, it;s a =right-winbg screed, and Hirsen loves it, even slobbering over the video for the song:
The music video of the song projects powerful images of the nation's so-called progress, including empty grocery store shelves, exorbitant gas prices, and streets on fire as the result of intentional burning and looting gone unchecked.
Is there any footage of the Capitol insurrection, which right-wingers like Hirsen and Rich presumably want to keep unchecked? Did the video include mention of the "so-called progress" of Donald Trump's rampant corruption and lies? Hirsen doesn't say.
Posted by Terry K. at 3:51 PM EDT