MRC's Jean-Pierre-Bashing, Doocy-Fluffing Watch
Topic: Media Research Center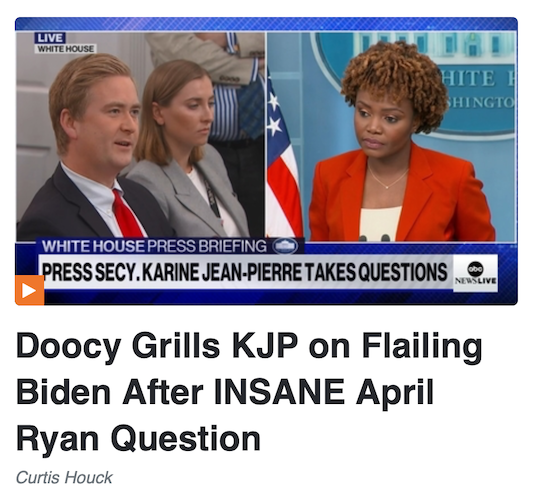 The Media Research Center's hateful narrative on new White House press secretary Karine Jean-Pierre is that she's an incompetent diversity hire, and Curtis Houck made sure to push it again in his biased writeup for the July 5 briefing, while again slobbering over Fox News' Peter Doocy for pushing right-wing talking points:
Holding her first press briefing since June 22, White House Press Secretary Karine Jean-Pierre showed Tuesday that she hadn't improved since her cringeworthy opening months in the top post. As part of that, she flailed when grilled by Fox's Peter Doocy and Real Clear Politics' Philip Wegmann over a 2018 voicemail from Hunter Biden's laptop allegedly showing Joe Biden discussed business ventures with his son.

The now-President has repeatedly claimed he "never" discussed anything business-related with his son, so Doocy made sure to frame his question as one seeking comment not only about the voicemail, but the President having now been caught in a lie: "Why is there a voicemail of the President talking to his son about his overseas business dealings if the President has said he's never spoken to his son about his overseas business dealings?"

As NewsBusters has reported, the liberal broadcast networks have completely ignored this bombshell.

Jean-Pierre replied that Biden's position "stands," but Doocy wasn't having it. In turn, Jean-Pierre shut down and insisted she wouldn't "talk about alleged materials from the laptop" in any capacity[.]
For the July 7 briefing, Houck had a meltdown over a non-right-wing reporter asking a reasonable question about diversity in hiring in the Biden administration -- which he screamed was "INSANE" in the headline -- before he got to the Doocy-fluffing:
During Thursday's White House press briefing, Press Secretary Karine Jean-Pierre found herself facing a mountain of questions about WNBA star Brittney Griner's unjustified detainment in Russia, but she saw plenty of others with some coming from the left on abortion and diversity and, of course, a helping of Peter Doocy.

Prior to Doocy Time, The Grio's April Ryan fired off this insanity of a question concerning the vacancy at the top of the Secret Service:

Last question on the Secret Service director. Is equity and inclusion still a part of the President's hiring practices when he looks at that spot because you have never had a Black man or someone — another color, I guess, be the head of that organization?

Jean-Pierre surprisingly didn't bite, telling Ryan she won't "get ahead of the process" even though "this is a President that prides on making sure that we have equity, that we have inclusion" and "an administration that looks like America."

A few minutes later, Doocy began with gargantuan result out of the new Monmouth University poll:"Why do you think it is that 88 percent of people in this country polled by Monmouth think that the country is on the wrong track?" Jean-Pierre stuck to her cringeworthy talking points, insisting President Biden "understands what the American people are going through," including the fact that "gas prices are high because of Putin's tax hike."

After she insisted the White House has "a plan" while Republicans would rather "take away rights from the American people," Doocy hit her with a reality check: "But do you think it's possible that your plans just is not popular with the American people right now?"

Jean-Pierre not only denied that's the case, but went down the path of tone-deafness when she tried to simultaneously claim "[w]e understand what" "are feeling" even though "we are stronger economically than we have been in history."
That anyone at the MRC thinks Griner's detention in Russia on dubious drug charges is "unjustified" is news to us. Houck might want to have a chat with the sports blogger he supervises, Jay Maxson, who is cheering how Griner is rotting in a disgusting Russian prison.
Scott Whitlock did the Doocy-fluffing honors in his writeup of the July 8 briefing:
Fox News journalist Peter Doocy and Karine Jean-Pierre went round and round on Friday as the White House Press Secretary repeatedly refused to condemn harassing Supreme Court justices, like Brett Kavanaugh, eating out at restaurants. At one point she just dismissed, "That is what a democracy is."

Doocy started off with a fairly straight forward question: "Does the President think it's appropriate for abortion-rights protesters to intimidate Supreme Court justices when they are out to eat? Like Brett Kavanaugh who had to sneak out of a steakhouse last night."

Jean-Pierre insisted that the White House is against "violence" and "intimidation." She didn't explain how hounding a justice out of a restaurant isn't intimidation.
Houck didn't explain how Kavanaugh could have been "intimidated" by the protesters given that he never saw or heard them or that they did not threaten violence.
Posted by Terry K. at 8:34 PM EDT
Updated: Monday, August 1, 2022 12:34 AM EDT